Cain provides own backing with 3-run homer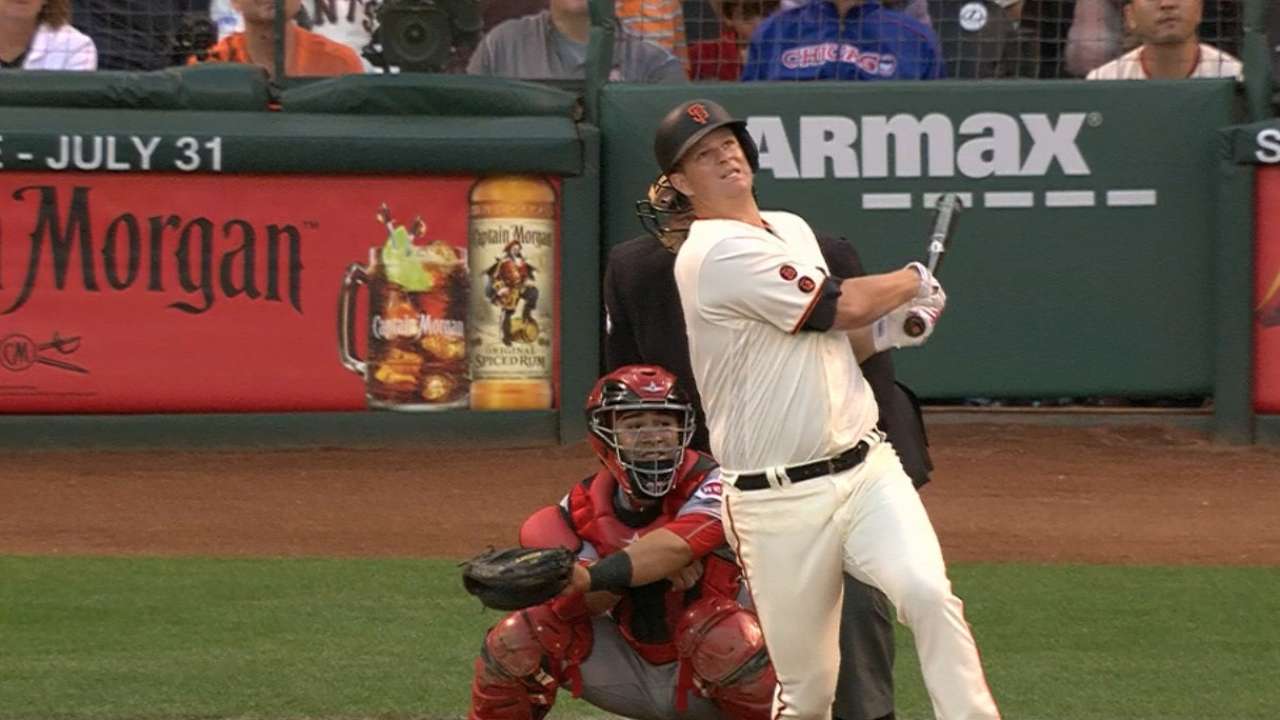 SAN FRANCISCO -- In need of an offensive spark, the Giants got it from an unlikely source Tuesday night: Matt Cain.
In his first appearance at AT&T Park since June 13, Cain came to the plate in the second inning with runners on first and third and one out, and slugged a three-run homer to give the Giants a four-run lead in what would become a 9-7 win over the Reds on Tuesday night.
"He's got big power when he gets ahold of it," said Giants manager Bruce Bochy. "That was huge."
Cain came to the plate after Ramiro Pena had scored Brandon Crawford one at-bat prior on an infield hit. Pena also moved Brandon Belt to third; Belt had reached second base a plate appearance earlier thanks to an error from Adam Duvall. Initially, Belt was ruled out when Reds shortstop Zack Cozart threw to third after fielding Pena's chopper.
But after a Giants challenge, the call was overturned upon review, which paved the way for Cain to break the inning wide open with his homer over the left-field fence. It was Cain's seventh home run of his career and his first since 2012.
It also helped set the stage for the Giants' best offensive showing since the All Star break, one in which they totaled 13 hits while receiving key contributions from Belt, Buster Posey and Brandon Crawford. Crawford's two-run triple in the seventh were the first runs he's driven in since the All Star break.
"Throughout the lineup, somebody did something," said Bochy.
Every run they scored would prove to be vital, too, as the Reds continually clawed at the Giants' leads throughout the night. No run-scoring hit appeared more crucial than Cain's shot in the second, though.
"You just hope you can put a decent swing on some pitches that get out over the plate and hope you run into one," said Cain, who finished with a team-leading three RBIs. "I knew it felt really good. It had that good feeling off the bat."
It wasn't a "cheap shot," according to Mac Williamson, who finished 2-for-4 with two runs.
"It was a big win for us tonight," said Cain, who earned his second win of the season after allowing four runs in 5 1/3 innings. "That's something we definitely needed."
Justin Wise is a reporter for MLB.com based in the Bay Area. This story was not subject to the approval of Major League Baseball or its clubs.