Valbuena day to day with hamstring strain
Astros 3B injured leg running to first base vs. Yankees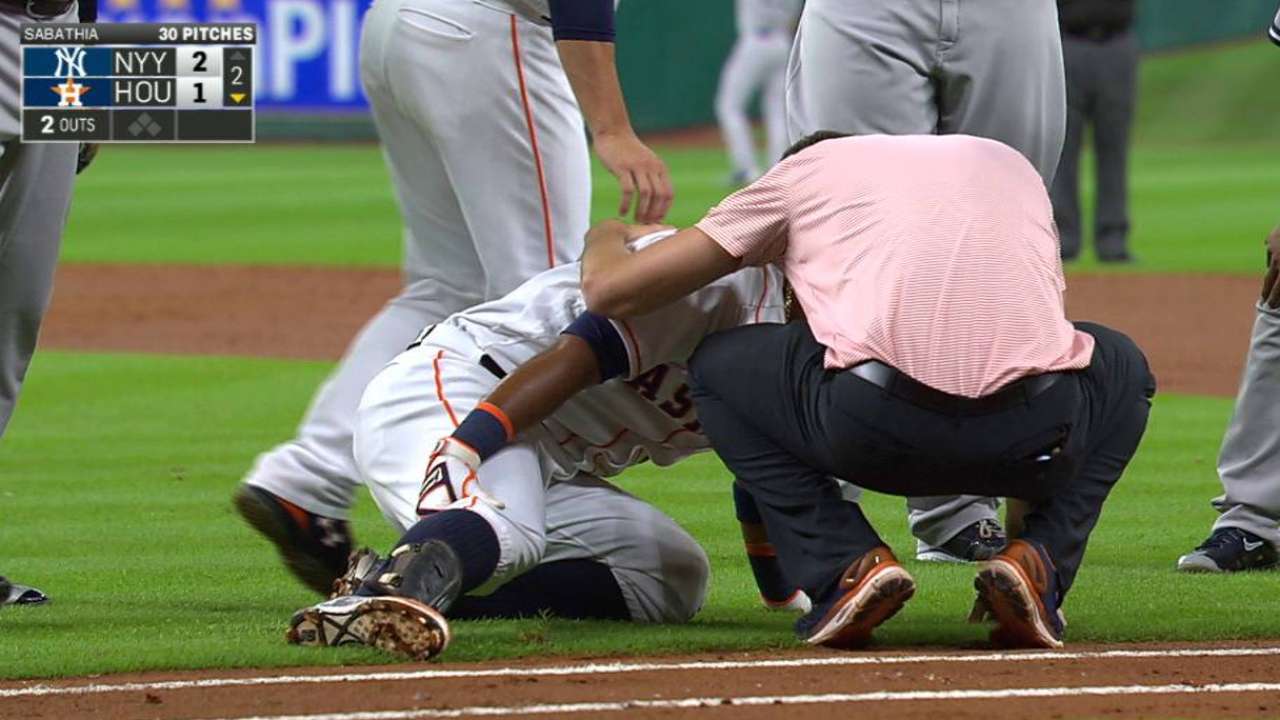 HOUSTON -- Astros third baseman Luis Valbuena left Tuesday night's game against the Yankees with a right hamstring strain. Valbuena is day to day, the team announced.
"We're not going to know anything tonight," Astros manager A.J. Hinch said after his team's 6-3 loss to the Yankees. "I think it hurt. I think it scared him."
Facing a 3-1 count in the bottom of the second, Valbuena hit a slow chopper over the head of pitcher CC Sabathia. As the ball bounced into Didi Gregorius' glove, Valbuena stumbled as he was about halfway to first base.
"I think he tripped more than he needed to go down to the ground," Hinch said, "or at least that's what we're hoping."
Valbuena then fell to the ground, where he stayed for several minutes while being looked at by a trainer. The third baseman managed to walk off, but was noticeably limping and holding his leg.
"I felt everything in my knee and hamstring," Valbuena said. "After that, I got treatment, and I feel much better right now."
Marwin Gonzalez shifted over to third base, while catcher Jason Castro entered the game to play at first base for the first time in his career.
Hinch said Valbuena won't play Wednesday and will get a couple days of treatment to try and return for the weekend series against Detroit.
The 30-year-old from Venezuela has been having a career year with the Astros this season. Entering Tuesday, Valbuena was hitting .261 with 76 hits, 17 doubles and 13 home runs.
Jordan Ray is a reporter for MLB.com based in Houston. This story was not subject to the approval of Major League Baseball or its clubs.