Kershaw weighs in on surging teammates
Dodgers ace frustrated he can't pitch, but proud of club's performance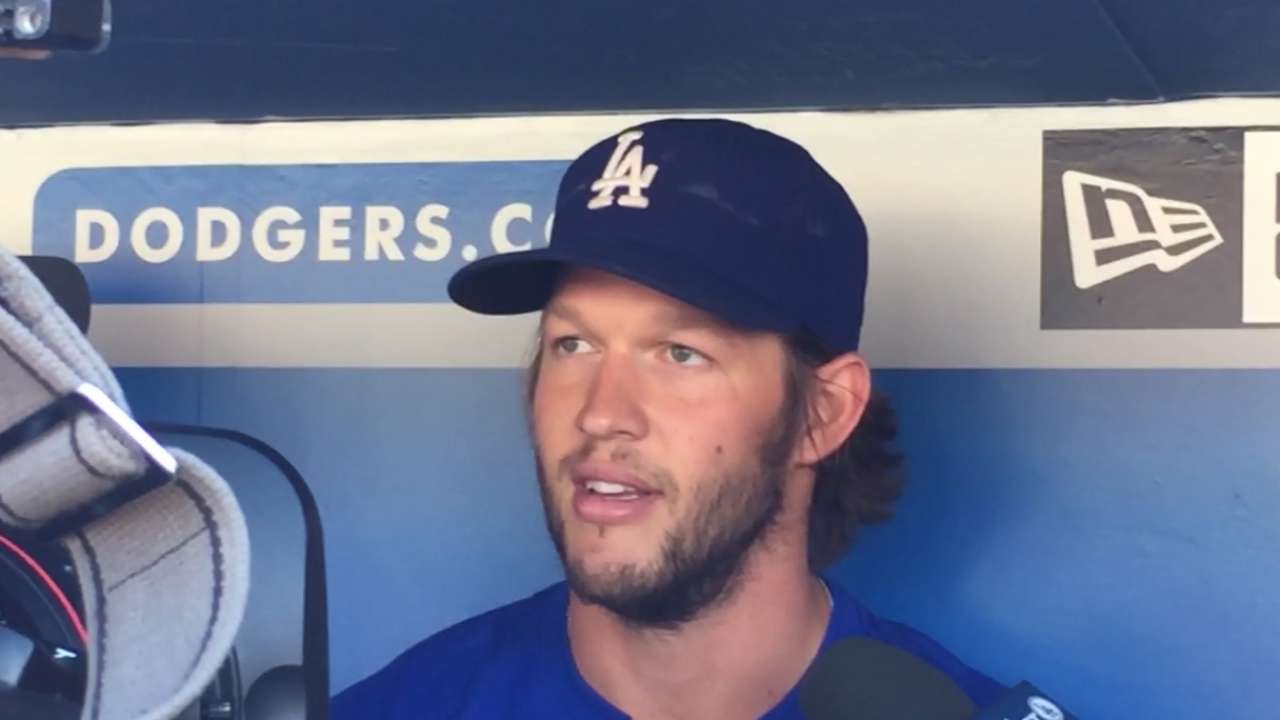 LOS ANGELES -- Clayton Kershaw still can't say when he will make his return, but he is at least taking solace in the fact the team is making up ground on the Giants without him.
"It's been so fun to watch," Kershaw said. "It's not easy watching the games on TV, but these guys are really making me want to be a part of it. The way these guys are playing, it's a great team. It's fun to watch. One of the closest teams that I've been a part of. It's hard to be away, I hate it, but really happy they're doing so well. Hopefully I can make it back and help out in some way."
Since Kershaw hit the DL on July 1, the Dodgers are 12-7 and have cut the Giants' six-game lead to 2 1/2 games back. Kershaw's presence is still clearly missed, considering the rotation holds a 4.44 ERA in that span, but the other parts of the team are making up for that.
The bullpen's 85 innings pitched is second in the Majors while its 2.75 ERA ranks eighth. The team's .802 OPS in July leads the National League and has four players in the top 15 of the league in batting average.
The rotation weakness has spurred some trade talk for the Dodgers. Kershaw supported the idea of a trade if it was warranted, but noted the team's recent performance and the thin pitching market as possible counterarguments.
"I know Andrew [Friedman], Farhan [Zaidi], and the guys upstairs are canvassing every type of opportunity we have," Kershaw said. "It's a weird trade market this year, just from my perspective. There's not a whole lot out there, and what is out there costs a whole lot. We'll see, but our team's playing really well right now. I don't know if we need it, but it would always be nice."
As far as when the team would acquire a healthy Kershaw, the timetable remains an unknown, possibly even for the Dodgers. Manager Dave Roberts said Kershaw still isn't throwing and had no other updates Tuesday.
The injury flared up after Kershaw felt pain following a simulated game and the team is essentially waiting for when throwing comes pain-free for the southpaw. Kershaw didn't entertain the notion that surgery was needed, but said coming back "will take a little time."
"It's hard not to pitch," Kershaw said. "You realize how much you love the game when you're away from it, how much you take for granted."