Nationals give rookie Turner chance in center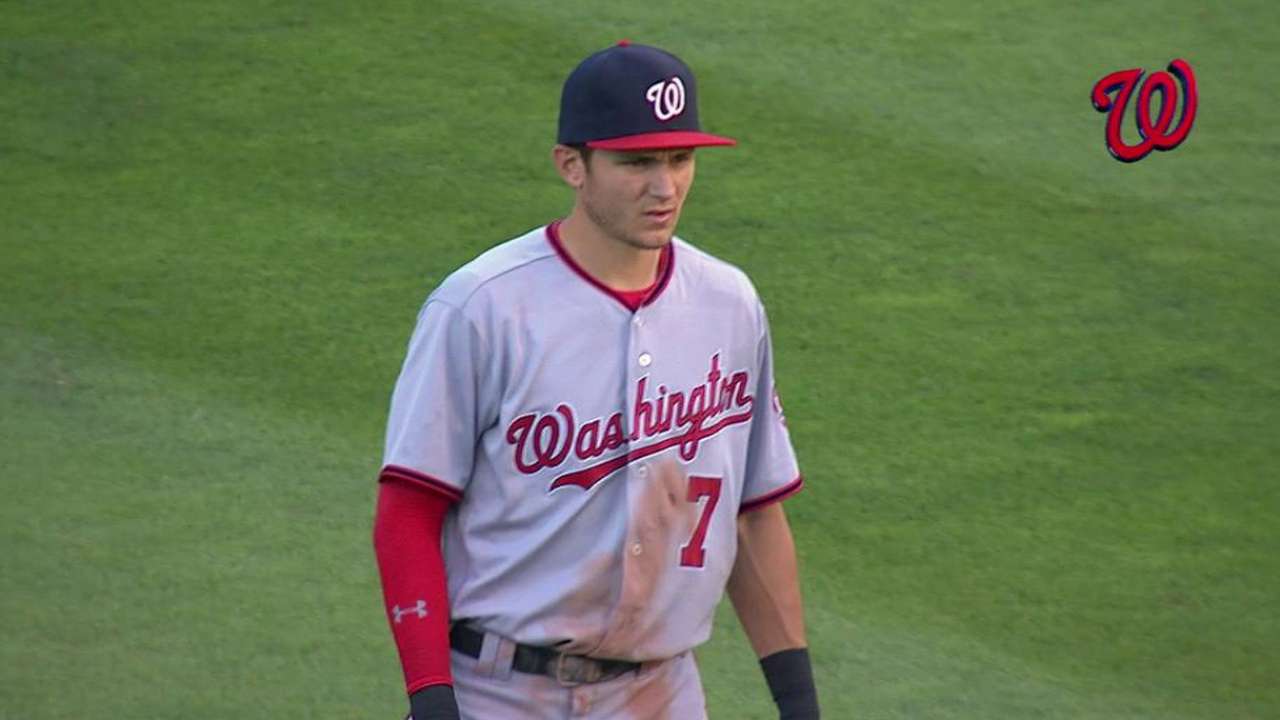 CLEVELAND -- Nationals manager Dusty Baker had been initially reluctant to start Trea Turner in center field. After all, Turner's experience there was limited after spending much of the season in the Minors playing shortstop and second base. He received a crash course on the position from Nationals outfielder instructor Gary Thurman, and played six games in center field at Triple-A Syracuse.
Even during the past week with the Major League club, Turner has spent time working in the outfield, and Baker, trusting the reports he receives, finally deemed that the young speedster was ready. Turner made his first start in center field in Tuesday night's 7-6 loss to the Indians.
Naturally, Turner was tested right from the start, with a pair of tough plays in the first inning. He made a nice catch on a line drive from Jose Ramirez, where Turner covered 112 feet with a 97.8 route efficiency, according to Statcast™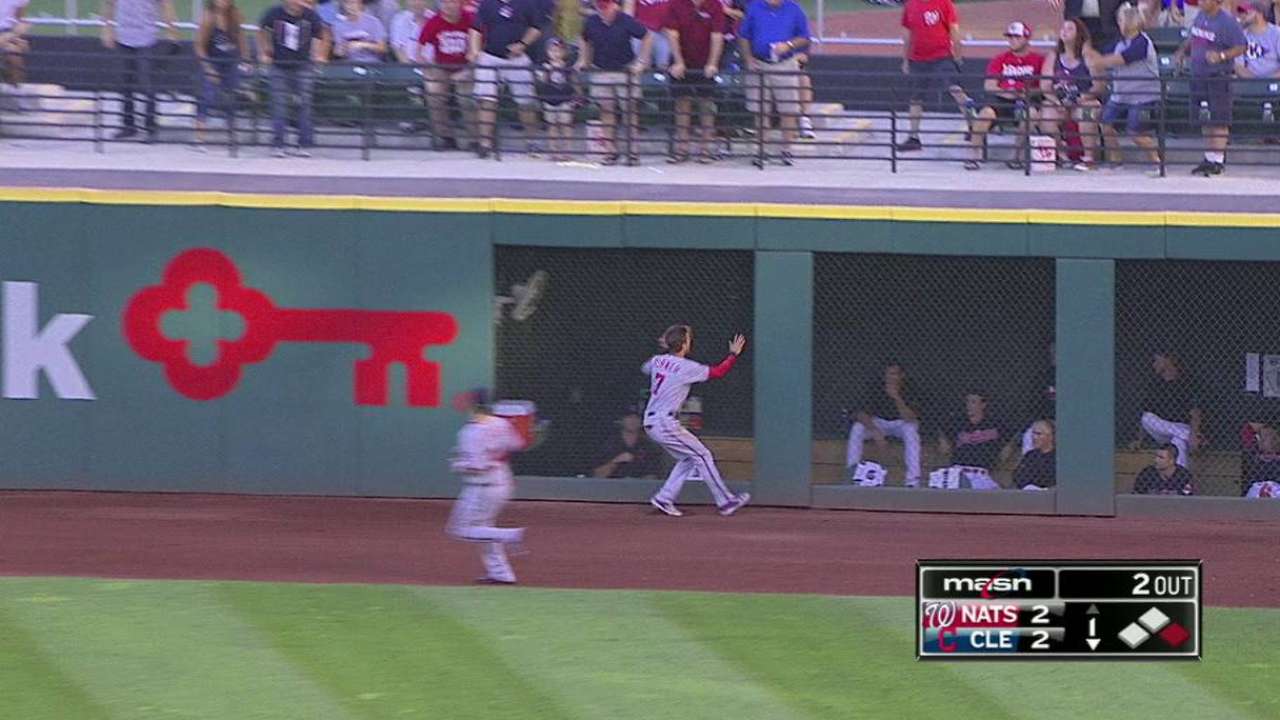 "I think anytime anybody plays a new position, that's what happens," Turner said. "I think that happened to me in Syracuse. I kind of expect that."
Turner did have one noticeable mistake, when he made an ill-advised dive for a ball off the bat of Jason Kipnis that bounced past him for a double. Turner lamented that mistake after the game, and said he would learn from experience what plays he can make and which he can not.
Before the game, Baker would not commit to playing Turner in the outfield beyond Tuesday night, although it is easier to find playing time for him there while the club is in Cleveland with the benefit of a designated hitter. Jayson Werth served as the team's DH on Tuesday, while Ben Revere moved to left field.
But when the Nationals chose to keep Turner -- the club's No. 2 prospect as ranked by MLB Pipeline -- in the Majors and option outfielder Michael Taylor to the Minors this past Sunday, it was perhaps a sign that they are ready to use Turner as the leadoff hitter they have struggled to find all season.
"If he's here, kid's going to play," Baker said before the game. "So I'm trying to find a way for him to play."
Washington believed they had found a leadoff hitter when the team acquired Revere in the offseason from the Blue Jays, but he has had a rough season at the plate, including missing the first month with a right oblique strain. Revere entered Tuesday's game hitting .216/.263/.303, and Nationals leadoff hitters as a whole own a .256 on-base percentage this season, by far the worst in the Majors.
Those are all factors as to why the Nationals have interest in potentially acquiring an outfielder before Monday's non-waiver Trade Deadline. But maybe Turner is a solution if he can hold his own in center field. He has batted .279/.336/.442 in his first 11 games in the Majors while flashing his electric speed -- three triples, five stolen bases without being caught.
That speed is one of the main reasons the Nationals believe he can play an effective center field. Turner said playing center is something that he has embraced, and he feels comfortable despite limited playing time there in the Minors.
"I think I got a couple tough balls hit at me, line drives, and I made the right decisions at the time," Turner said. "I made all the plays that came to me. At the same time, I know it's not as easy as that. You've got to play balls off the wall. In big league ballparks, it's going to be a lot different everywhere you go. Guys are a lot stronger, so they hit the ball a little bit farther. You've got to take all that into account as well and learn."
Jamal Collier covers the Nationals for MLB.com. Follow him on Twitter at @jamalcollier. This story was not subject to the approval of Major League Baseball or its clubs.