A's send out Mengden; Hill possibly near return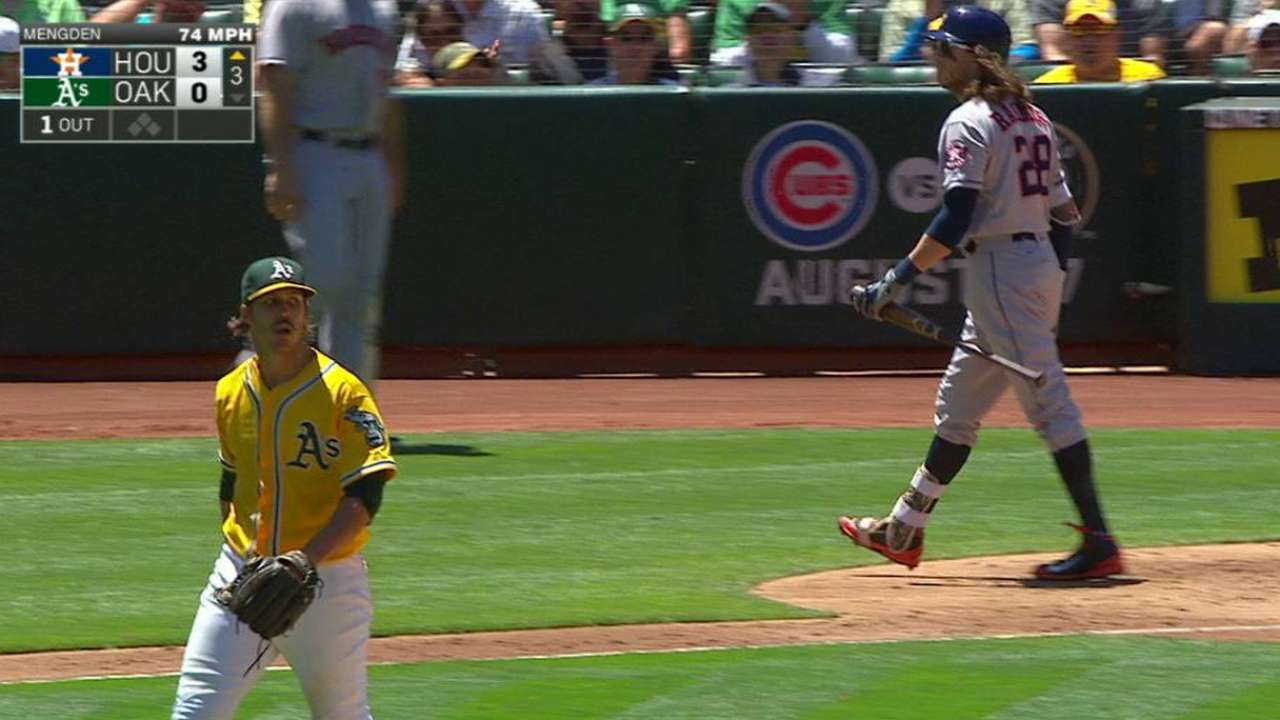 ARLINGTON -- Daniel Mengden's big league career was put on pause Tuesday, with the A's electing to option the struggling right-hander to Triple-A Nashville.
Mengden's rise to the Majors was swift, and he performed admirably upon his June callup before faltering of late. He posted a 2.81 ERA in his first four starts but had a 9.00 ERA in his last five.
The A's will need a starter to replace Mengden in Cleveland on Saturday, with Rich Hill unable to go until Sunday, at the earliest. Hill, sidelined by a nagging blister, threw a bullpen session at Globe Life Park on Tuesday afternoon and is scheduled to toss another in Cleveland on Friday, at which point the A's will determine whether he can make that start.
"Incrementally we're trying to get him to where he could potentially start this weekend," A's manager Bob Melvin said of Hill. "If that happens or not, I'm still not sure."
Mengden, meanwhile, will get an extra day of rest before making his next start with Nashville, largely because of a recent bout of minor fatigue issues. Already, he's compiled 117 innings between two Minor League levels and the big leagues this season. Last year, he totaled 130 2/3 in his first full professional season.
"It's all about executing," Mengden said. "Maybe I'm getting too fine and I'm stretching the count, and it leads to walks and stuff like that. I think I just haven't been getting ahead of guys. It all comes down to executing, getting strike one, and I haven't been doing that very much.
"I'm 23 years old, and getting the chance to be here has been amazing. It's a dream come true, and I'll be back eventually. I'm not worried about it. I'll go down to Nashville, pound the zone and try to win ballgames for them."
"We know he can pitch here," Melvin said. "He performed well early on. I think he got a little tired here at the end. Velocity was down a little bit, and certainly as we got in to the game some. He's a tough competitor, he's got an assortment of pitches that can get hitters out at the big league level. We know that, we just need to do something different right now."
Vogt returns
The A's reinstated Stephen Vogt from the family medical leave list on Tuesday and optioned catcher Matt McBride to Triple-A, keeping youngster Bruce Maxwell on hand as Vogt's backup.
Vogt, who was behind the plate for Sonny Gray's start Tuesday, was away from the club for three days.
"There are certain personalities that you miss more than others in the clubhouse, and he is definitely one of those," Melvin said. "He's one of the more important guys we have here, as far as what he means to the clubhouse."
Jane Lee has covered the A's for MLB.com since 2010. Follow her on Twitter @JaneMLB. This story was not subject to the approval of Major League Baseball or its clubs.