Bregman gets crash course in LF at Minute Maid
Astros' top prospect would join crowded mix in outfield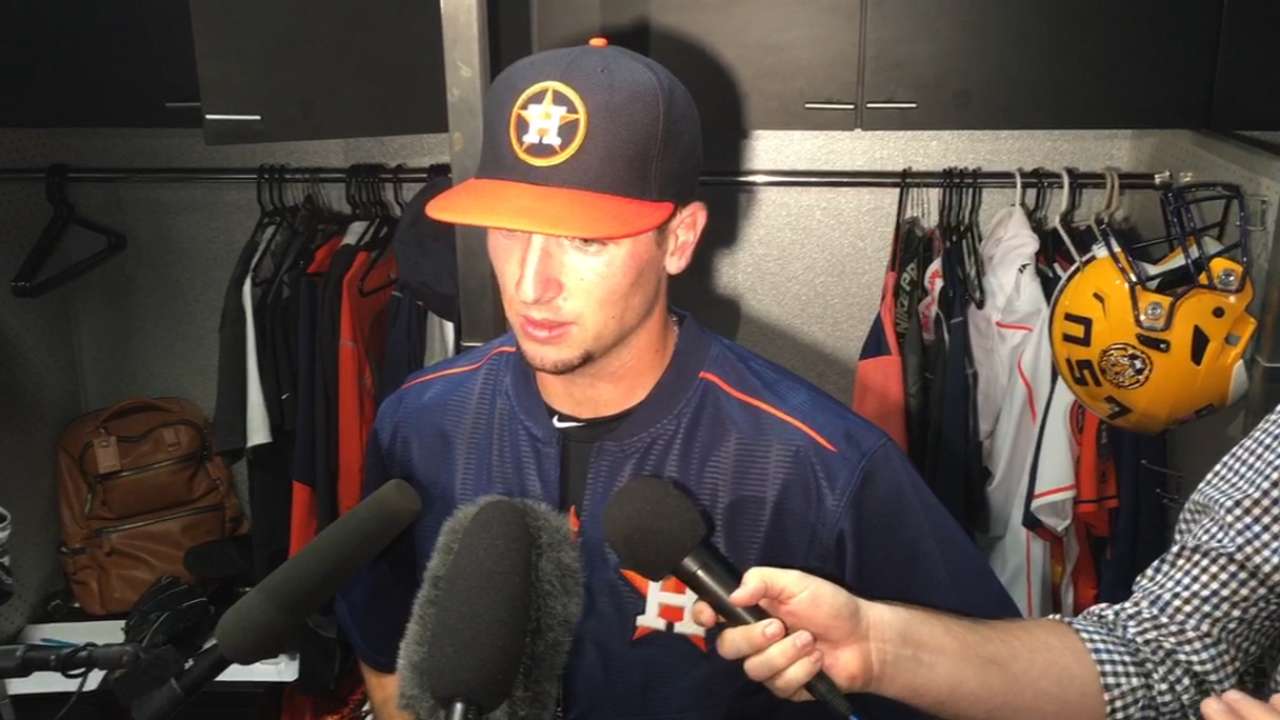 HOUSTON -- Alex Bregman's next stop could be in left field.
Bregman, the Astros' top prospect who made his debut Monday night at third base, worked out in left field with coach Gary Pettis -- a five-time Gold Glove winner -- prior to batting practice Tuesday. Bregman was in the lineup at designated hitter against the Yankees, and manager A.J. Hinch said he will play the field in Wednesday's series finale, but didn't say at which position.
Bregman, a shortstop who's expected to play third base, DH and left field mostly for the Astros, squeezed in three games in left last week at Triple-A Fresno in his only action in the outfield since he was drafted No. 2 overall by Houston last year.
"We're working on everything," Bregman said. "We're just working on getting reads, making good first steps and how to get ready at pre-pitch position -- a lot of stuff. Balls over my head, turning and going. Knowing where the warning track is. Pretty much everything there is to know. We just went over a quick crash course."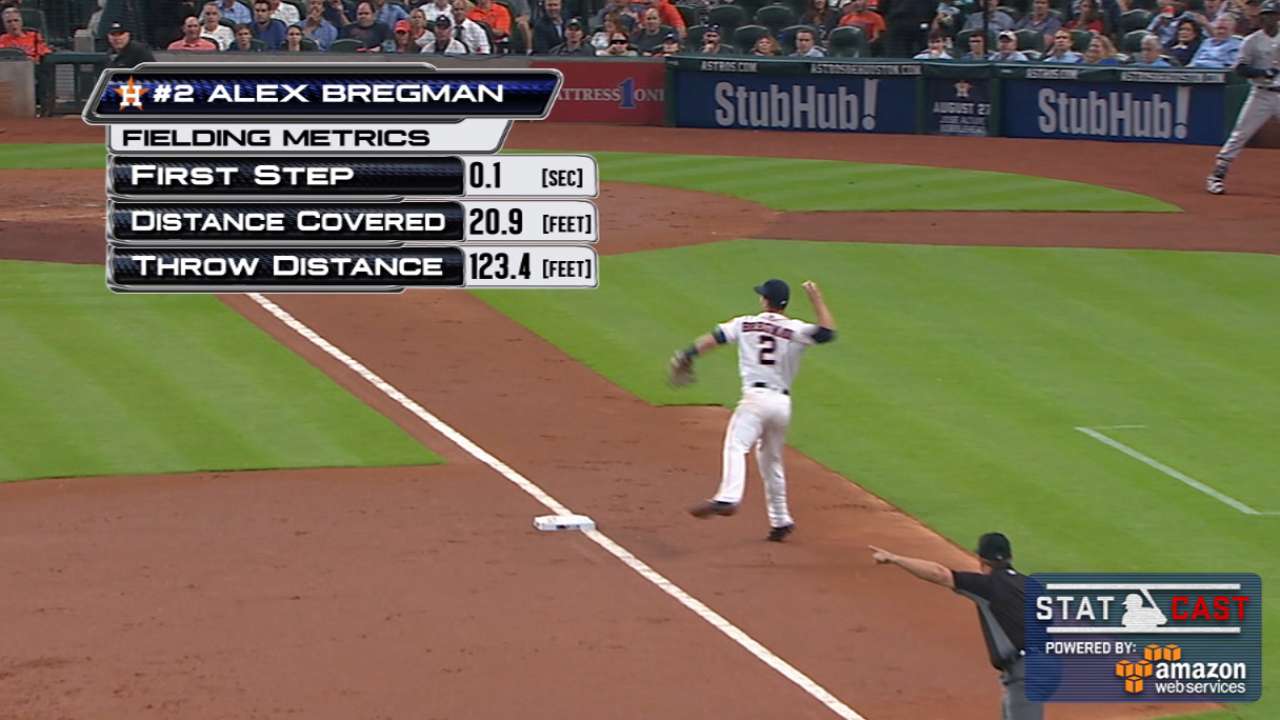 Left field at Minute Maid Park is unique because it's only 315 feet down the left-field line, and the wall is 19 feet tall. It makes an abrupt slant back to 362 feet in left-center, and the manual scoreboard can lead to some unpredictable caroms.
"It's different," Bregman said. "Just because balls are over your head, you've still got a shot to throw guys out at second. You're pretty much on the wall. There's the gap where it goes back and you have to be able to know where that is and being able to maneuver through there. The warning track here is a little bit bigger as well."
Hinch said he will have no issues putting Bregman in left despite his limited experience.
"Part of the reason we wanted to DH him today was to give him a work day, let him settle in after a little bit of attention [that] I'm sure you guys [the media] have given him over the last couple of days," he said. "We wanted to give him some early work and just continue the developmental process."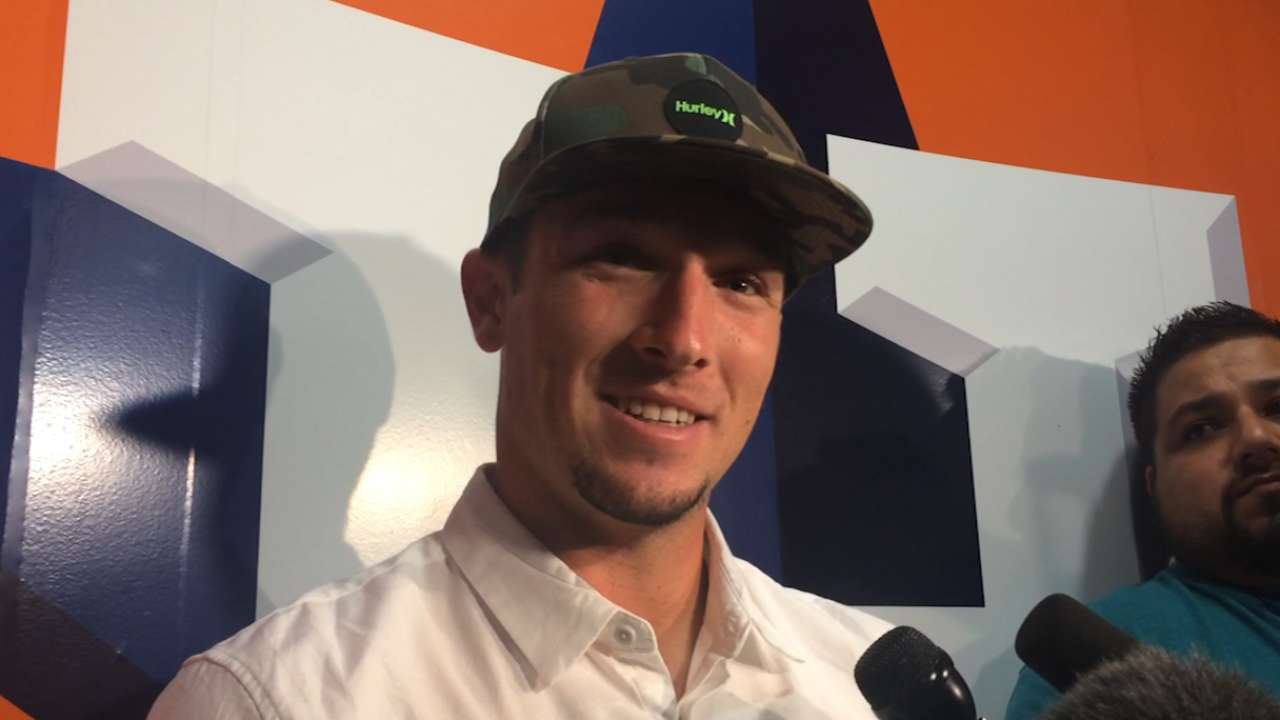 Bregman getting time in left field means less at-bats for either Colby Rasmus or Carlos Gomez, both of whom have been struggling. And the impending arrival of Cuban Yulieski Gurriel could cut into that even more.
"It's going to threaten it because you can only play three of them," Hinch said. "And George [Springer] is [a fixture] in right field. ... I think it's going to squeeze a couple of these guys. The better you play, the more difficult decisions I'm going to have and guys are going to have to fight for their playing time a little bit. And I think everyone knows that. In the corner infield spots and outfield, I could see it playing out with the DH and other things that there's going to be a little bit of a battle to get some playing time. …
"I'm glad that it's crowded. They're going to have to check the lineup on a daily basis to see if they're playing, but so be it."
Brian McTaggart has covered the Astros since 2004, and for MLB.com since 2009. Follow @brianmctaggart on Twitter and listen to his podcast. This story was not subject to the approval of Major League Baseball or its clubs.