Warren excited to be back 'home' with Yanks
Righty returns to NY from Cubs in Chapman trade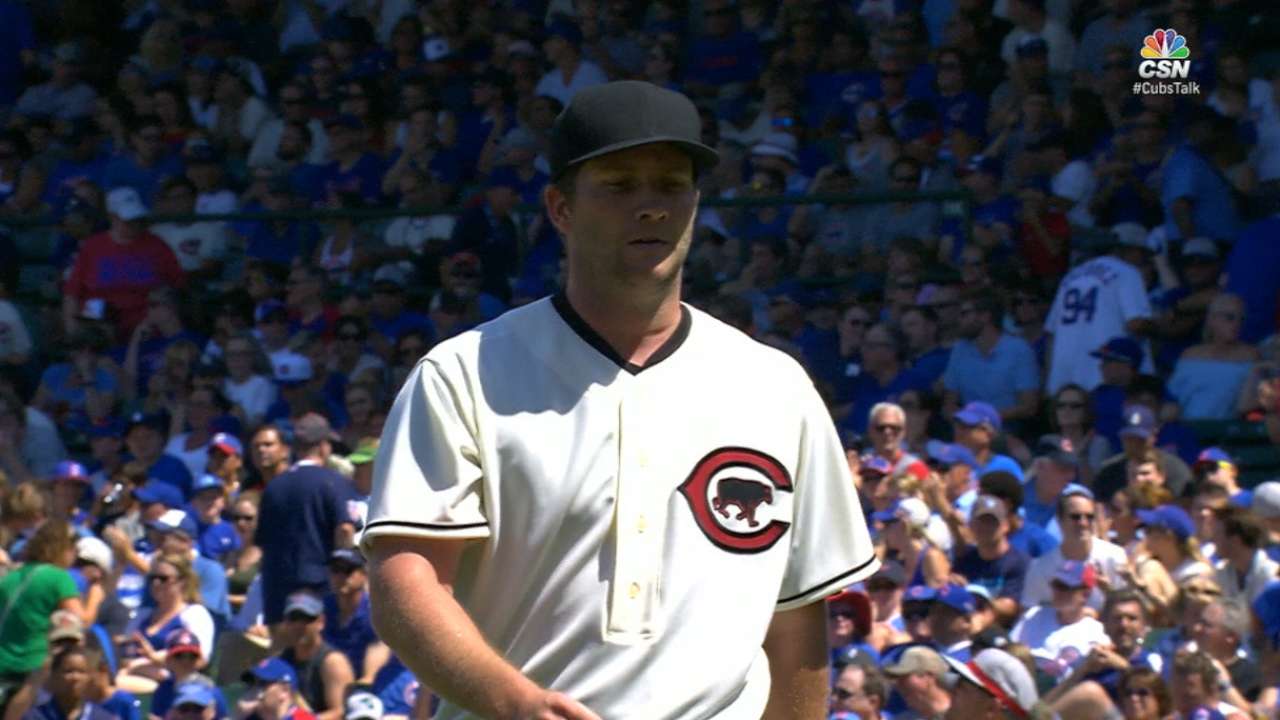 HOUSTON -- The shock of being traded by the only organization he had known was dissipating, and Adam Warren wanted to embrace a new beginning. The right-hander decided that a little spring cleaning might help, and so he emptied his drawers of anything with the word "Yankees" on it.
Fortunately, as Warren remarked on Monday, those team-issued shirts and shorts are still in boxes. He will have the opportunity to break them out of storage now that he is back in a Yankees uniform, following his acquisition from the Cubs in Monday's blockbuster Aroldis Chapman trade.
"This kind of feels like home," Warren said. "I enjoyed my time over there in Chicago, but it didn't quite work out for me and so I'm happy to come back somewhere that I'm comfortable and I feel like people know me. Hopefully I can kind of fit right back in."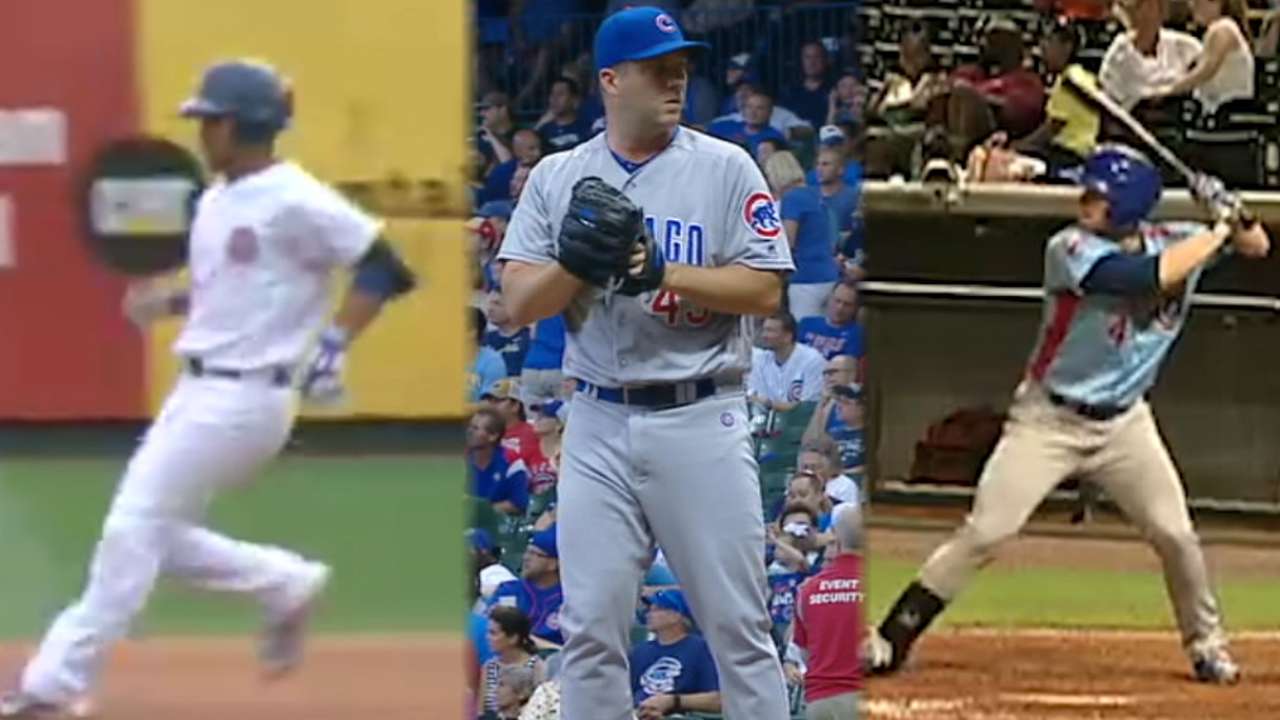 Warren, 28, was 3-2 with a 5.91 ERA in 29 games (one start) for the Cubs this season, having been traded to Chicago in December with infielder Brendan Ryan for second baseman Starlin Castro. He said that he did not seem to have a set role in the Cubs' bullpen, which could have contributed to his issues.
"It's tough because I pride myself on that versatility," Warren said. "Not really knowing when you're coming in, that was the hardest thing, the unpredictability of not being able to guess when I might pitch. I think I struggled with that a little bit, but really it came down to I wasn't executing enough pitches. I wasn't sharp enough out there, I guess."
To create room on the 25-man roster, the Yankees optioned left-hander Chasen Shreve to Triple-A Scranton/Wilkes-Barre. Warren picked up his old No. 43, with reliever Anthony Swarzak switching to No. 41.
Last season, Warren was 7-7 with one save and a 3.29 ERA in 43 games (17 starts) with the Yankees, setting career highs in wins, games started, innings pitched (131 1/3) and strikeouts (104).
"He's been very important to us the last couple years, doing multiple roles," Yankees manager Joe Girardi said. "We'll start him in the bullpen for now. We feel that he can add a lot down there; give us multiple innings and do some things where maybe we don't have to use [Dellin] Betances or [Andrew] Miller on a certain night."
Getting Warren back in the Chapman trade was a selling point to managing general partner Hal Steinbrenner, according to general manager Brian Cashman. New York also acquired three prospects: infielder Gleyber Torres plus outfielders Billy McKinnon and Rashad Crawford.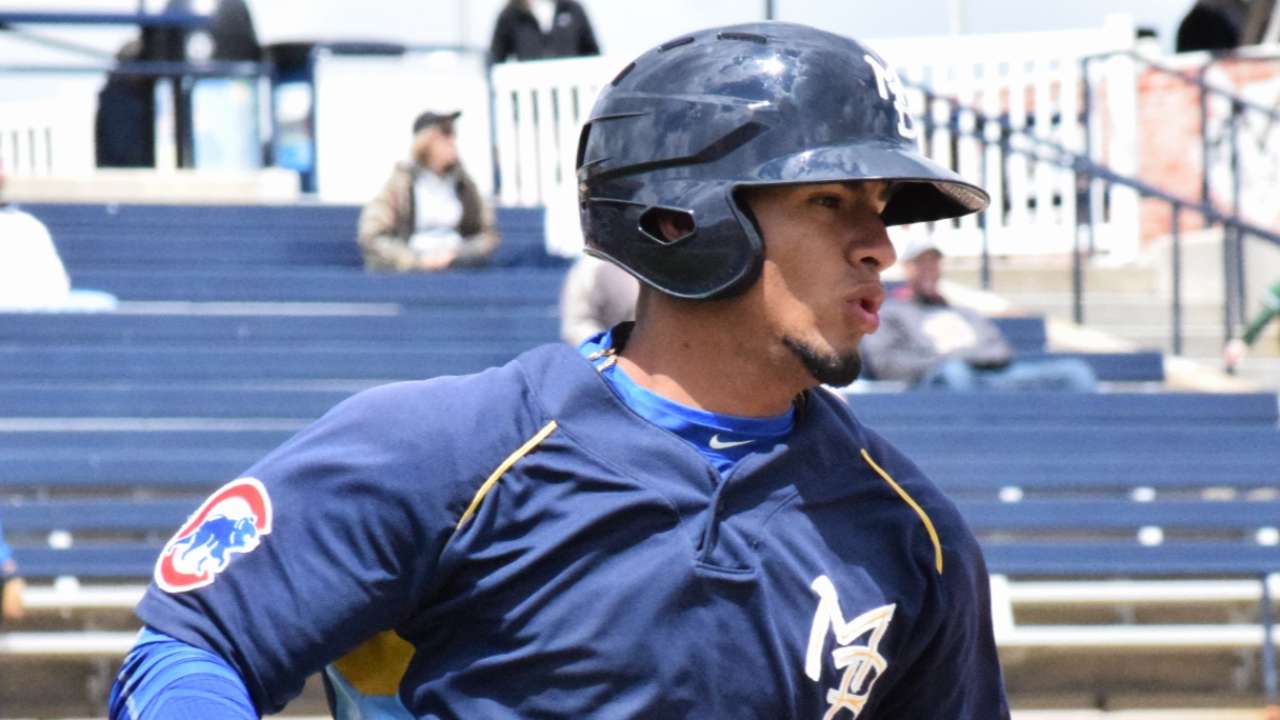 "We got a Major League piece that was a high performer for this franchise for the last few years back in the deal for Chapman," Cashman said. "That was important. I think I can represent that was important for Hal Steinbrenner."
Warren said that hearing those compliments from upstairs offered a boost.
"It gives me confidence," Warren said. "To have that kind of respect and belief, even though I haven't pitched that well this year at times, for them to have that confidence in me to come in and fit right in says a lot. I'm excited to get back here and pitch."
Bryan Hoch has covered the Yankees for MLB.com since 2007. This story was not subject to the approval of Major League Baseball or its clubs.