Brantley hitting in cage, itching to return to Tribe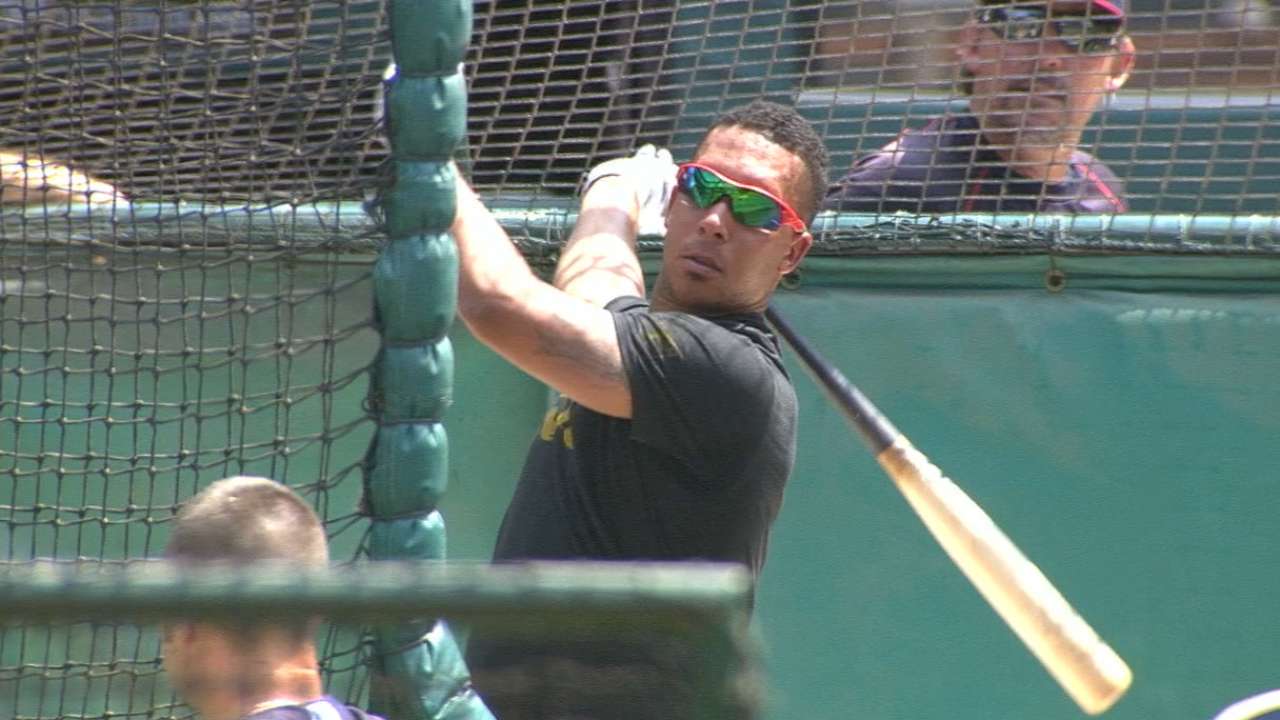 CLEVELAND -- After another setback last week, Indians outfielder Michael Brantley is once again back to hitting in the cage. When Brantley will return to the lineup, however, still remains unclear.
Brantley told reporters prior to Tuesday's series opener with the Nationals at Progressive Field that he's been hitting in the cage the past two days after undergoing a small right shoulder procedure this past weekend.
"Latest procedure went well," Brantley said. "It was pretty quick and easy. I have felt relief from it. The last couple days [were] a couple good days of hitting, and it's went well so far."
Brantley, on the disabled list since May 14, was in the midst of a rehab assignment with Double-A Akron when he felt soreness in the shoulder early last week.
"It's frustrating," Brantley said. "I want to be out there with these teammates and this coaching staff and contributing in a positive way. The guys are doing a great job, I just want to be a part of it. At the same time, I have to be healthy. I won't come back at 50 percent or 75 percent. I owe it to these guys and this great organization to be healthy when I come back and contribute in a positive way."
This season, Brantley has played just 11 games. The Tribe outfielder started the season on the DL before returning to the club in late April.
Still, Cleveland manager Terry Francona remains optimistic that Brantley will have an impact at some point this season. However, Francona did note the importance it would be to have Brantley see live pitching before any sort of return.
"I think as long as we have some games left where he can [go on a rehab assignment]," Francona said. "That would be tough. If you get into September and there's nowhere for him to see live pitching, yeah, that's a lot to ask. But, we're still a pretty good ways from that."
But Francona said it is evident how bad Brantley wants to come back.
"He wants desperately to play -- we know that," Francona said. "There's been a couple times he's come in and almost like apologized. And I'm just real quick to tell him, 'You don't need to do that.' What we ask our guys is try hard, be a good citizen. He's off the charts in those areas. His shoulder just hurts. That's not his fault."
Worth noting
Francona said Tuesday that Tribe reliever Zach McAllister (right hip) is nearing a return to the ballclub. McAllister will make another Minor League appearance Wednesday night. The righty is 2-2 with a 5.40 ERA in 30 appearances this season.
"He's going to pitch again tomorrow night in Akron and we will revisit," Francona said. "But we are getting closer to activating him, for sure."
Shane Jackson is a reporter for MLB.com based in Cleveland. This story was not subject to the approval of Major League Baseball or its clubs.