Marlins fulfill Make-A-Wish Foundation dream
Micah Goeman serves as manager for a day for Tuesday's game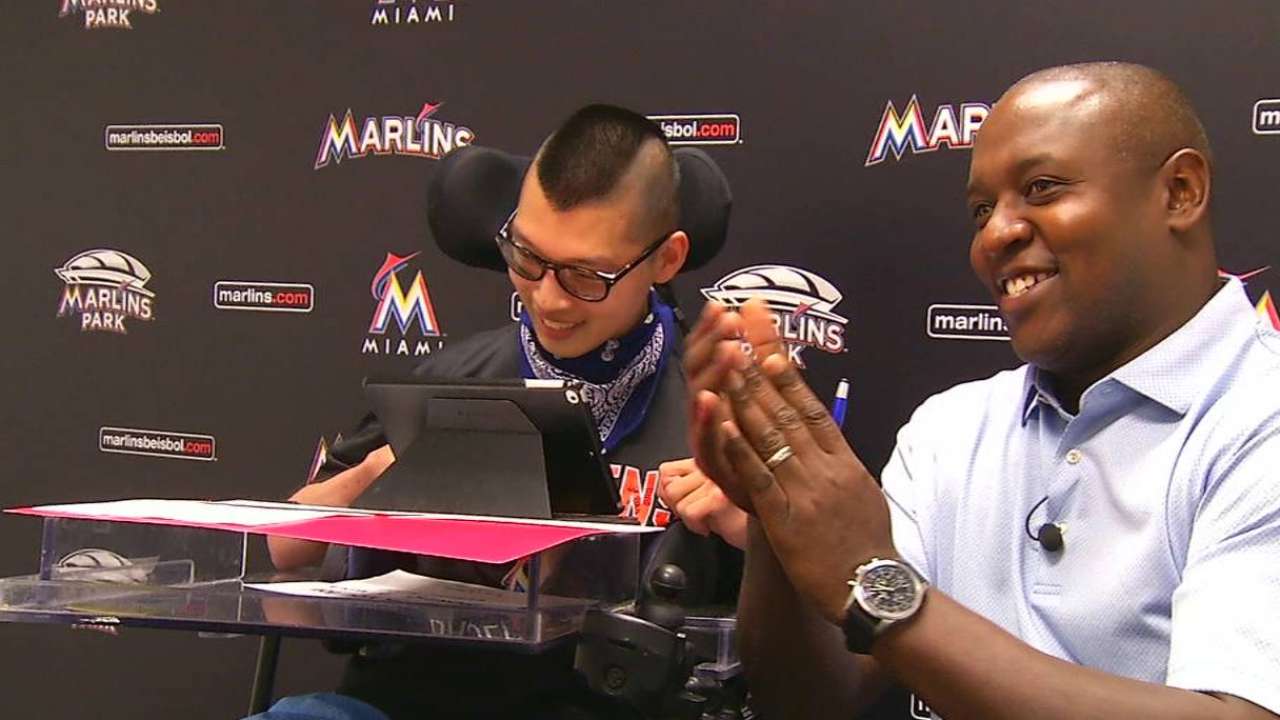 MIAMI -- Manager Don Mattingly had a little help filling out the Marlins' lineup card on Tuesday night. And the first order of business for Miami's "manager for a day," Micah Goeman, was to bat Ichiro Suzuki leadoff.
"This lineup is his," Mattingly said. "He lobbied for Ichiro today."
Goeman, an 18-year-old from Carmel, Ind., spent the day with the Marlins as part of the Make-A-Wish Foundation. His dream has been to be a baseball manager, and prior to the Marlins-Phillies game at Marlins Park, he got an inside look.
"It's been great to have him out, and hopefully he has a great time," said Mattingly, a native of Evansville, Ind.
Accompanied by his family, Micah arrived in South Florida on Monday night, and they are staying until Thursday.
"It's been great for Micah because he loves sports, and he's sharp in his mind," said Rob Goeman, Micah's father. "He understands everything. He watches it all the time. He knows who the players are. He knows what is going on, but he's never seen baseball from the inside, getting to know the team, and the manager, and how all the positions work."
OFFICIAL: We've signed Micah Goeman to a one day contract.

Micah will join Don as our manager today! @makeawishsfla pic.twitter.com/194n6vfwPC

- Miami Marlins (@Marlins) July 26, 2016
One of Micah's thrills was meeting All-Star pitcher Jose Fernandez.
As something to remember of the day, Fernandez handed Micah an autographed bat.
"Micah didn't want to let it go," said Maureen Goeman, Micah's mother. "They had to pry it out of his fingers. He was so excited about that. I think he'd love to meet Ichiro, too, and he'd love to see him get his 3,000."
Ichiro started in center field and led off on Tuesday against the Phillies. The 42-year-old outfielder entered the day four hits shy of becoming the 30th player in MLB history to reach 3,000.
During batting practice, Micah met several of the players. As the warmups were coming to a close, third baseman Martin Prado gave Micah one of his wristbands. Micah also brought out the lineup card before the game.
Tonight's managers: Don and Micah! #MarlinsAyudan pic.twitter.com/HMRZ7BmNrk

- Marlins Ayudan (@MarlinsAyudan) July 26, 2016
"The players and everybody down here have been so kind," Rob said. "The Make-A-Wish Foundation, to fund it. To get partners to fund it for Micah has been wonderful."
After serving as a manager for a day in Miami, Micah's next baseball venture is to visit all the Major League ballparks. He can now scratch Marlins Park off a list that also includes stops to the White Sox, Reds, Indians and Tigers.
"Our next one is St. Louis," Rob said. "The ones we can drive to."
Joe Frisaro has covered the Marlins for MLB.com since 2002. He writes a blog, called The Fish Pond. Follow him on Twitter @JoeFrisaro and listen to his podcast. This story was not subject to the approval of Major League Baseball or its clubs.