White Sox could be both buyers and sellers
Club may find itself in position to trade big names, but get big haul for future in return
CHICAGO -- The White Sox have a possibility of becoming buyers and sellers as Monday's non-waiver Trade Deadline approaches.
And the buying portion of that idea focuses well beyond helping the team win in 2016.
"You have the conversations," said White Sox executive vice president Ken Williams, who was known to pull off a trade or two during his time as general manager. "[General manager] Rick [Hahn] is having all the conversations, most of them are coming his way in terms of teams calling him.
"We'll sit down after he kind of gets his game plan together, and we'll discuss and debate, like we always have. You say that we're going to be buyers or sellers or both, we just don't know."
Let's use Chris Sale and Jose Quintana as examples of the buyer/seller combined possibility. Obviously trading one or both of these talented southpaws weakens the White Sox present case -- a remote playoff possibility with the club eight games out in the American League Central and 6 1/2 games out of the AL's second Wild Card prior to Tuesday's contest.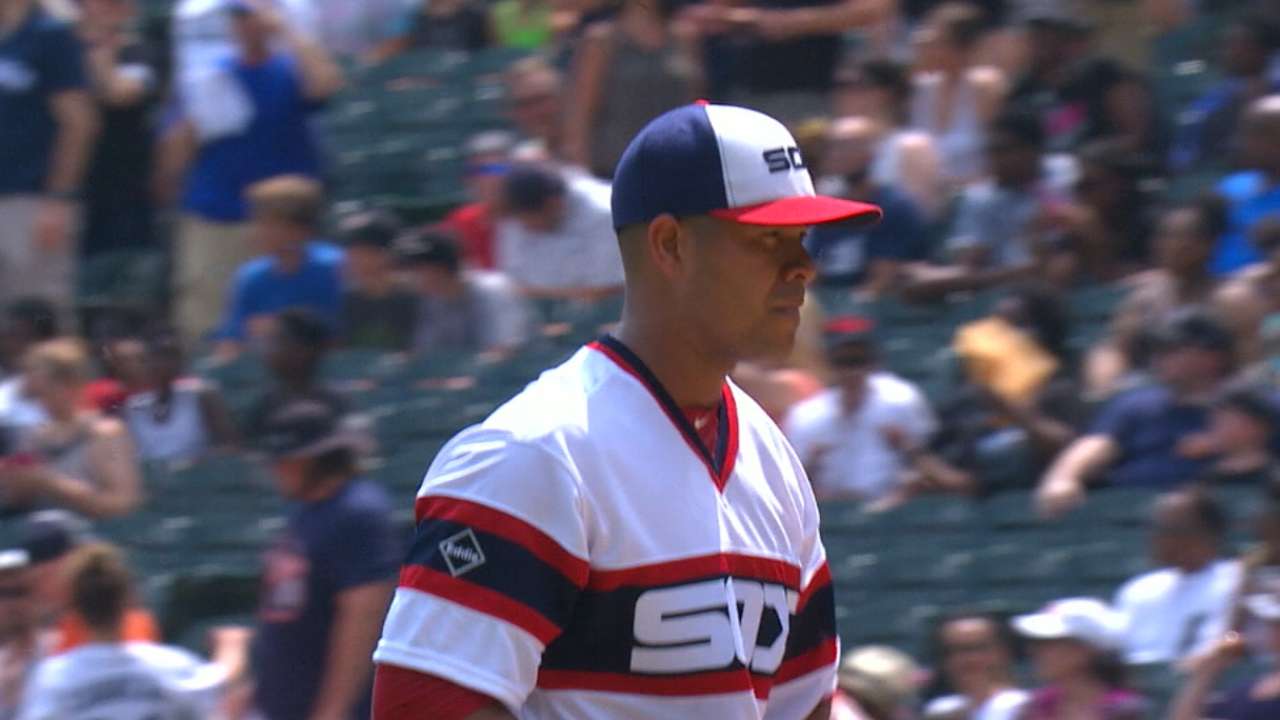 These are pitchers also playing under team-friendly contracts, with the team having control of Sale through 2019 and Quintana through 2020. That's the seller part. But since the White Sox don't need to move either one, they can demand a huge talent pool in return.
Maybe they could land Mookie Betts and a couple of top prospects from the group of Andrew Benintendi, Michael Kopech and Yoan Moncada as a starting point for Sale in a hypothetical deal with Boston. Yes, it's a haul, and if teams balk at the request, any potential trade could be revisited in the offseason. The White Sox don't have to force moves.
"I don't know that there ever is a time where we're not trying to get better, that there's a season for these kinds of things to happen," Williams said. "We've done things in June way prior to the Deadline, and we've done things on the other side of the Deadline in preparation for the next year. You just can't anticipate what's going to happen, you just have to let it play out.
"This is a team that is better just focused on that day-to-day grind. At this point, there's been a lot of ebb and flow. The one thing I can say is, I've been proud of the grind and the effort. We've had some bad streaks here and there, but there's a lot of talent out there. It's not out of the realm that we can run off another hot streak or two."
That belief has to be taken into consideration when calls for closer David Robertson, left-handed reliever Zach Duke or even outfielder Adam Eaton come in to Hahn. Sale told MLB.com that he doesn't want to be traded and doesn't believe he will be traded.
He added that he has all "the love and respect for Rick Hahn" and believes "he's good at what he does." Sale also wants to win soon with this team.
"There's no doubt that there needs to be changes within the White Sox," Sale said. "We need to go to the postseason. We need to win 100 percent."
Scott Merkin has covered the White Sox for MLB.com since 2003. Read his blog, Merk's Works, follow him on Twitter @scottmerkin, on Facebook and listen to his podcast. This story was not subject to the approval of Major League Baseball or its clubs.