Aroldis arrives in Chicago with focus on wins
Fireballing closer expresses excitement in joining promising Cubs, having learned from past mistakes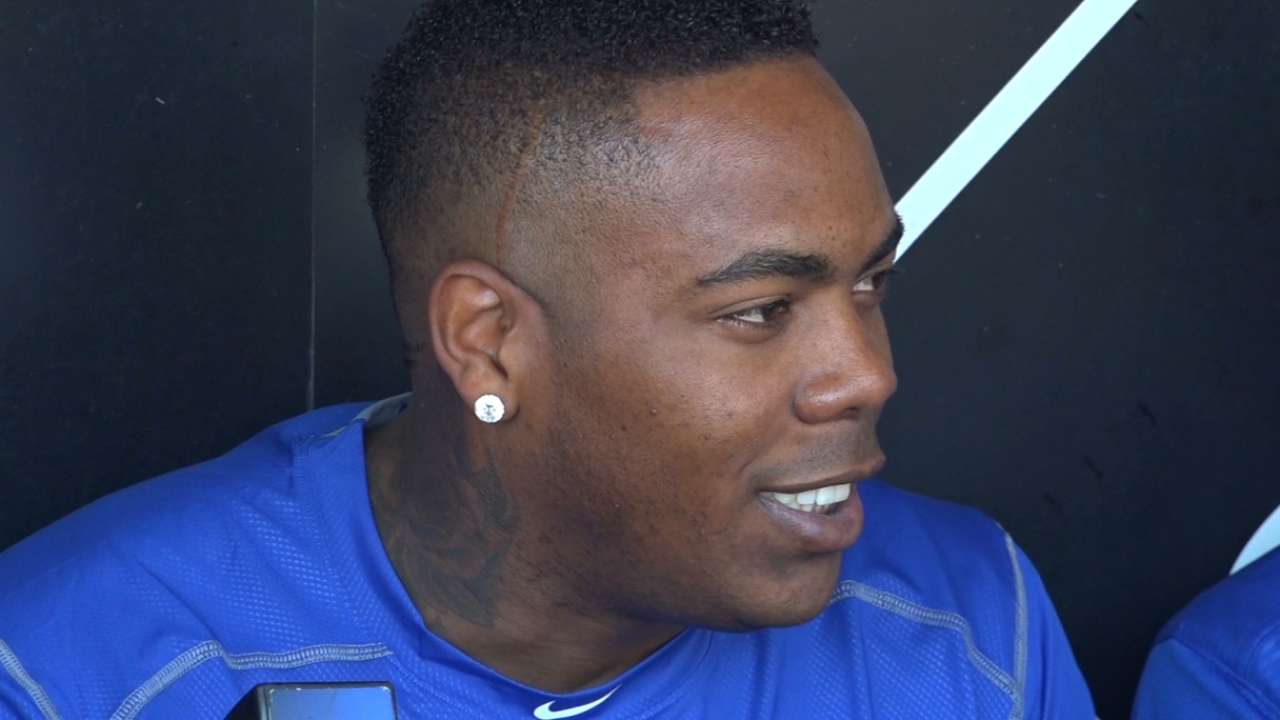 CHICAGO -- Aroldis Chapman arrived on Tuesday, saying he's excited to join the Cubs and has learned from the mistakes he's made in the past, and he couldn't explain why he's throwing with more velocity this season.
"It feels very good to wear a Chicago Cubs uniform," Chapman said, sitting in the visitors' dugout at U.S. Cellular Field. "There's a lot of expectations here in Chicago, and I'm here to do my job and try to win a World Series."
Chapman's debut with his new team will have to wait, though, as the Cubs were shut out by the White Sox, 3-0, on Tuesday night.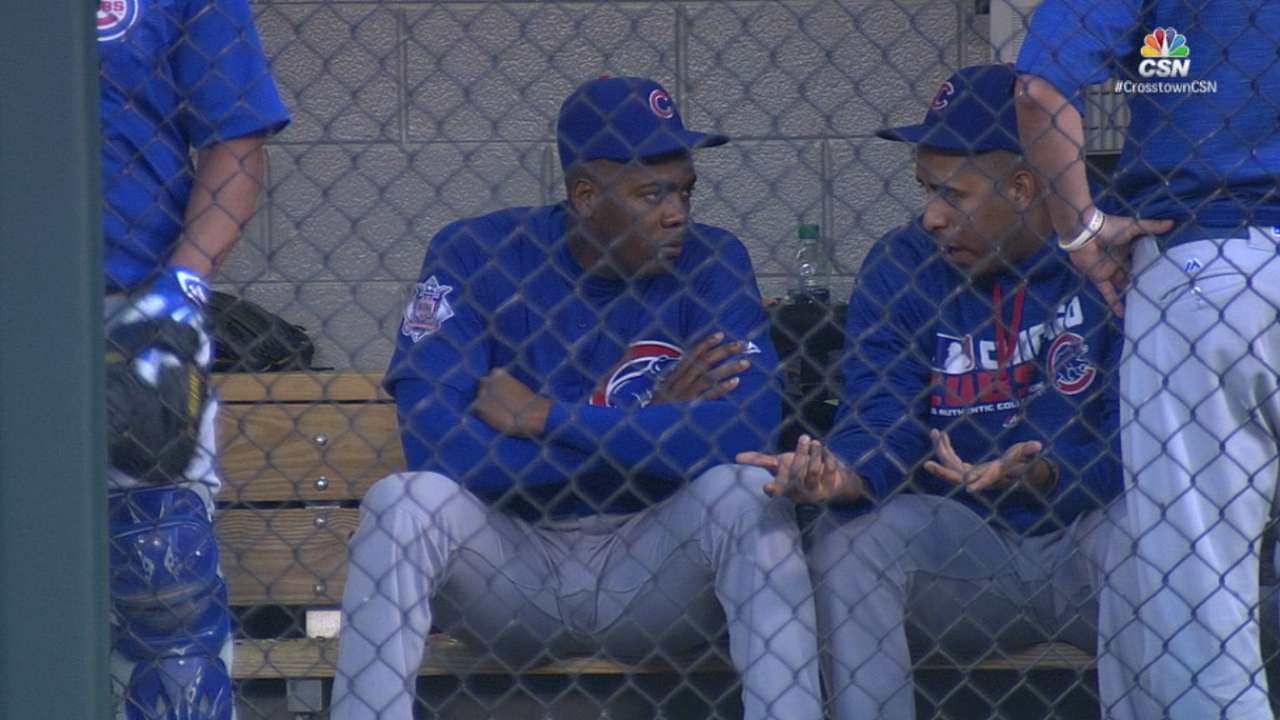 Cubs chairman Tom Ricketts and president of baseball operations Theo Epstein talked to Chapman on the phone Monday before finalizing the trade with the Yankees for the hard-throwing lefty. Chapman began this season serving a 30-game suspension covered by Major League Baseball's domestic violence policy after a dispute with his girlfriend in South Florida.
• Cubs get Chapman from Yanks in blockbuster
Chapman did not relay details of the phone conversation, and when pressed by the media, he said he was focusing on playing the game.
"I'm confident now that everything is going to be fine, and I'm going to be the best person I can be," Chapman said through coach Henry Blanco. "Everything is fine with my family, with my girlfriend -- my fianceé.
"We all make mistakes. I feel I'm a better person now. I just want to play the game now."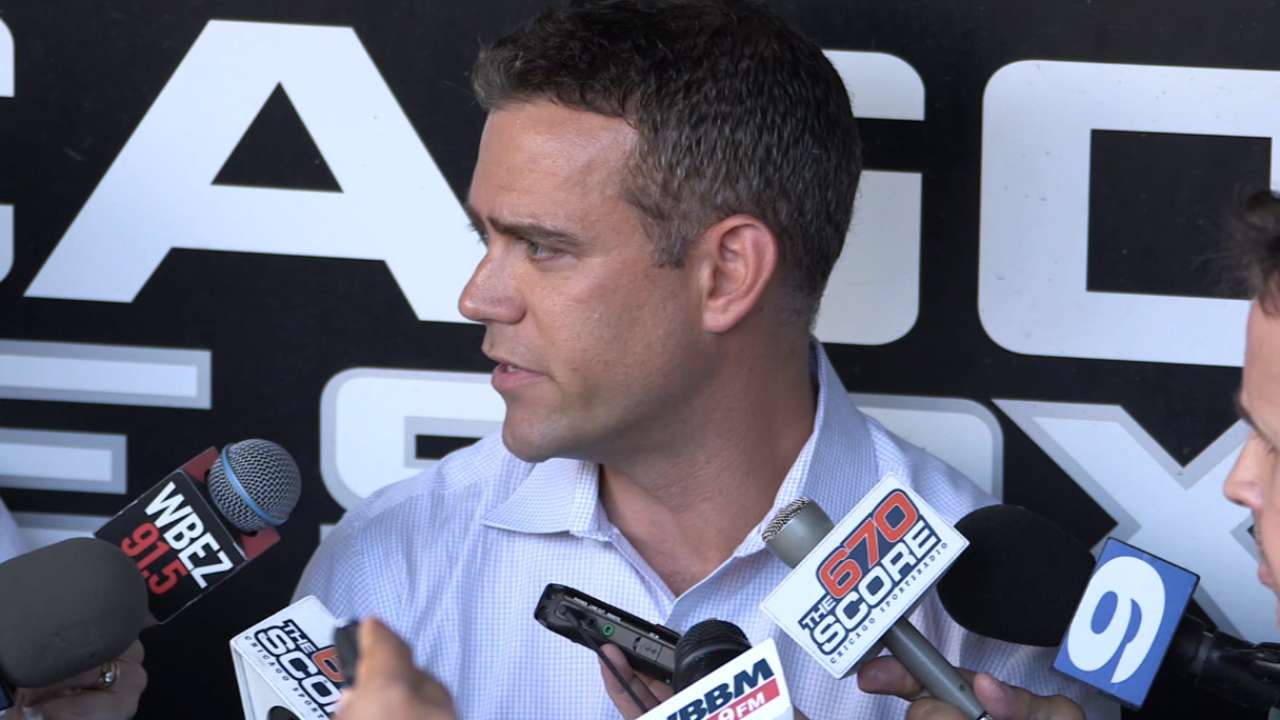 Chapman said he was sleeping when he got the phone call, which prompted more questions about whether he understood what Ricketts and Epstein said. Chapman issued a statement through the Cubs, which he said he wrote Sunday night, and in which he said he wanted to move on.
Did Chapman get the message?
"The only thing that concerns me is that he may not have understood the question," Cubs manager Joe Maddon said of the news conference. "Understand, this kid comes from Cuba and doesn't speak the language well. Even to an interpreter, it's easy to misunderstand and maybe he didn't want to relate exactly what had been said. ... I am certain he got the message, I think everyone is fine with that.
"Having been to the Dominican Republic myself, to Mexico, Venezuela, Puerto Rico, when you're dealing with kids sometimes who don't speak the language, a lot of stuff gets lost in the nuance or interpretation of the meaning. I spoke to him in my office, I thought he was great. We just talked about baseball. I wanted him to understand how we did things here."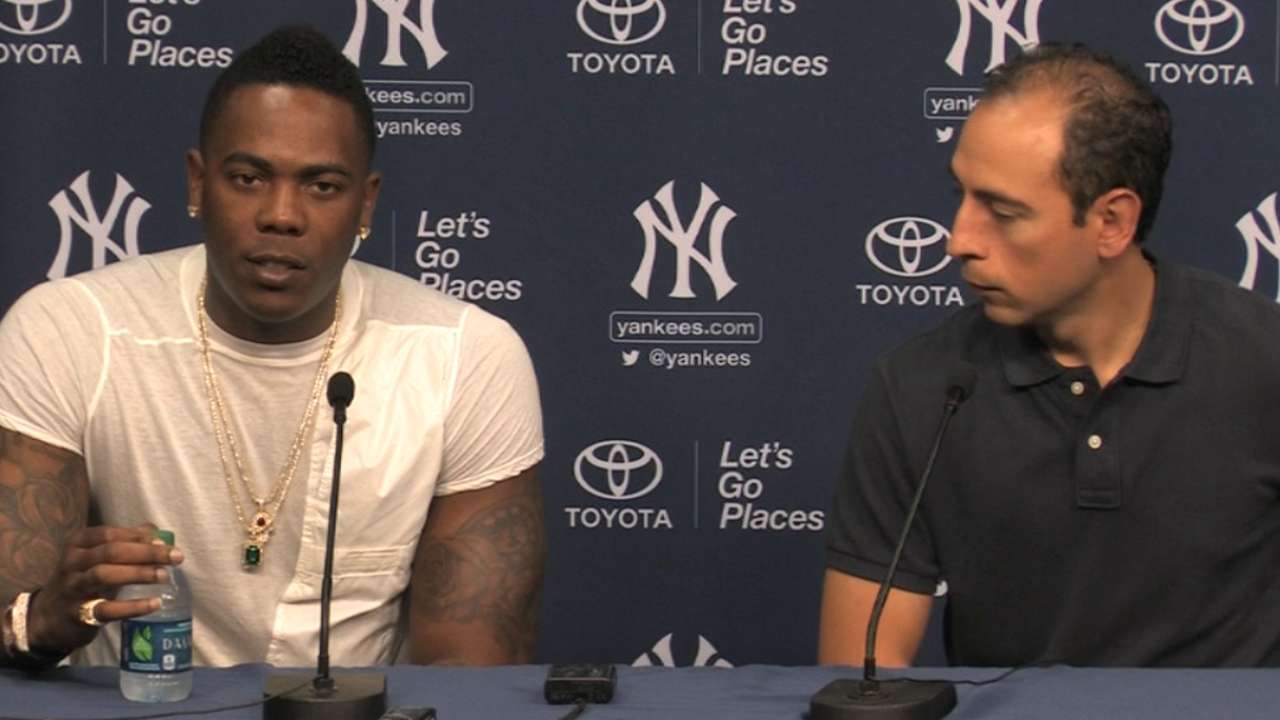 Maddon even tried to speak Spanish, and he was told by Chapman's friend and interpreter that he did OK.
Does Chapman have to be a good guy for Cubs fans to embrace him?
"At the end of the day, I'm here to get to know him on our terms, me and him," Maddon said. "He's been a great teammate from everything I've read. He did do his suspension, he has talked about it, he's shown remorse. Everybody else has their right to judge him as a good or bad person, that's your right.
"I know there are times I've been less than perfect. I want to get to know Aroldis. He's got the potential to throw the last out of the World Series, and if he does, I promise you, I will embrace him."
• Cubs embrace arrival of electric closer
According to Statcast™, no Cubs pitcher has thrown a 100-mph pitch this season. So far, 254 of Chapman's 524 tracked pitches (48.5 percent) have been clocked at 100 mph or faster. How does he do it?
"I don't know," he said, smiling.
Chapman did say there was no talk of a contract extension with the Yankees, and that the topic did not come up with the Cubs.
"It's an exciting city," he said of Chicago. "I'm coming here to try to do my thing. I'll do whatever I have to do to do my job and hopefully help this team win games."
Carrie Muskat has covered the Cubs since 1987, and for MLB.com since 2001. She writes a blog, Muskat Ramblings. You can follow her on Twitter @CarrieMuskat and listen to her podcast. This story was not subject to the approval of Major League Baseball or its clubs.