Nothing shallow about Gallo: HR, very far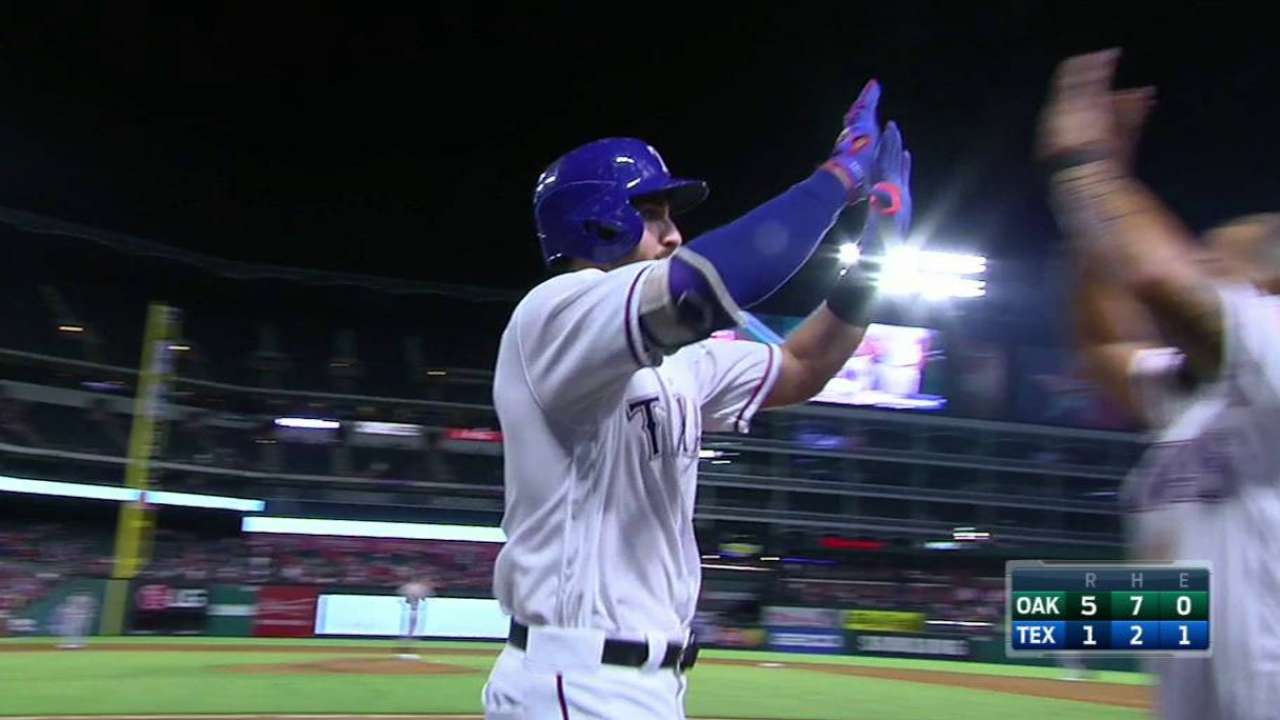 ARLINGTON -- Within the last week, the Rangers have placed two of their prominent left-handed bats, Prince Fielder (neck) and Shin-Soo Choo (lower back), on the 15-day disabled list. In Fielder's case, he's expected to have season-ending neck surgery in the coming weeks.
To counter that, the Rangers recalled infielder Joey Gallo, the team's No. 1 prospect per MLBPipeline.com, to put some left-handed power back into their lineup. Gallo homered as part of a 1-for-4 night in the Rangers' 6-3 loss to the A's on Tuesday.
"I feel like I can help this team, bring some power. Had a flash of it tonight, that was good.," Gallo said. "I want to stay here. I don't want to have to go back."
Outfielder Jared Hoying was optioned to Round Rock to make room on the roster.
Gallo was asleep when he got the call from Round Rock manager Jason Wood at around 1:30 p.m. CT that he was being called up. He had a little help to make sure he arrived to the game on time.
"I kind of panicked, rushed up here and got here in time for the game. … I had a little police escort, too. It was nice," he said.
The 23-year-old infielder didn't even consider the possibility that he might of been traded. His name has been the focus of many rumors as the Rangers look to upgrade their pitching staff with the Aug. 1 non-waiver Trade Deadline approaching.
"No, actually I didn't even think of that," he said. "I haven't heard much, I'm kind of staying away from all that. I don't even really know who's interested.
"He's coming to play," manager Jeff Banister said before Tuesday's game.
Banister would not say what position Gallo will play exclusively. The manager said Gallo will see time at first base, designated hitter and possibly the outfield or third base, if needed.
Fantasy spin | Fred Zinkie (@FredZinkieMLB)
After logging just 124 plate appearances across three cups of coffee in the Majors since June 2015, Gallo may finally be set for a regular role on an injury-ridden Rangers squad in need of a power bat. With 48 long balls between the big leagues and Minors since the outset of 2015, the 22-year-old should be added in all leagues despite his penchant for low batting averages and high strikeout rates. If he secures consistent at-bats in Texas' high-scoring lineup, Gallo could use his pop to provide plentiful production.
Ryan Posner is a reporter for MLB.com based in Texas. This story was not subject to the approval of Major League Baseball or its clubs.