Royals getting to see Mondesi in big leagues
Club calls up No. 1 prospect to play second base, options Merrifield to Triple-A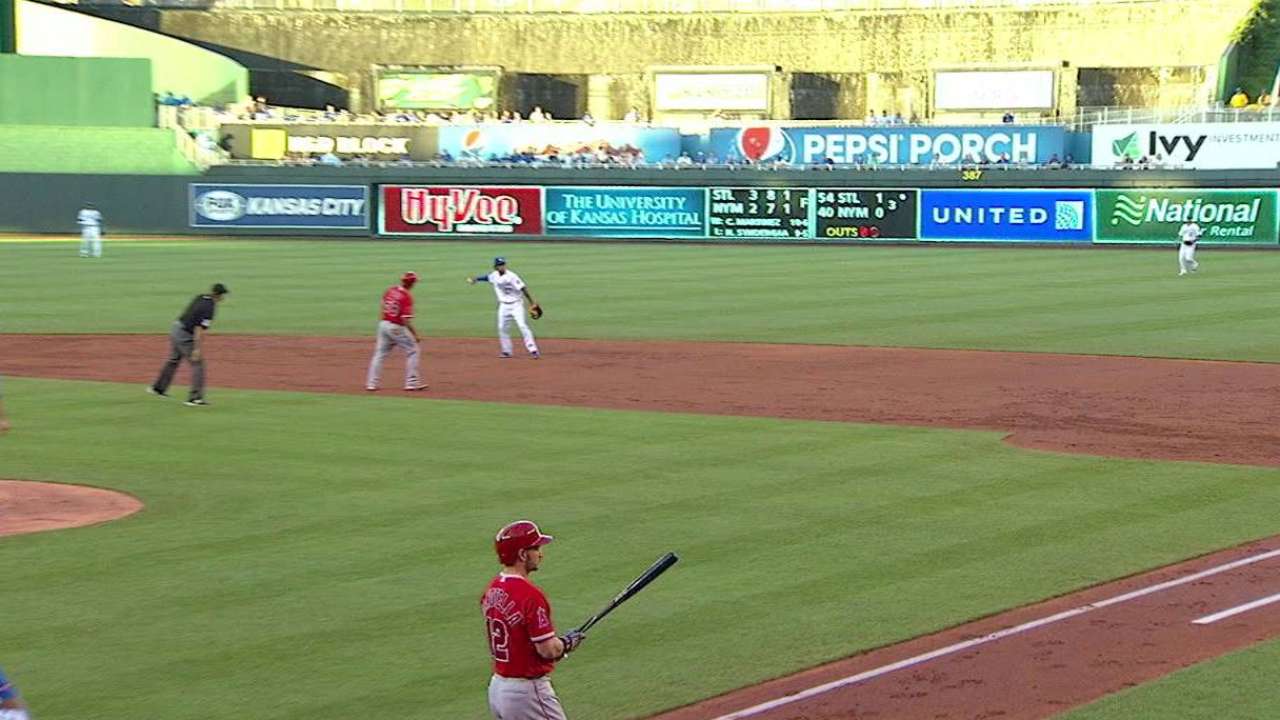 KANSAS CITY -- Back in Spring Training, Royals general manager Dayton Moore and manager Ned Yost had several discussions about infielder Raul Mondesi, the team's No. 1 prospect.
Those talks centered on the proper time to launch Mondesi's big league career. That time came in Tuesday night's 13-0 loss to the Angels as Mondesi made his regular season debut, going hitless in three at-bats. He also made an error and started a double play.
"We thought that we'd get him about half a season in the Minors," Yost said, "and then if the need was there, bring him up then."
The need is there. With rookie second baseman Whit Merrifield entrenched in a miserable slump (5-for-45) and the team having lost 13 of 18 entering Tuesday, the Royals recalled Mondesi from Triple-A Omaha on Tuesday and optioned Merrifield to the same affiliate.
Mondesi was in the starting lineup on Tuesday against the Angels. He will turn 21 on Wednesday.
"He's ready," Yost said. "Dayton has always said about him that he plays 'up.'"
Playing up is playing to the level of competition. The Royals believe Mondesi will play better in the big leagues than he did in the Minors. And Mondesi was pretty good in 14 games at Triple-A this season, hitting .304 and slugging at .536.
Mondesi, who actually made his Major League debut in the World Series last fall, is a natural shortstop. But he will play second base, a position he played extensively in Spring Training and on occasion in the Minors, for Yost.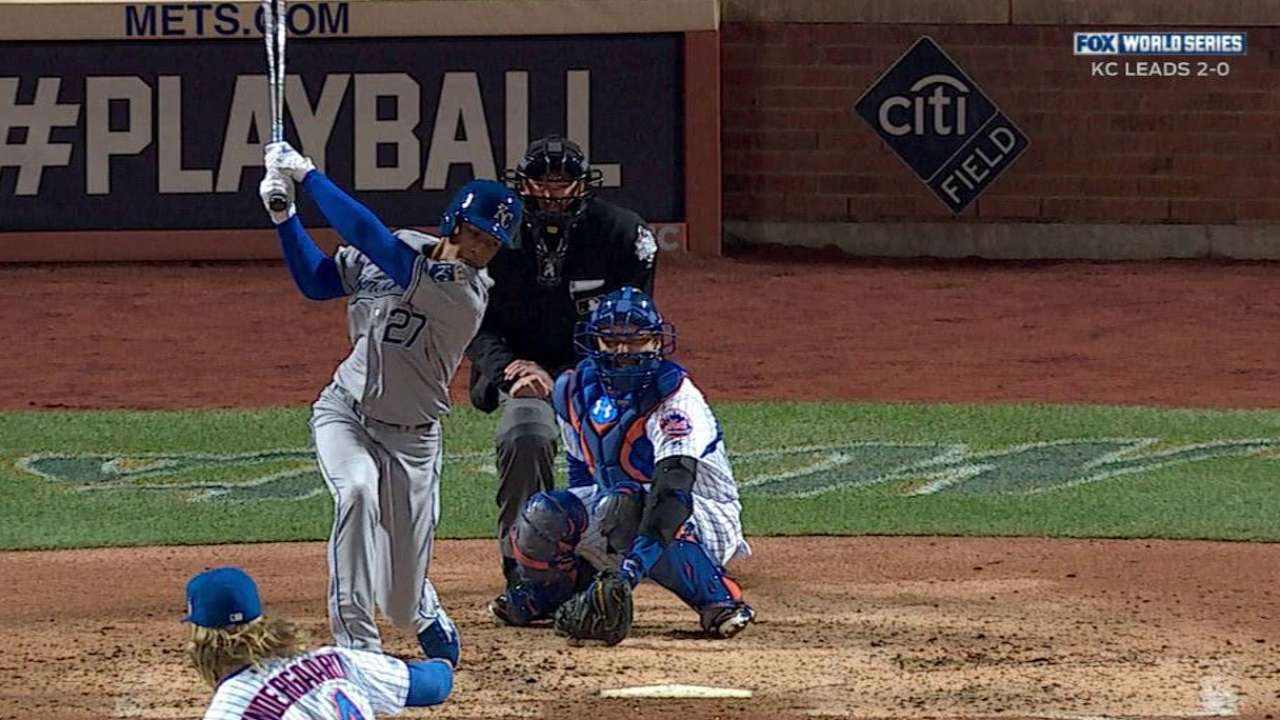 "I feel good at second base," Mondesi said. "I was playing a lot of games down there at second base. So I feel comfortable now playing second."
The atmosphere on Tuesday was quite different than what Mondesi experienced with the Royals last fall.
"No pressure," Mondesi said, smiling. "And after last year in the World Series, I know how this [being in the Majors] works now."
One of Mondesi's first calls when finding out about his promotion on Monday night was to his father, former big leaguer Raul Mondesi.
"I called my dad, my mom, all my family," he said. "Everybody was happy."
Mondesi missed 50 games earlier this season after being suspended for PEDs. He spent most of that time in Arizona staying in shape.
"All season, I worked a lot," Mondesi said. "I was just waiting for my chance. And now I've got it so I just have to play hard."
Yost said Merrifield would be back with the Royals with the September callups or "maybe sooner."
"We know he can hit at this level," Yost said.
Merrifield's demotion did catch some of the players off-guard.
"When you're not going good as a team, you have to make changes," first baseman Eric Hosmer said. "You have to try and shake things up a little bit. I know everyone in here enjoyed having Whit here ... I think it caught everyone by surprise, but stuff like this happens."
The Royals also announced on Tuesday that center fielder Lorenzo Cain (left hamstring) will begin a rehab assignment with Omaha on Wednesday.
Fantasy spin | Fred Zinkie (@FredZinkieMLB)
The top prospect in the Royals' system in spite of a career .297 on-base percentage in the Minors, Mondesi may also be the organization's fastest player. With 24 steals across 52 games this season, the 20-year-old has the potential to make a major impact in the swipes category if he proves to be Kansas City's answer for an unsettled second-base situation. Owners in need of speed should stash Mondesi now, but those seeking more balanced production may want to take a wait-and-see approach on the second-generation big leaguer.
Jeffrey Flanagan has covered the Royals since 1991, and for MLB.com since 2015. Follow him on Twitter @FlannyMLB. This story was not subject to the approval of Major League Baseball or its clubs.