All-Stars represent Arizona Fall League in San Diego
33 AFL grads among MLB's Midsummer Classic standouts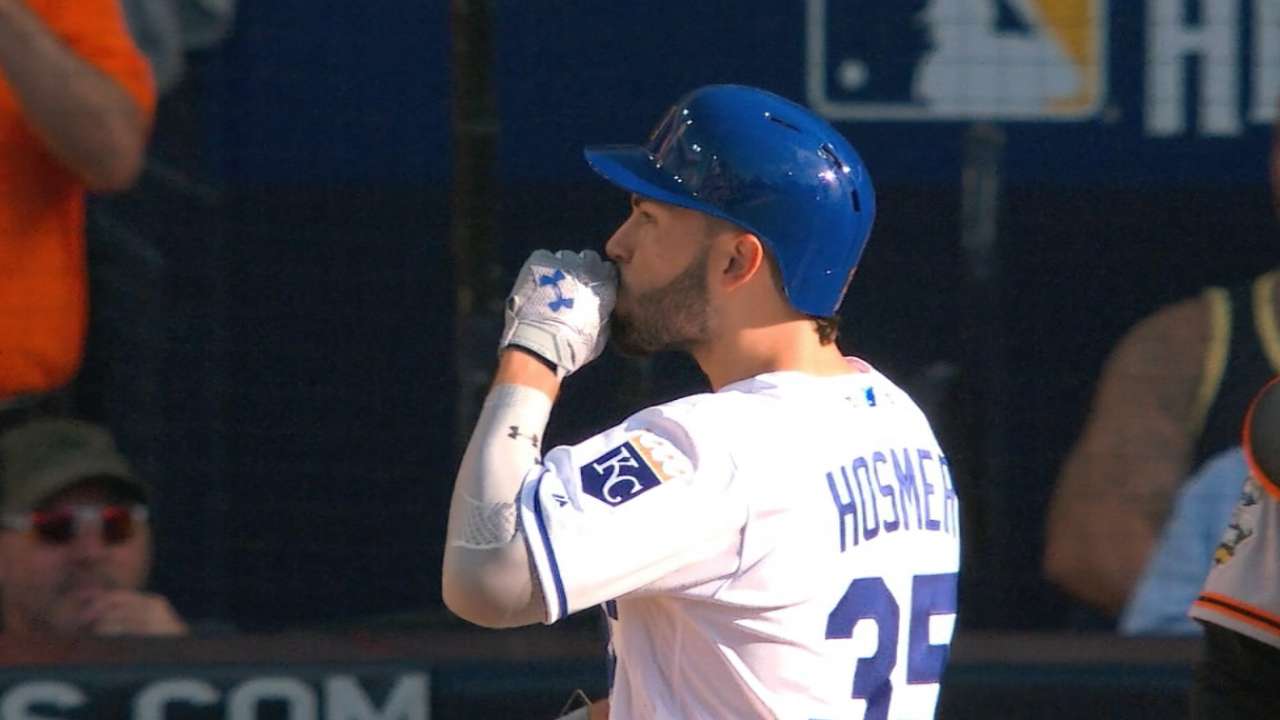 The Arizona Fall League may not be scheduled to begin its 25th anniversary season for another two months or so, but this summer offered AFL graduates another chance to shine.
When MLB's All-Stars descended upon sunny San Diego in mid-July, the Arizona Fall League counted 33 former players -- 10 whom were voted into the game as starters -- among them. Since the AFL's 1992 inception, 247 graduates have gone on to earn All-Star nods in the Big Leagues.
2016 MLB All-Stars who played in AFL
A quick glance at the names of the Fall Leaguers-turned-MLB All-Stars this year reveals much about the Arizona Fall League's pedigree. Fourteen AFL graduates represented the American League, including Royals first baseman Eric Hosmer, who took home the 2016 Midsummer Classic MVP Award for his two-hit, two-RBI performance. Joining Hosmer in the starting lineup were fellow AFL grads Mookie Betts and Mike Trout, as well as Hosmer's Kansas City teammate Salvador Perez, the 2015 World Series MVP. Both Hosmer and Perez played for the AFL's Surprise Rafters in 2010.
Across the field, reigning NL Rookie of the Year Kris Bryant -- one of 19 AFL graduates on the NL squad -- got the Senior Circuit on the board early with a home run of his own. Fellow Cubs infielders Dexter Fowler and Addison Russell started the game alongside Bryant, as did Bryce Harper, Buster Posey and Ben Zobrist, all of whom are former AFL standouts.
Just three years ago, Bryant was named the 2013 Most Valuable Player of the Arizona Fall League for his impressive showing.
"It was 30 games against really good Minor League competition -- the best of the best," Bryant said. "I think that really helped my development."
Bryant spoke for all of his peers when he reflected on his first All-Star Game selection as a freshman last season: "To do it in my first year was a once-in-a-lifetime thing. It was definitely something that I'll remember for a very long time. At the time, I was just in awe. I was competing against Albert Pujols (also an AFL grad) in the Home Run Derby. Four years ago, I never would have thought I would do that."
In addition, 18 former Fall Leaguers were selected to play in the SiriusXM All-Star Futures Game, and four of the eight sluggers in the 2016 T-Mobile Home Run Derby had spent time in the AFL. James Hoye, a former AFL umpire, was a member of the All-Star Game crew.