Dahl in a day's work: Rockies prospect debuts
Outfielder collects first hit, scores run during loss to Orioles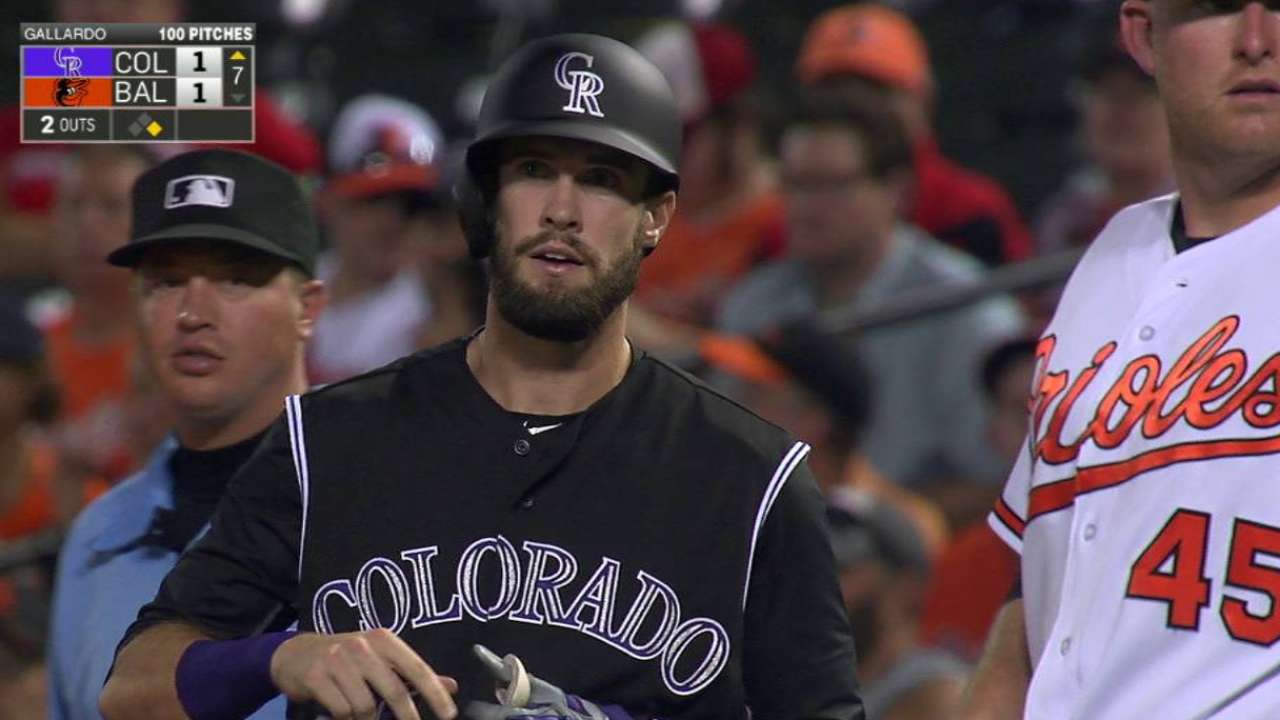 BALTIMORE -- After a lengthy day of cross-country travel, Rockies prospect David Dahl finally arrived at Camden Yards on Monday just before 5:00 p.m. ET, ready to make his Major League debut.
The travel issues, complete with a 90-minute delay in Fresno, Calif., and a missed connection, may have been the only thing that could have ultimately delayed Dahl's ascent to the big leagues.
The Rockies officially recalled Dahl from Triple-A Albuquerque on Monday, and the club's No. 2 prospect was in the starting lineup for the 3-2 loss against the Orioles.
• Dahl, Story represent House of Homers
"It still hasn't hit me yet," said Dahl, who hit .484 (30-for-62) with five home runs and 16 RBIs in 16 games in Triple-A. "I'm just trying to take it all in."
While Dahl arrived, his luggage never made the rescheduled connection. It all made for a memorable first day in the big leagues, in which the Rockies' first-round pick from the 2012 Draft played left field with Mark Reynolds' outfield glove, collected his first career hit while swinging Daniel Descalso's bat and scored his first career run wearing Trevor Story's cleats.
"I didn't sleep at all last night," Dahl said. "I was at the airport at 3:30 in the morning, so I'm pretty tired, but it was really exciting, something I'll never forget."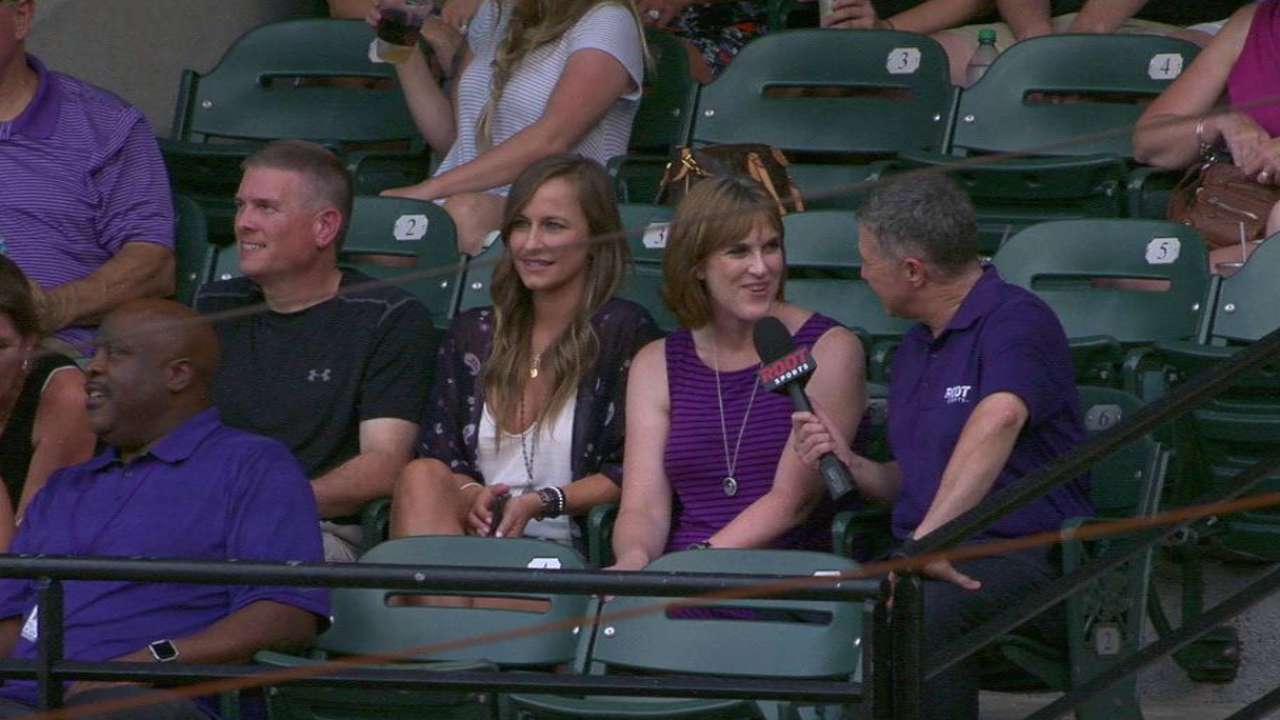 Dahl went 1-for-4 with a run scored while batting sixth in the lineup. He received a nice hand from the 19,361 at Camden Yards before his first career at-bat, which ended with a three-pitch strikeout from Orioles starter Yovani Gallardo. Dahl worked a full count in his second at-bat, but again struck out swinging, this time on a 90-mph fastball.
"As the game went along, I felt a lot more comfortable," he said. "Just seeing pitches and getting my body going after traveling all day. But yeah, I saw the ball a lot better the last few at-bats."
• Dahl adds top throwing arm to vast Coors Field outfield
Dahl, 22, again worked a full count against Gallardo in the seventh inning before singling up the middle with two outs for his first career hit. Dahl advanced to second on a wild pitch before scoring from second on a Reynolds single up the middle to give Colorado a 2-1 lead.
"I just said I was scoring no matter what if he got a hit," Dahl said, "so I was trying to get a good jump, get a good lead and he came up with a big base hit and we scored."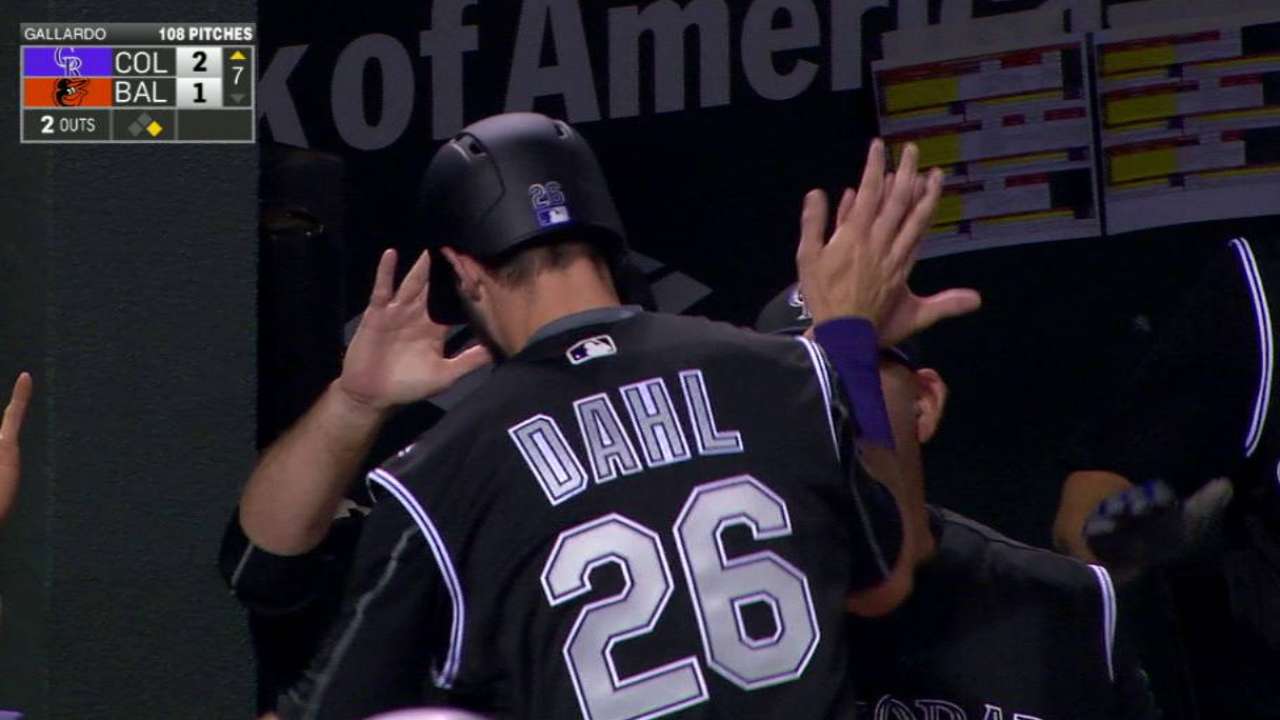 After the game, Dahl received the baseball from his first hit and a copy of the official lineup card. When he's finally reunited with the rest of his luggage and equipment, he may be able to settle in without having to chase any more commercial flights for the next few months.
"He's going to play," said manager Walt Weiss. "He may not play against lefties, but that's not out of the question either. But he's going to play against right-handed pitching.
"He's earned it, he deserves it and he's here because we feel that he can help us win games. He's having a heck of a season and he's put himself in a position to get this callup."
Ben Raby is a contributor to MLB.com based in Baltimore. This story was not subject to the approval of Major League Baseball or its clubs.