A-Rod optimistic after digging into analytics
Yankees DH on bench for 3rd straight game Monday
HOUSTON -- Alex Rodriguez's role with the Yankees may never have seemed more diminished than it does at this moment, but the designated hitter says that he is optimistic that he has identified a flaw in his swing, even huddling with the team's analytics department to go over his recent output.
Rodriguez was benched for the third consecutive game on Monday, this time against left-hander Dallas Keuchel in the Yankees' 2-1 victory over the Astros at Minute Maid Park. Rodriguez had already been sitting regularly against right-handed pitching.
"I am optimistic. I'm excited, my body feels great," Rodriguez said. "I recognize I did not have a good swing the first three months, but I recognize that I'm moving better and the metrics and numbers are moving in the right direction. I'm super excited to get out there and hopefully do a little bit more of what I did last week, which is drive the ball."
Yankees manager Joe Girardi said that he opted to sit Rodriguez because of his career numbers against Keuchel (1-for-12, five strikeouts) as well as wanting to keep Carlos Beltran in the lineup. Beltran went 2-for-4 with a double as New York's designated hitter on Monday.
"I'm trying to keep Carlos going. Carlos has played every day; this will be his 11th day in a row," Girardi said. "Keuchel has been pretty tough on Alex, but it's more about trying to keep Carlos in the lineup every day and I feel this is the best way."
Rodriguez said that Girardi informed him early on Monday that he would not be playing. Rodriguez said that he preferred to keep the contents of their conversation private.
"He wants to be in there. I get that," Girardi said. "I don't want a player who is content not to be playing."
The unwanted rest has given Rodriguez ample time to dig into the books, and he said that he sought out the advanced metrics on his own.
Rodriguez rattled off the areas where the math says he is improving -- strikeout-to-walk ratio, chase rate, exit velocity - - and said that he is encouraged that he has been hitting the ball in the air more regularly. He slugged career homer No. 696 a week ago off the Orioles' Kevin Gausman.
"I just wanted to see the numbers. I knew that I was feeling better, but I wanted to see if there was math behind it," Rodriguez said.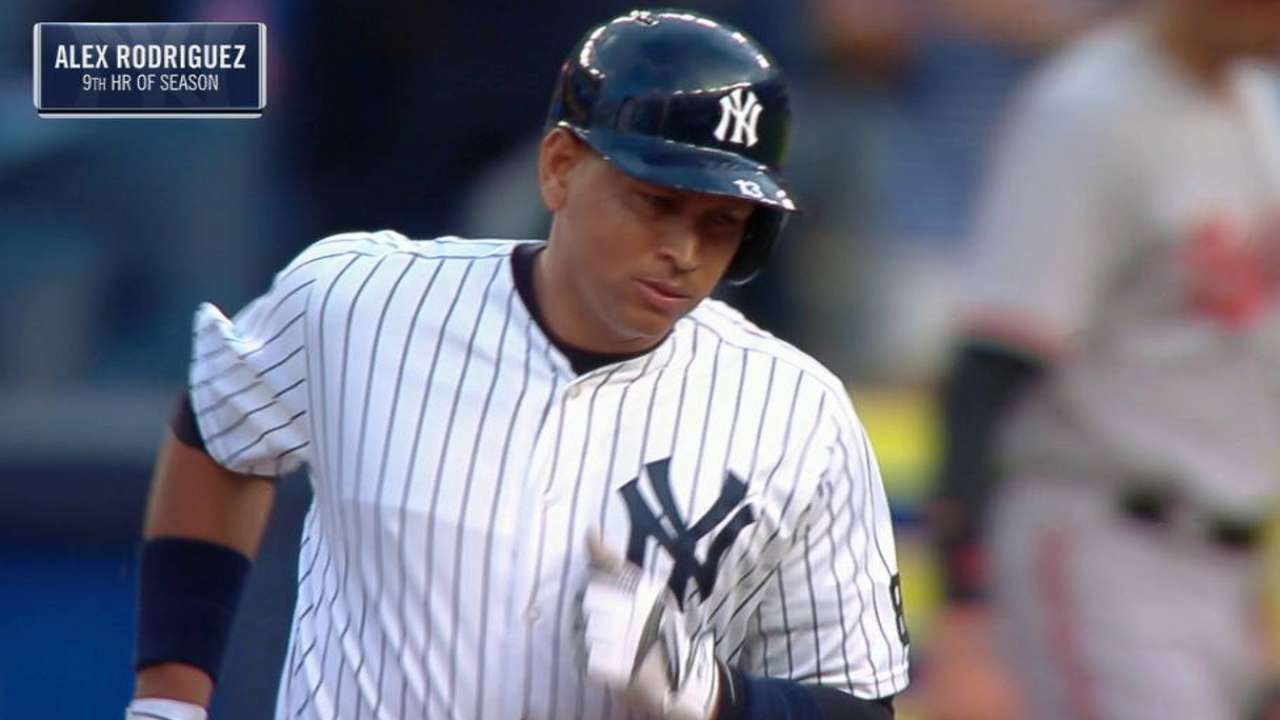 The more traditional numbers have not been pretty for Rodriguez, who turns 41 on Wednesday. He is batting .206 with nine home runs and 29 RBIs in 58 games. General manager Brian Cashman said that there has been no thought given to releasing Rodriguez, who is signed through next season.
"That is something that is not being considered right now," Cashman said.
Rodriguez spoke briefly with managing general partner Hal Steinbrenner last week in New York, and said that he thinks that he has had "very positive" conversations with both Cashman and Girardi.
"I am working hard," Rodriguez said. "The one thing in baseball is there's a lot of games. Opportunity will come and I'll be ready when my number is called."
Bryan Hoch has covered the Yankees for MLB.com since 2007. This story was not subject to the approval of Major League Baseball or its clubs.