Bedrosian getting grip on breaking-ball success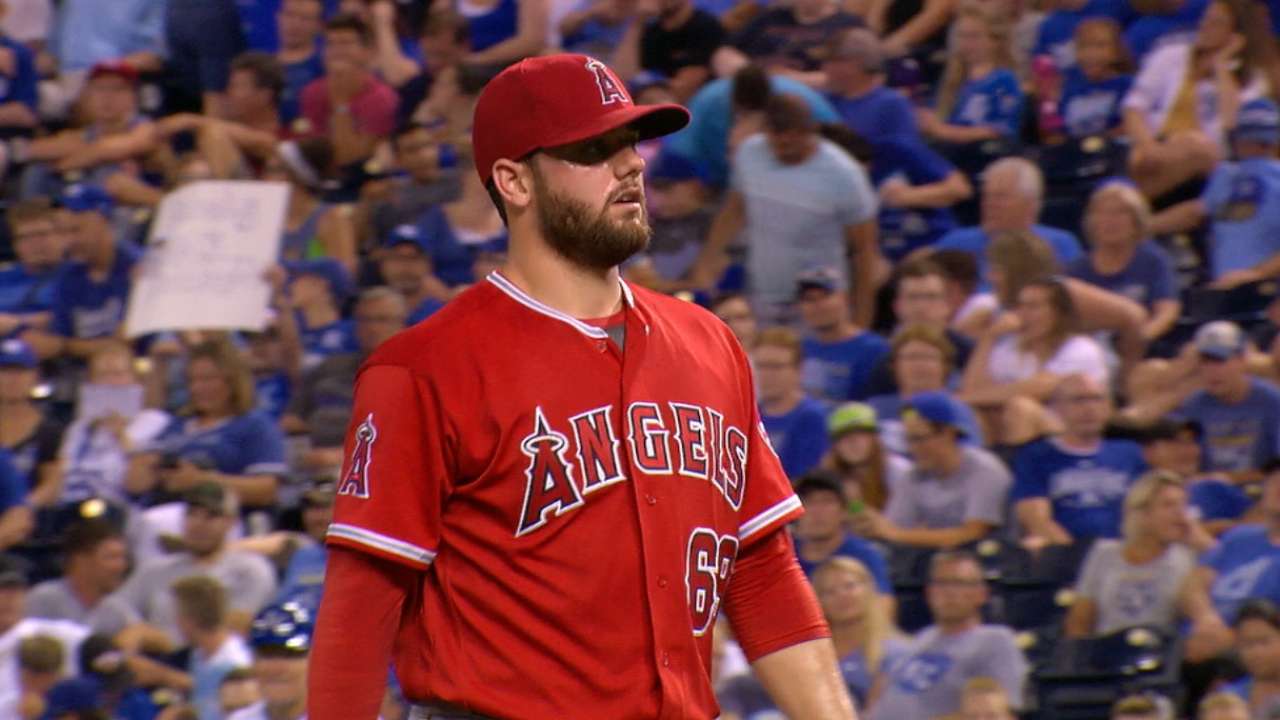 KANSAS CITY -- Cam Bedrosian didn't just strike out the side in Monday's eighth inning, which gave him 22 consecutive scoreless outings. He struck out the side on breaking balls, a pitch the 24-year-old right-hander has spent the last five years painstakingly striving to command.
"So good," Bedrosian, speaking after the Angels' 6-2 win over the Royals at Kauffman Stadium, said of how it felt to finally start having success with his breaking ball. "It's been hard work that's paid off; really focusing on throwing it, being able to throw it in whatever count I need to throw it."
He used it Monday to set down the heart of the Royals' order, fanning Eric Hosmer, Kendrys Morales and Salvador Perez.
Bedrosian always threw hard, always had the makings of a potential closer, but it wasn't until he commanded his breaking ball that he actually tapped into his potential.
He used to throw a good breaking ball, but then he had Tommy John surgery in 2011 and never quite regained a feel for it. He tried upward of five grips thereafter. Some worked momentarily, but all eventually flattened out. Then Bedrosian spent the offseason playing catch with his father, former Cy Young Award-winning closer Steve Bedrosian, and adopted his grip, which is basically a standard four-seam grip.
He threw the pitch with the arm action of a slider, so that it has more bite and less loop.
Just as important, though, was Bedrosian's mindset with the pitch.
"Just really focusing my brain -- 100 percent, all in -- on throwing it for a strike," said Bedrosian, his ERA down to 0.97. "Going into Spring Training, just having a clear mindset of, 'I'm going to work all Spring Training on being able to throw it for a strike.'"
Alden Gonzalez has covered the Angels for MLB.com since 2012. Follow him on Twitter and Facebook, and listen to his podcast. This story was not subject to the approval of Major League Baseball or its clubs.