Pujols reaps RBI rewards in RISP situations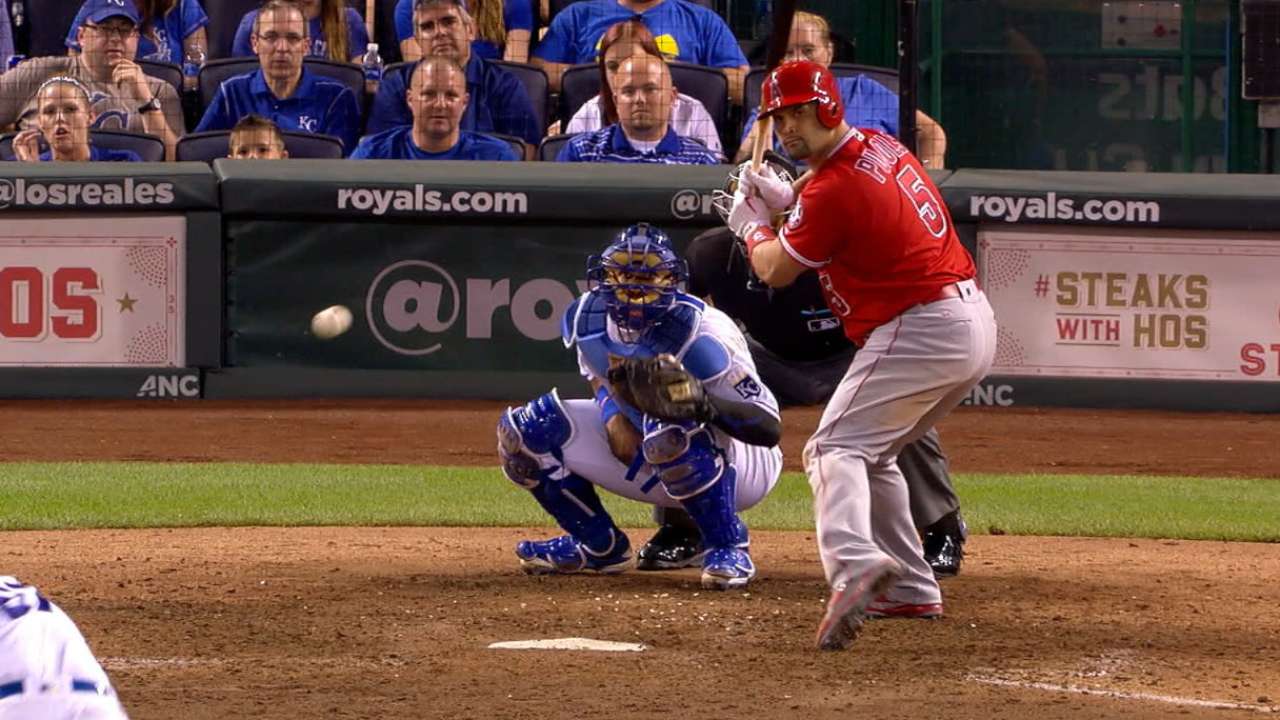 KANSAS CITY -- Albert Pujols drove in four runs in the Angels' 6-2 victory over the Royals at Kauffman Stadium on Monday night. He's got 76 RBIs on the year, third-most in the American League. And he's on pace for 124, which would represent his highest total since he recorded 135 in 2009.
"Wow, that would be awesome," Pujols said, smiling. "We'll see. It would be nice, but I can't think about that right now."
With the bases loaded and none out in the first, Pujols snuck a grounder up the middle to score two runs. With a runner on second and one out in the seventh, he smacked a base hit to right. And with runners on the corners and two outs in the ninth, he singled up the middle once more.
Pujols is batting .319 with runners in scoring position this year, after hitting only .248 in that situation the previous two seasons.
Success rates with runners in scoring position tend to fluctuate and are hardly a measure of overall ability. But Pujols' numbers in RBI opportunities are critical to the Angels' offense, because batting behind Mike Trout gifts him plentiful opportunities to drive in runs.
"We're in the middle of the lineup," Pujols said. "That's our job."
Pujols trails only Carlos Santana for the most plate appearances with runners in scoring position since the start of the 2014 season, which is no surprise.
Pujols didn't reach 76 RBIs until Aug. 31 in 2015. His overall batting average (.254) and OPS (.766) remain low by his standards, but he's doing a better job of converting his RBI opportunities, a big reason why his Angels have averaged the fifth-most runs in the game since the start of May.
"It's part of the game," Pujols said when asked if he has changed his approach with runners in scoring position. "If you look at Houston, I went 0-for-6. But you know that your team is going to give you an opportunity every night to do that, and you can't let one series affect you. You have to stay positive all the time, and that's what I do. I'm pretty good at doing that and flipping the page, and not letting one at-bat take control of the whole series, or the whole game."
Alden Gonzalez has covered the Angels for MLB.com since 2012. Follow him on Twitter and Facebook, and listen to his podcast. This story was not subject to the approval of Major League Baseball or its clubs.