Hellickson baffles Marlins in midst of trade talk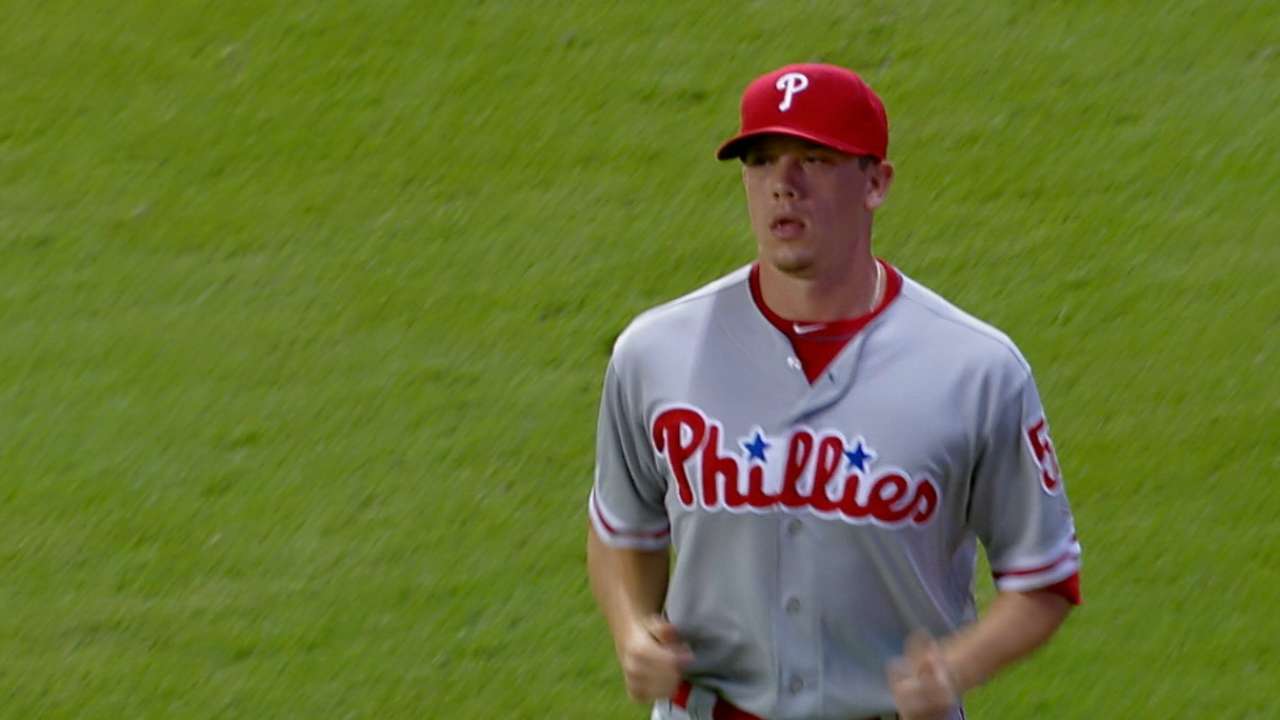 MIAMI -- Phillies general manager Matt Klentak will want to keep his cell phone charger nearby.
Klentak should be getting plenty of calls, texts and emails in the next few days about Phillies right-hander Jeremy Hellickson, who pitched another gem on Monday night in a 4-0 victory over the Marlins at Marlins Park.
Hellickson, who is the Phillies' player most likely to be traded before the Aug. 1 non-waiver Trade Deadline, allowed just one hit and one walk and struck out one in six scoreless innings. He has permitted just one run in 14 innings in his last two starts, both of which came against the Marlins.
"He's not going anywhere," Phillies catcher Cameron Rupp bellowed afterward in the visitors' clubhouse.
"I hope not," Hellickson added.
But Hellickson might be pitching too well to stay. He has a 2.20 ERA in his last seven starts, and contending teams could use him.
"I feel really good," Hellickson said. "I think the [All-Star] break really helped. I was feeling really good, feeling strong and like I said, the ball's down and not missing too many spots right now."
Ironically, the Marlins have been one of Hellickson's top pursuers. What makes their chase particularly ironic is the Marlins fell into a tie with the Mets for the second National League Wild Card spot. If they miss the postseason by a game or two, they might regret not pulling the trigger earlier on Hellickson, if they do so at all.
But it isn't like the Marlins are the only team interested. The Orioles, Blue Jays, Giants and Pirates were among a handful of teams that had scouts in attendance.
"It doesn't bother me," Hellickson said about his name constantly circulating in trade rumors. "Like I told you before, once I'm in this locker room -- obviously you still see it on TV and stuff -- my focus was on helping us win today. Now, it's on to the next start, so I definitely, like I told you guys, I see it and read about it, but it's been like this for a few years now, so it's pretty easy to go out there right now."
Hellickson is a free agent following the season and is unlikely to be re-signed, which is why the Phillies are likely to trade him. But they have also said publicly they will not give anybody away. If Hellickson is going to help a contender, even for a couple of months, the Phillies want something of value in return.
"At this point, I don't want to lose him," Phillies manager Pete Mackanin said. "I wish he could stay here. He's that solid for us. He's been like that the whole year."
But other teams are seeing that, too. And with the Trade Deadline less than a week away, teams short on starting pitching might get the itch to finally strike a deal.
Todd Zolecki has covered the Phillies since 2003, and for MLB.com since 2009. Read his Phillies blog The Zo Zone, follow him on Twitter and listen to his podcast. This story was not subject to the approval of Major League Baseball or its clubs.