La Russa: Responsibility for season starts at top
Hall of Famer includes criticism for self in remarks about disappointing 2016
MILWAUKEE -- D-backs chief baseball officer Tony La Russa did not mince words when talking about his team's play of late, particularly its effort level.
"If you're fair, you factor in the injuries," La Russa said. "You don't ever factor in a reason why the effort is lackluster. Ever. It's not acceptable to any of us, and it's certainly not acceptable to fans, or owners or presidents/CEO's. Guys downstairs said last year they were getting complimented about the way they play, and they don't hear the compliments and we don't hear the compliments upstairs and you watch. All of us need to kick ourselves in the [butt]."
The D-backs, who were expected to contend for a playoff spot after signing Zack Greinke to a six-year, $206.5 million deal and trading for Shelby Miller, instead fell out of contention prior to the All-Star break.
Rumors swirled last Friday that the D-backs were considering dismissing manager Chip Hale and promoting Triple-A manager Phil Nevin.
La Russa, who hired Hale after dismissing Kirk Gibson at the end of the 2014 season and has been a big supporter of Hale's, was asked if he still feels Hale is the guy to run the team.
While he answered in the affirmative, La Russa also made it clear that no one should feel safe -- himself included -- given the team's record this year.
"Yeah, but I'm wondering if I'm the guy," La Russa said. "I mean I watch us play, and I'm supposed to impact the execution, whether it's making pitches in situations or how to take at-bats in situations, and I don't see us doing that well enough. I'm asking if I'm the guy. That's part of it. We've got the job, so ... I've got to do the most to continue to prove that I deserve to have that, and I think it seems more natural when you struggle.
"But I'm here to tell you if we were the opposite on the plus side, that's the attitude that keeps you in this business doing your job for a long time, because you just don't let things slide."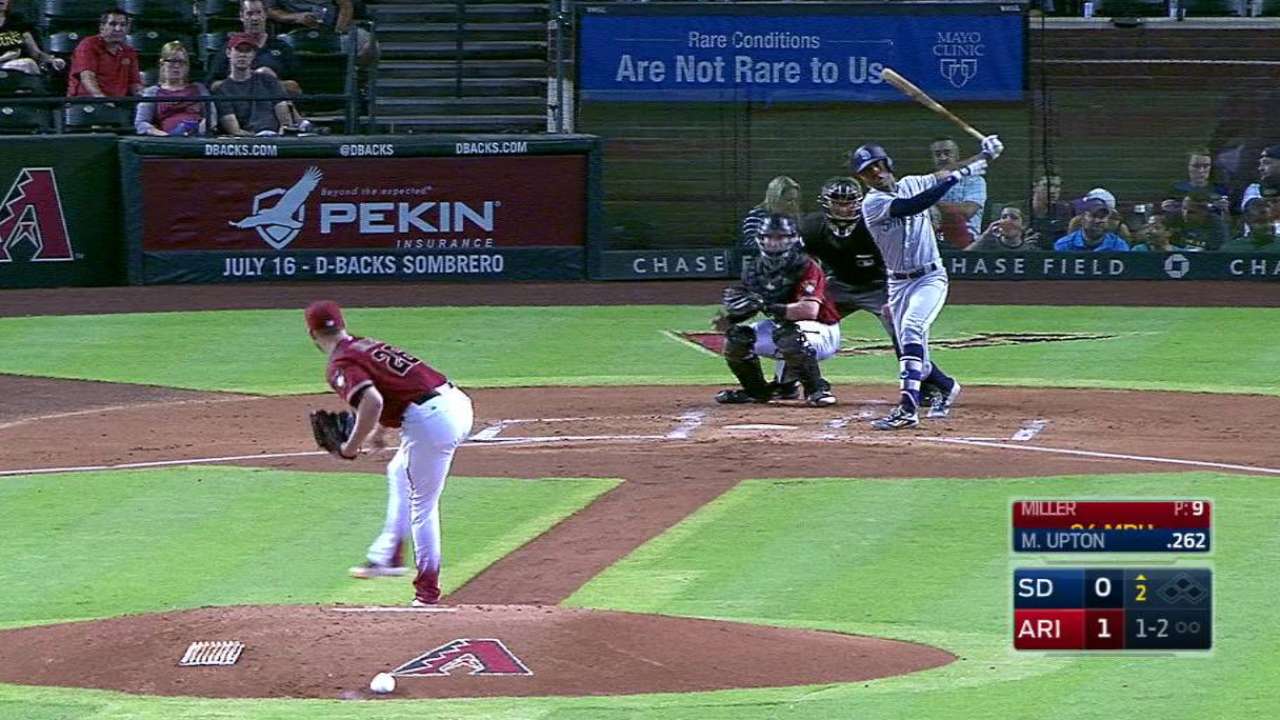 La Russa was asked about a report from Jeff Passan of Yahoo! Sports that said the D-backs have let teams know that Miller is available in a trade prior to the Aug. 1 non-waiver Trade Deadline.
"It's a really common straightforward approach," La Russa said. "What you do is if somebody calls you about anybody, you say, 'Who do you want to talk about?' And [Paul Goldschmidt] would be the one nobody would bother to ask us. You don't have enough to get him. You never know if someone values someone so highly and when you make a deal you're better off. So you always listen."
That being said, do not expect the D-backs to trade players that can help them over the next couple of seasons in exchange for prospects.
"We remain convinced that the core of this club is not a rebuilding club that's several years away from contending," La Russa said. "We just think we -- I'm talking about we upstairs all the way down and through -- that we just haven't done a good enough job. I think that our attitude is whatever the phone conversation is like, if there's something that looks like it improves us in the second half or fits into us having a better chance to win in '17 and beyond, you listen. [For] Shelby [and] all of our young pitching, [GM Dave Stewart] is getting a lot calls, and all for the right reasons. They're young. They're not making a lot of money, and they're controllable."
Steve Gilbert has covered the D-backs for MLB.com since 2001. Follow him on Twitter @SteveGilbertMLB. This story was not subject to the approval of Major League Baseball or its clubs.