Cubs embrace arrival of electric closer
Maddon says entire team on board with Chapman trade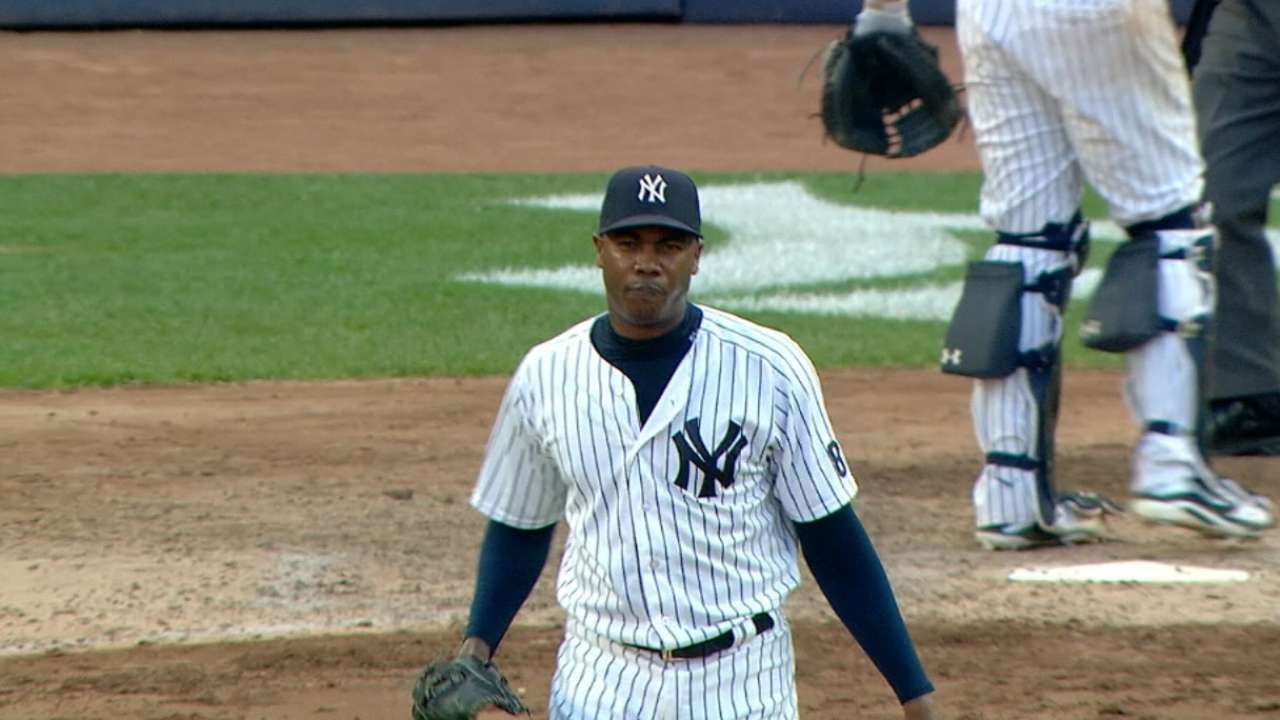 CHICAGO -- Hector Rondon may have been the happiest player in the visitors clubhouse at U.S. Cellular Field on Monday, and he had just lost his job as the Cubs' closer with the arrival of Aroldis Chapman.
"I don't care if I pitch in the seventh, eighth, I just have to do my job," Rondon said. "I'm really happy."
Rondon now finds himself as a late-innings pitcher after the Cubs acquired the hard-throwing Chapman from the Yankees for four players, including top prospect Gleyber Torres and pitcher Adam Warren.
"He's a unique pitcher," Cubs manager Joe Maddon said of Chapman. "He's unique in the history of the game. His ability to throw the ball that hard regularly, he's very resilient, he can pitch more than three outs. He's got all these different things about him that are unique to him."
And the timing was right for the Cubs, who boast the best record in baseball.
"You can't take for granted the position we're in right now," Cubs president of baseball operations Theo Epstein said. "We have a healthy pitching staff, a talented bullpen, two MVP candidates moving into their prime, a lot of talented hitters up and down the lineup, and they've worked their tails off to build up this nice lead heading into the stretch. We believe in these guys. We feel like we have a chance to do something special, but there's a lot of work ahead."
Epstein said the Cubs felt the club would benefit from a "game changing" type pitcher like Chapman, especially in the postseason.
"As you get down the stretch into big games and hopefully into the postseason, those type of relievers take on an even more significant role," Epstein said. "He's a dynamic pitcher, he's an impact guy, and he fits really well with our club. It was tough to give up what we gave up, but if not now, when?"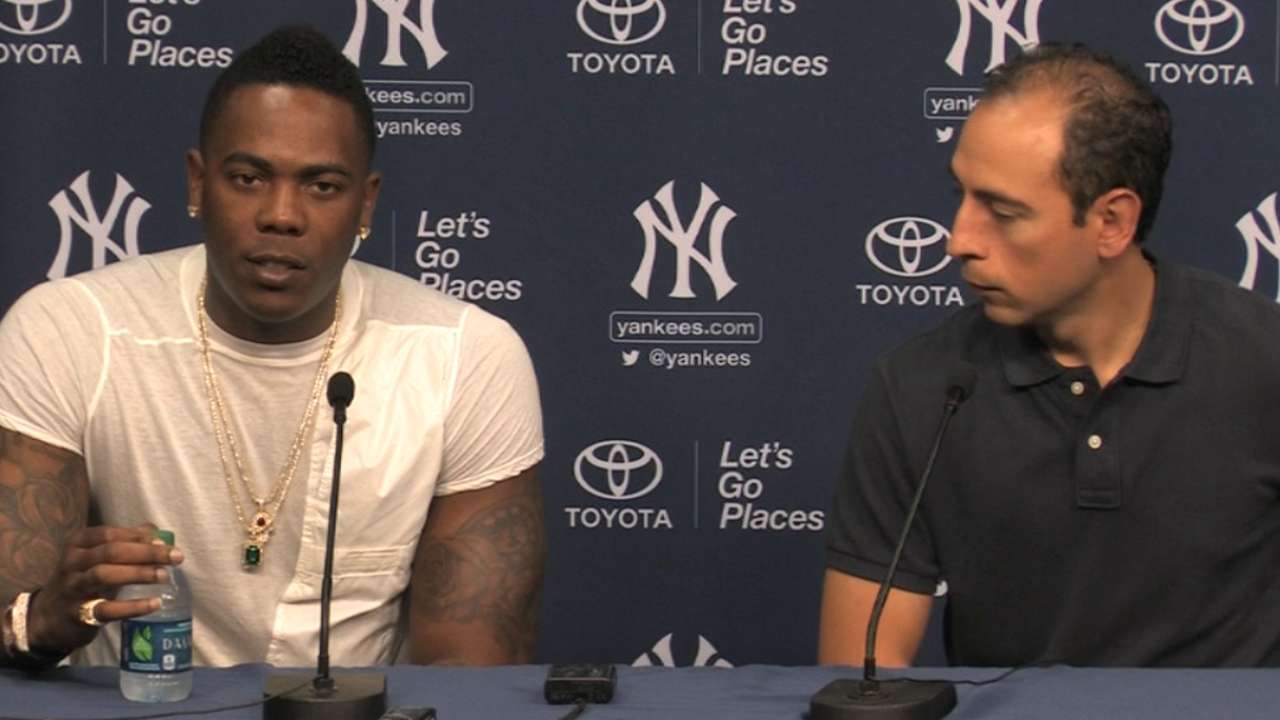 Epstein did talk to Rondon to make sure he knew the move had nothing to do with how the right-hander was pitching.
"The question we asked ourselves was, 'How can we get even better to put ourselves in a position to try to get to the playoffs and win three postseason series?'" Epstein said. "We felt this trade made us better."
Maddon said he now can be more creative with his other relievers.
"I know [Rondon] is on board with this -- the entire group is," Maddon said. "When a team sees that the acquisition raises the level of your abilities, it's a very easy sell. The tougher sell is when it's a lateral kind of a move. When you acquire a gentleman like this to play at the back end of your game, everyone recognizes the benefits."
But the Cubs would not have completed this trade before they talked to Chapman, who began this season serving a 30-game suspension covered by Major League Baseball's domestic violence policy after a dispute with his girlfriend in South Florida. Epstein said they received a window from Major League Baseball with the Yankees' permission, and the trade was contingent on that conversation.
"If we had not been satisifed with what we heard, we would not have moved forward," Epstein said. "It was really heartfelt from the conversation. ... He's been a good teammate and a good citizen in his months with the Yankees, and we expect that to continue in his months with the Cubs."
Cubs chairman Tom Ricketts explained to Chapman that the Cubs have high standards, and the pitcher said he understood.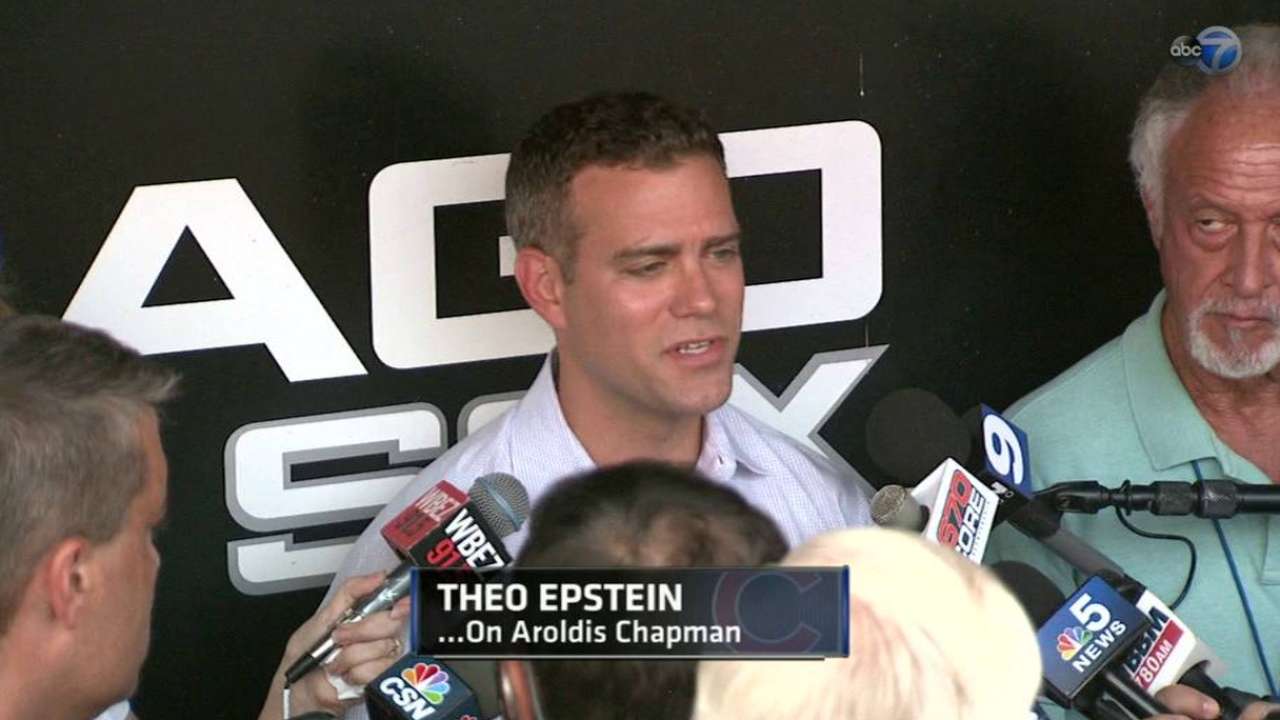 "Our conclusion was that he has owned this, he is handling it the right way, he's attempting to move on from it the right way," Epstein said.
Cubs catcher David Ross did his own background check, calling Yankees catcher Brian McCann.
"He says [Chapman] is a phenomenal guy, great teammate, wants to win," Ross said. "Brian's one of those guys who when he says something, I take it to heart and believe it. I'm excited, and we're excited to get him and give him a clean slate."
Jason Heyward was just happy at the prospect of not having to face Chapman.
"To have someone come in the game that late, it's tough to hit that fastball," Heyward said. "He's a big guy and he's also perfected how to pitch with other pitches, so it's that much tougher. He's definitely special to have."
Carrie Muskat has covered the Cubs since 1987, and for MLB.com since 2001. She writes a blog, Muskat Ramblings. You can follow her on Twitter @CarrieMuskat and listen to her podcast. This story was not subject to the approval of Major League Baseball or its clubs.