Still no timetable for Hill's return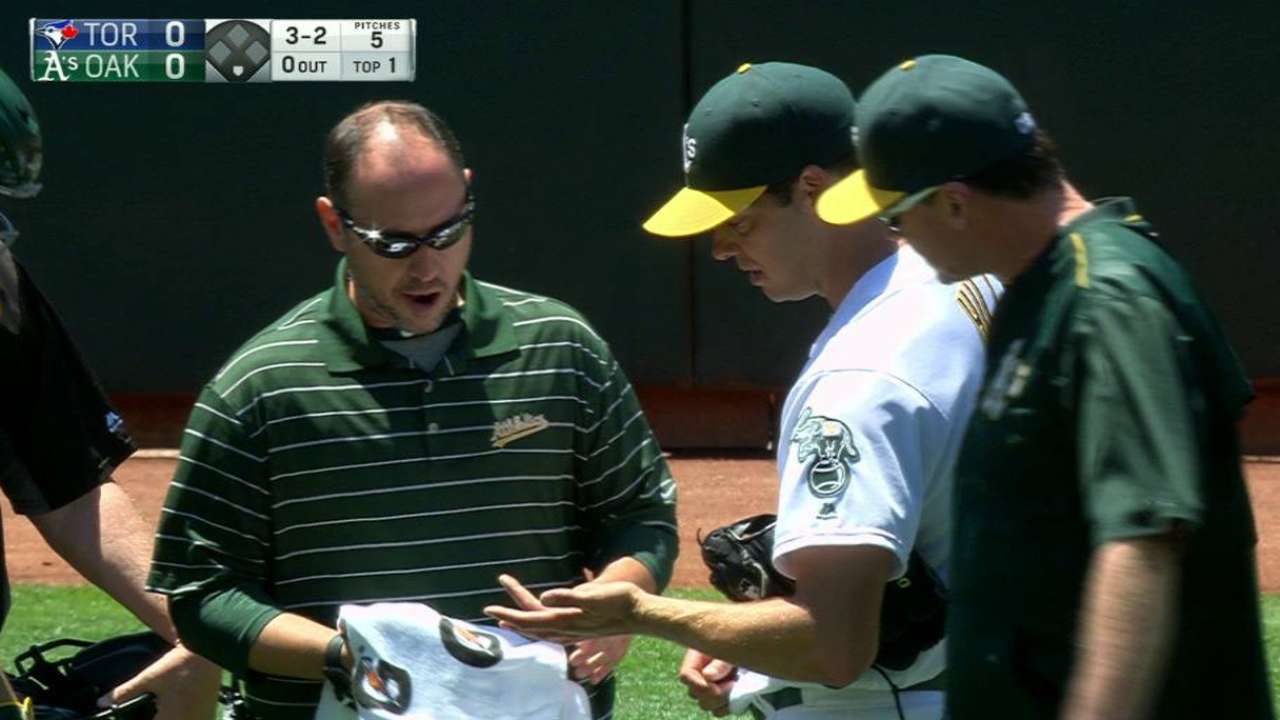 ARLINGTON -- The A's are still without a return date for left-hander Rich Hill, whose lingering blister could greatly impact the club's chances of dealing him ahead of the Aug. 1 Trade Deadline.
Hill would presumably have to make a start by the end of the weekend for interested clubs to comfortably make an offer for his services, but the veteran has yet to even throw a bullpen session without the protective tape that accompanied him during a 30-pitch side session Sunday.
The veteran's next bullpen session is scheduled for Wednesday at Globe Life Park.
"Until he can throw off the mound without it [tape] and show that it doesn't affect him, we still don't have a target date for him, but we're keeping him on the roster for a reason," A's manager Bob Melvin said. "Hopefully this thing turns for him and we're able to fit him in some time during this road trip."
Hill last pitched July 17, when the blister popped just five pitches into his first outing out of the All-Star break. Up until that time, he was considered one of the more attractive pitching commodities on the market, even after missing more than a month with a groin strain.
Signed by the A's to a one-year, $6 million deal this offseason, Hill has pitched to a 2.25 ERA in 76 innings when healthy.
The A's did not appear to be close to dealing any of their other players, including wanted outfielder Josh Reddick, as of Monday.
Worth Noting
• Melvin said A's catcher Stephen Vogt flew to Texas on Monday and will return from the family medical leave list ahead of Tuesday's game.
• The A's added infielder/outfielder Max Muncy to their bench on Monday, optioning starter Jesse Hahn to Triple-A Nashville to make roster room.
Hahn enjoyed his best start of the season Sunday, limiting the Rays to one run in 7 2/3 innings, but the A's aren't in need of a fifth starter again until Aug. 6.
• Outfielder Coco Crisp (neck discomfort) remained out of the lineup a second straight day Monday but felt better, Melvin said.
Jane Lee has covered the A's for MLB.com since 2010. Follow her on Twitter @JaneMLB. This story was not subject to the approval of Major League Baseball or its clubs.