Mariners fans thrilled to see Griffey in Hall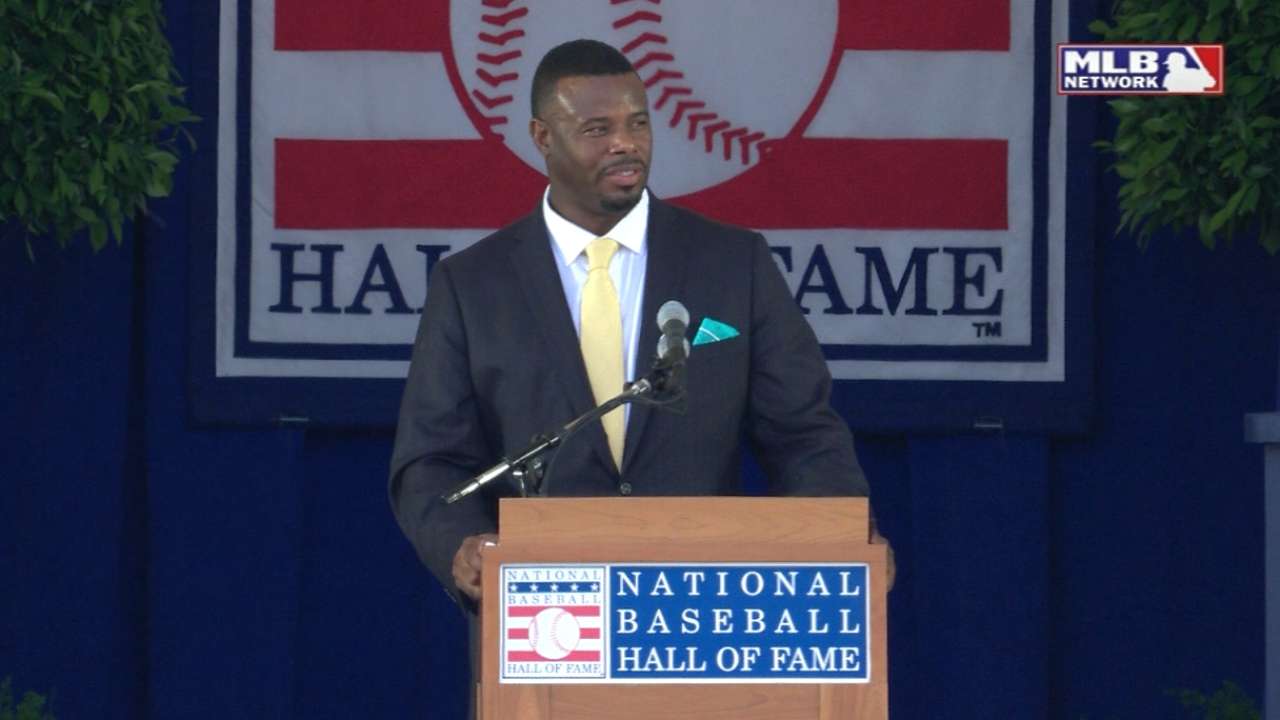 COOPERSTOWN, N.Y. -- The ceremonies were over, the speeches done and the crowds thinned out Monday at the National Baseball Hall of Fame. But the buzz over Ken Griffey Jr.'s induction? That will linger for some time with baseball fans thrilled to see The Kid taking his place in Cooperstown.
Hundreds of fans lined up at 8 a.m. on Monday at the Hall of Fame museum to be the first in the door to see the newly installed plaques for Griffey and Mike Piazza. And when the two came in two hours later for a personal viewing in the gallery room of the historic facility, those lucky enough to be present at the time surged around and raised iPhones high above their heads in the hope of catching a glimpse or picture of the new inductees.
Dave and Brittney Pfeifer, a young married couple from Woodinville, Wash., were among the throng waiting for a chance to see the plaque -- or better yet, Junior -- in person. Like most fans who made the cross-country trek to baseball's birthplace, they'd spent the previous three days soaking up history, looking for familiar faces on the streets of Cooperstown and going to Sunday's induction ceremony.
"You literally can't draw up more of a once-in-a-lifetime opportunity," said Dave Pfeifer, who grew up in Enumclaw, Wash., watching Griffey himself grow up. "My whole family is just so happy we were able to make it out here. It's been a dream come true. It's hard to put it into words. It's my whole childhood coming back to me, seeing Dave Niehaus' face up there. [Brittney] got her picture taken with Jamie Moyer, and we saw pretty much all the old Mariners guys walking around."
Pfeifer's wife, carrying their young baby, Olivia, said there never was a doubt they'd be in Cooperstown once Griffey was elected.
"We talked about this when we first met, that if he got inducted we would be here, no matter what," she said. "Little did we know that we'd have a 4-month-old to bring along. But we made it happen."
Along with the plaque, the museum has an entire Griffey exhibit set up for the coming year that includes his 1997 American League MVP Award, uniforms from the '95 playoff run as well as '99, when he won his 10th straight AL Gold Glove and All-Star honors, the Reds batting helmet worn when he hit his 400th career home run on Father's Day in 2000, the black bat he used to hit the 500th combined career homers between him and his dad in 1998, a silver-painted glove he wore in a '98 "Turn Ahead the Clock" game for the M's, as well as a Mariners hat -- facing forward -- and a pair of his game cleats from his Seattle days.
The bat carries special meaning for Griffey. His dad hit 152 homers in his 19-year career, so when Junior reached 348, it made for a very nice round number for the father-son duo.
"Not too many families have 500 home runs," Griffey said. "That's a benchmark for the Hall of Fame, 500 home runs. It was just something at that time, he was actually in Oakland when it happened. I knocked on his door and threw the bat at him. He said, 'What's this?' I didn't know what to do with it at the time because I was playing.
"But he understood the magnitude of history. I just wanted to survive and play baseball, but he's over there seeing not only where he fit, but where I fit."
Now, of course, Griffey fits in the Hall of Fame in a spot that will forever bear his name and likeness.
"It was pretty interesting to look at that and look where I'm going to be for the rest of my life, and then some," Griffey said.
#Mariners PA announcer Tom Hutyler and fans paying tribute to the first of our own in the Hall. #JrHOF pic.twitter.com/B7NeXAflmD

— Mariners (@Mariners) July 25, 2016
As for the thousands who traveled from all parts of the globe to be part of the weekend? Griffey appreciated that as well.
"It's an honor," he said. "Any time somebody takes their hard-earned money and wants to celebrate something with you, it's special."
Greg Johns has covered the Mariners since 1997, and for MLB.com since 2011. Follow him on Twitter @GregJohnsMLB and listen to his podcast. This story was not subject to the approval of Major League Baseball or its clubs.