Wait finally over as Astros welcome Bregman
No. 2 overall pick in 2015 Draft penciled in at third base for MLB debut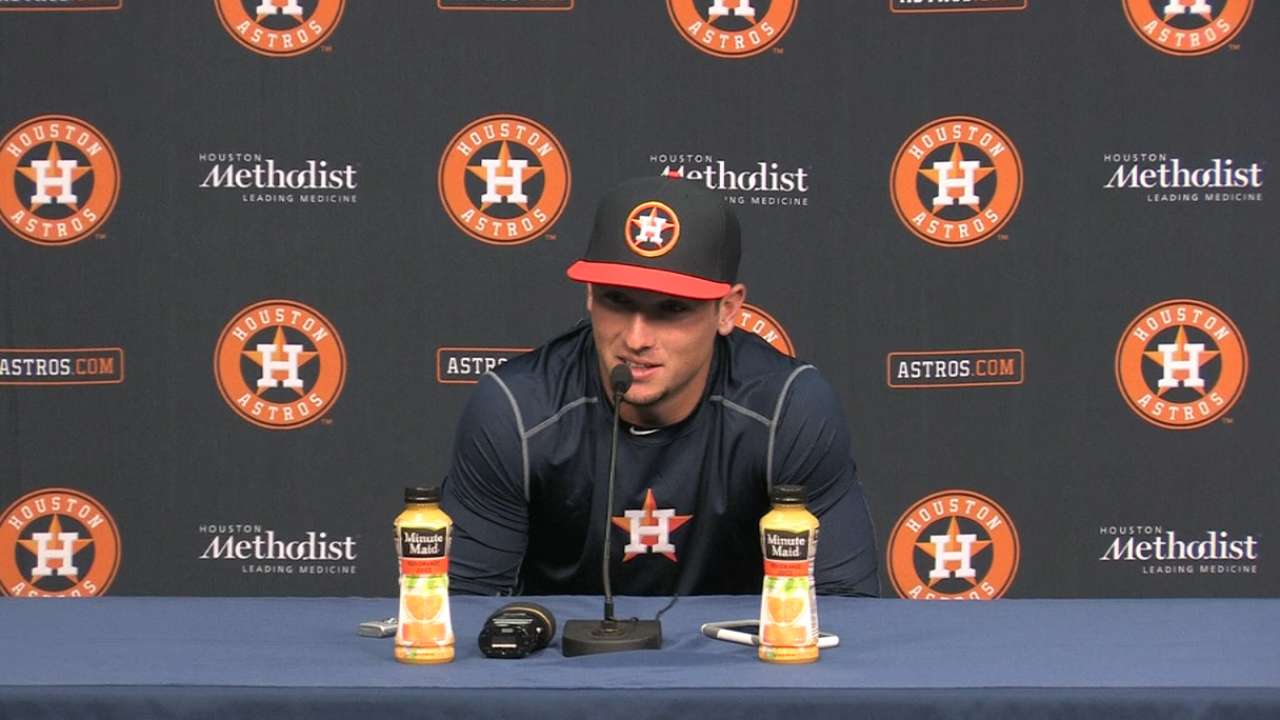 HOUSTON -- It may have felt like forever for some, but Astros No. 1 prospect Alex Bregman is officially a Major League ballplayer.
"It's been amazing," Bregman said of his first day in Houston. "It's been a dream come true. I thought yesterday was really cool, but today has been even better."
• Elite prospect Bregman excited to join Astros
Bregman will bat sixth and play third in place of the injured Marwin Gonzalez on Monday night. What position Bregman plays on a routine basis going forward is still up in the air, though.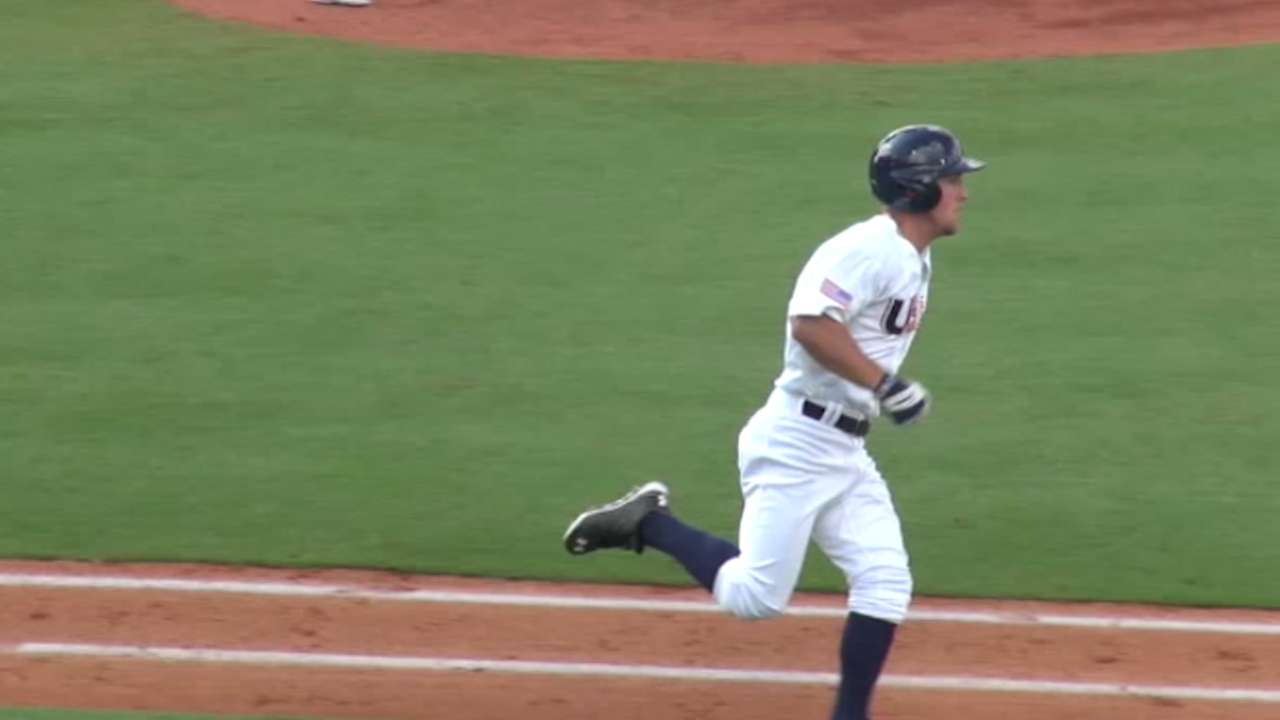 In a fitting twist of fate or pure coincidence, Bregman will make his debut in front of more than 50 friends and family members Monday night against his mother's favorite team, the New York Yankees.
Her favorite team before Houston drafted him, that is.
"Everyone else in the house didn't really root for the Yankees, but it's definitely really cool to play against them in your debut," Bregman said. "Probably the most storied franchise ever."
While Bregman didn't have a favorite team of his own growing up, he did idolize Yankees legend Derek Jeter, so much so that Bregman will wear Jeter's famed No. 2 with Houston.
"I always rooted for him, just because he was the captain," Bregman said. "He loved to win, and he was clutch."
That number is also a nod to Bregman's Draft position: Houston selected him with the second overall pick in the 2015 Draft.
Bregman became somewhat of a social media sensation this season among Astros fans, who clamored and begged for the 22-year-old to get called up seemingly every day.
Now available in the team store. pic.twitter.com/96NqLW2eT1

— Houston Astros (@astros) July 25, 2016
"I'm thankful that they want me to be here, but I'm really just trying to keep my head down and play baseball," Bregman said. "Just worried about playing the game and what happens in between the white lines, and that's it."
The fans' hype wasn't without merit, though. Bregman hit .333 with six home runs and six doubles over 18 games with Triple-A Fresno before coming to Houston. Their wish came true Sunday evening, when Astros manager A.J. Hinch announced Bregman had been called up and would make his debut Monday.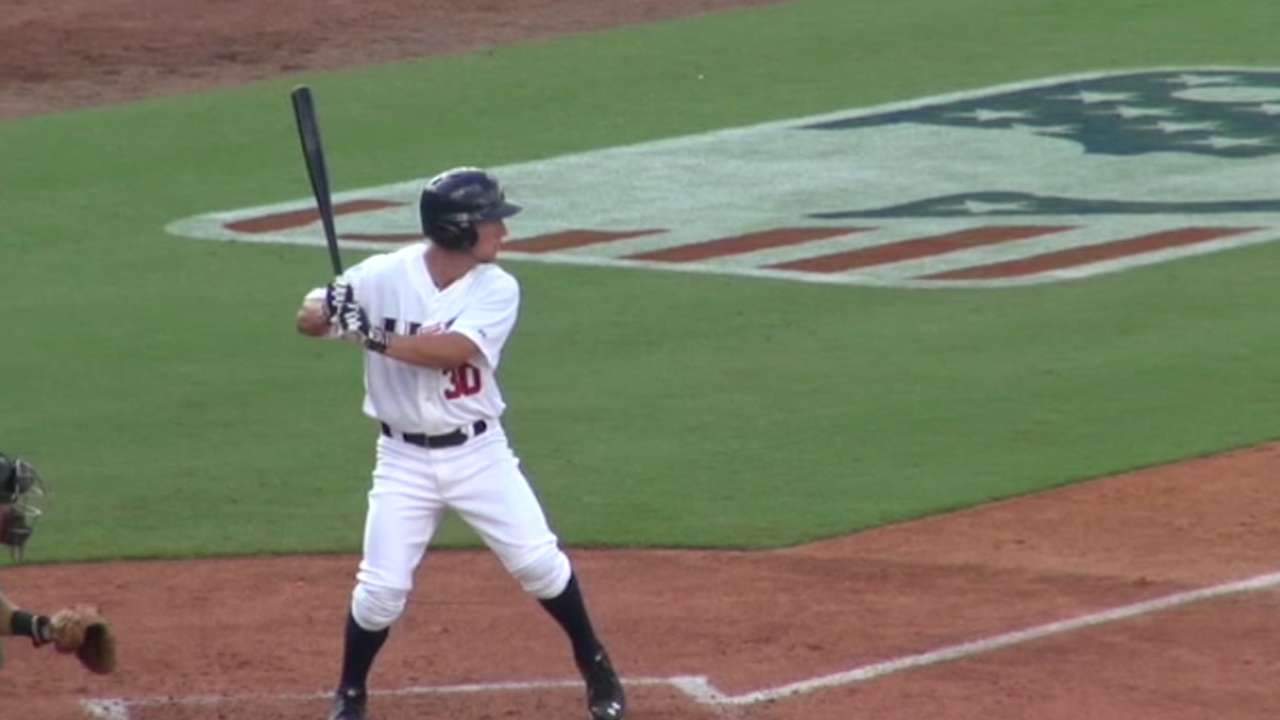 Now that the question of "when" has been answered, the next question is "where." The Astros have a crowded infield with the addition of Bregman, who primarily plays shortstop and third base, but he can also play in the outfield.
"I'll play wherever," Bregman said. "Like I said, I just want to help this team win. I'm here to just keep my mouth shut, try and win games. That's it. I don't care where I play, and wherever I do play, I'll play hard and give everything I got."
"The way our team will open our arms to him and invite him into the circle is pretty impressive," Hinch said.
After being called up, Bregman flew from Fresno to Houston, where he was greeted with a night of fun, food, video games and pool at shortstop Carlos Correa's house.
"Alex landed and [Correa] texted Alex, told him to come over," pitcher Lance McCullers said. "[Bregman] ate some food and then played Carlos in UFC twice and lost twice."
For the Astros' sake, hopefully the often-confident Bregman is a little more successful at playing baseball than video games.
"I'm not going to win games by talking about it," Bregman said. "Just by doing it."
Luckily, he'll have some help from his teammates.
"Oh, I'm gonna mess with him, for sure," outfielder George Springer said of Bregman's debut. "You gotta do anything you can to keep the mood light and just to keep him relaxed."
Jordan Ray is a reporter for MLB.com based in Houston. This story was not subject to the approval of Major League Baseball or its clubs.