MLB.com Columnist
Mike Petriello
5 controllable, under-the-radar relievers worth going after
Chapman, Kimbrel trades show bullpen market has shifted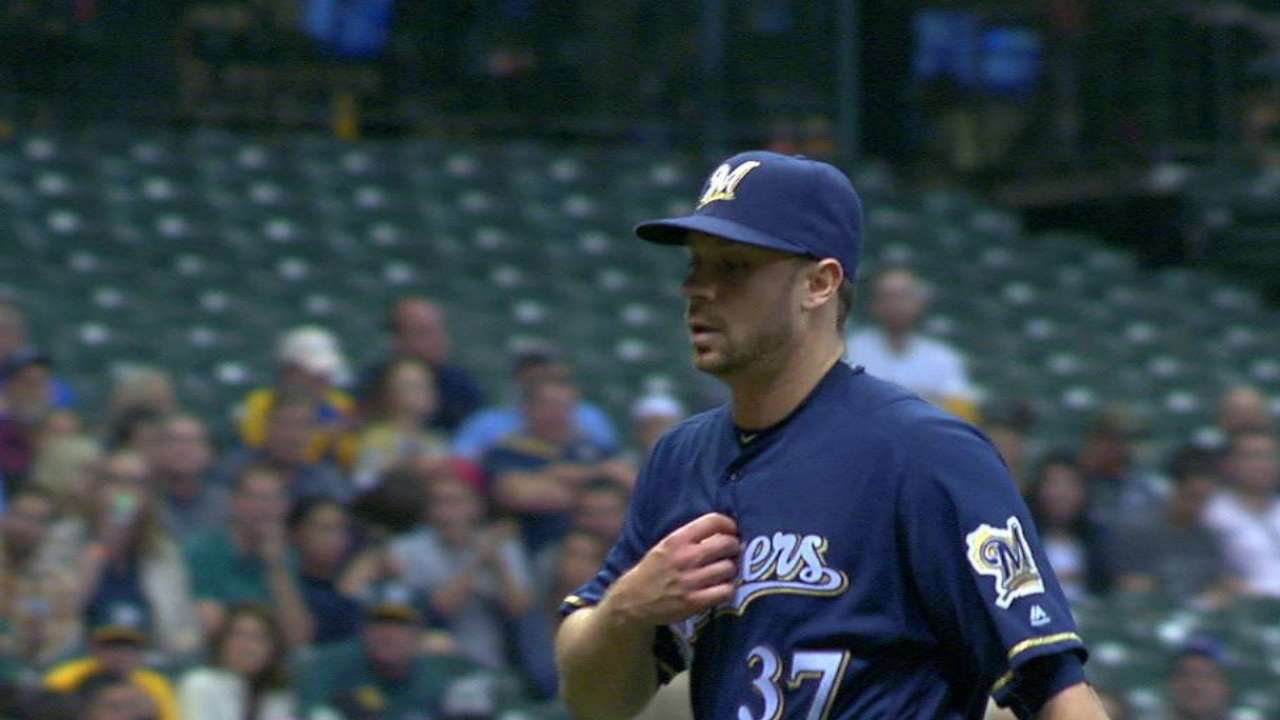 If the Aroldis Chapman trade did anything, it proved once again that top late-inning relievers are worth so much more than we all think they ought to be. The return the Yankees got for the last two months of Chapman's contract was borderline stunning, especially considering how much more they got than what they gave up for him in December. Remember, the Padres were universally hailed for what they received from the Red Sox for Craig Kimbrel, and how good the Phillies looked for extracting a huge price out of the Astros for Ken Giles, including Vince Velasquez.
The point is, good relievers cost a ton right now. Given the sticker shock that's likely to come with the remaining top names such as Andrew Miller, Wade Davis and Mark Melancon, who may or may not even be available, any teams on the fringes of the playoff race or below would do well to push their best arms as hard as they can, hoping to cash in on what's very clearly a seller's market -- even if it hurts them in the short term.
But while it's fun to imagine the Dodgers seeing what insane prices they could get for Kenley Jansen or what would happen if the Orioles dangled Zach Britton, those probably aren't realistic moves. Likewise, the Mariners could lose every game for the rest of the year and they still wouldn't trade 22-year-old Edwin Diaz, who has 44 strikeouts in 21 2/3 innings and more than five years of low-cost team control remaining -- and impending free agents such as Boone Logan, Jeanmar Gomez or Joe Smith are too-obvious trade candidates.
No, what we're looking for here are under-the-radar relievers, with team control remaining, who may otherwise be held onto -- except that thanks to the prices we're seeing, teams could or should want to put out there. Here are five:
Nate Jones, White Sox
The Sox insist they're not giving up on 2016 yet, and perhaps they won't, but at 48-50 and with seven teams ahead of them in the American League Wild Card race, it seems more likely than not. Last offseason, Chicago signed Jones to an extension that keeps him on the South Side through 2021 at a total of approximately $15 million, if all options are exercised. That's a lot of team control to offer over one of baseball's hardest throwers; Jones averages 97.4 mph on his fastball, even after 2014 Tommy John surgery.
Finally returning last summer after rehab, Jones has been quietly dominant ever since, striking out 76 in 64 innings and holding hitters to a .199/.259/.358 line around a 2.81 ERA, though you don't hear about it that much since he's not in the ninth. Put another way, you know who else has strikeout and walk numbers similar to Jones' 30.3 percent whiff rate and 6.4 percent walk rate since his return? Britton, though of course he adds elite grounder skills.
The White Sox, assuming they don't trade Chris Sale, still plan to contend in 2017 around a core of Sale, Jose Abreu, Adam Eaton and Jose Quintana. It's not a bad start, but as we've seen the past two seasons, there are too many holes around that nice core to contend. If selling the next five years of Jones' career gets them closer to that goal, you absolutely explore that -- and Jones would fit nicely on a contender looking to add support in front of its closer.
Tyler Thornburg, Brewers
Milwaukee's rebuilding project under GM David Stearns has gotten off to a pretty solid start, and it'll be reinforced only if and when the team trades Jonathan Lucroy, Chris Carter, Will Smith and/or Jeremy Jeffress over the next few days. But you rarely hear about Thornburg as a valuable trade chip, and it's not hard to see why. Coming into the year, Thornburg had spent four seasons unsuccessfully trying to stick in the Brewers rotation, missed much of 2014 with an elbow injury, and spent most of last summer getting knocked around as a Triple-A starter.
Recalled after Jonathan Broxton was traded last July, Thornburg finally became a full-time reliever, and the results have been extremely impressive -- 80 strikeouts in 64 innings, a 2.53 ERA, a gaudy .170/.252/.328 line against, and a franchise record for most consecutive batters retired. Like most reliever conversions, a velocity jump is a big part of this; Thornburg's fastball has gone from 92.9 mph to 95.4 mph, and his curveball along with it, from 75.9 to 79.3 mph.
For comparison's sake, Thornburg's 35.1 percent whiff rate is equal to that of Jansen or Koji Uehara, and despite being a righty, his plus changeup allows him to be absolutely deadly against lefties, holding them to a career .187/.281/.261 line. Since he has three more years of control after 2016, the Brewers could well hold him, but it's an easy argument to cash him in right now.
Ryan Buchter and Brad Hand, Padres
Let's combine these two San Diego lefties, though they're actually very different. We know for certain that the Padres are very open for business, having already moved Fernando Rodney, Drew Pomeranz and James Shields, and no one expects them to stop now.
Buchter may be an extreme, because he's technically still a rookie, but he's been around since the Nationals drafted him in 2005. Since then, he bounced from the Cubs to the Braves to the Dodgers back to the Cubs and finally to the Padres, where he's used his high-spin four-seam fastball, which averages 93.5 mph, over 80 percent of the time. Of the 241 pitchers with at least 40 innings thrown, Buchter's strikeout rate of 32.6 percent is 10th, equal to Max Scherzer and Kelvin Herrera. Obviously, he's got significant team control remaining, but he's already 30 in February, meaning he's already in his prime, and if San Diego feels it can't contend in the next year or two, cashing him in when he's finally shown value may be the best play.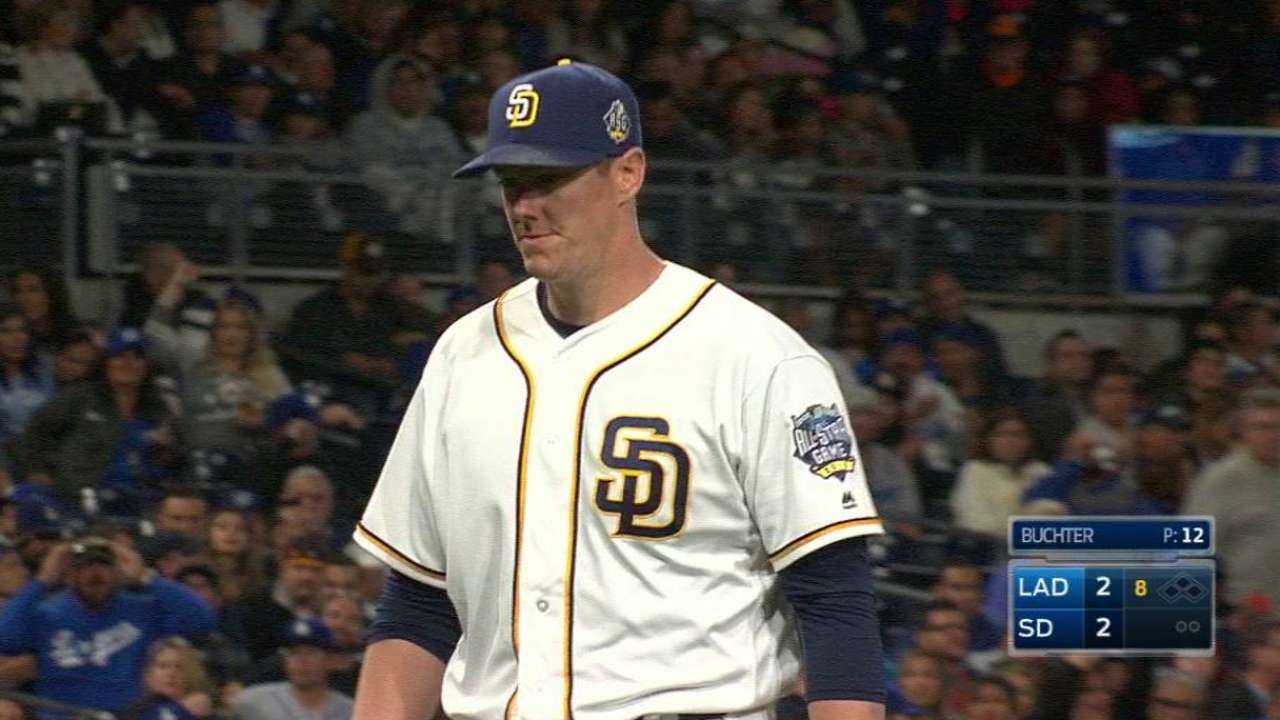 Hand's got high spin of his own, with a fastball that has one of the 10 highest rpm marks of any lefty with 200 thrown. He spent parts of five seasons trying to stick in the Marlins' rotation before joining the Padres' bullpen this year, though he's still under team control until 2019. You've heard this story a thousand times, but a move to relief paid huge dividends. For years, Hand whiffed between 14 percent and 18 percent of the hitters he faced. This year, that's 27 percent. That's in large part because he dropped his change in favor of a very good slider, one that has the second-highest swinging strike percentage (52.5 percent) of any lefty behind only Logan, ahead of Miller, Patrick Corbin and Clayton Kershaw. For Hand's career, lefties have a .211/.281/.312 line against, and that's even better this year.
Alex Colome, Rays
Colome made the All-Star team for the first time this year. If you want to argue that he's out of place on an "under the radar" list, you can easily do so, yet thanks to the market he plays in and the 38-60 record the Rays carry into Tuesday, it hardly seems like he's received a fraction of the recognition he deserves -- and wouldn't it be exactly like Tampa Bay to take advantage of a high market to sell a volatile asset before anyone expected the club to?
Now, perhaps "volatile" is too strong a word, but the Rays have watched 2015's closer, Brad Boxberger, collapse his trade value due to a pair of injuries that have limited him to one game; before that, they watched 2014 closer Jake McGee open 2015 on the disabled list after elbow surgery, limiting the value they received when they later dealt him to the Rockies. Colome isn't without his own red flags, missing time in 2014 due to a suspension and this year with biceps tendinitis.
None of which is to say that Colome, now healthy, isn't valuable, because he is. Moving into the bullpen full-time this year, he's lost his ineffective change and curve, instead relying entirely on his four-seam fastball and a cutter/slider. Whatever you want to call that pitch, it's been dominant, because hitters have just a .119 average against it, with 33 strikeouts in 69 plate appearances.
There's plenty of reason for Tampa Bay to keep him, obviously. But his loss wouldn't affect the 2016 season at all, and imagine putting out a sign that says "All-Star closer, under control until 2021" in this market? If you think the Rays wouldn't investigate, you haven't been watching them.
Mike Petriello is an analyst for MLB.com and the host of the Statcast podcast. He has previously written for ESPN Insider and FanGraphs. This story was not subject to the approval of Major League Baseball or its clubs.