MLB.com Columnist
Barry M. Bloom
Griffey, Piazza 'euphoric' day after induction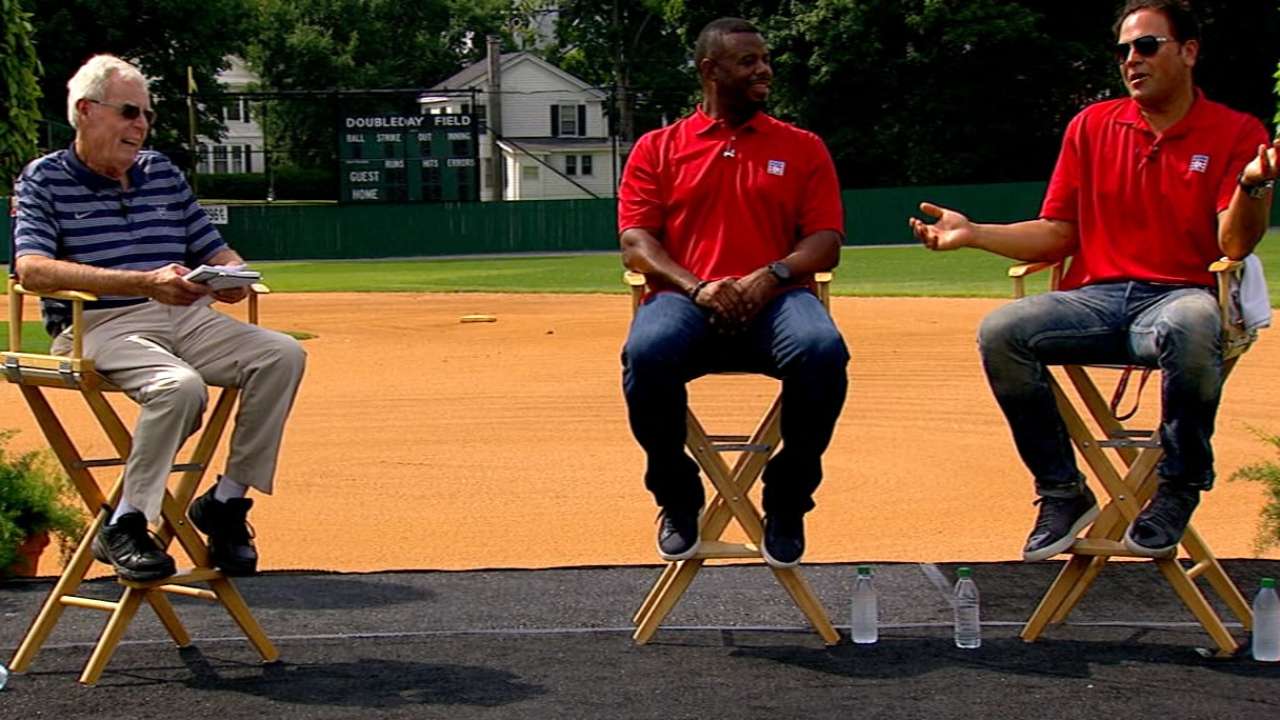 COOPERSTOWN, N.Y. -- The night after Sunday afternoon's speeches is always the best time for the new inductees into the National Baseball Hall of Fame. It's a time to relax at dinner with their now fellow Hall of Famers, and receive their cherished ring.
The pressure and buildup toward that half-hour of oration in front of a crowd of 50,000 behind the Clark Sports Center is "nerve wracking," as Mike Piazza said.
2016 Hall of Fame Inductions
Not so much for Ken Griffey Jr., who told MLB.com on Monday that he's been down that road many times before.
"I spoke in Seattle and I've spoken in other places," said Griffey, who addressed a huge throng at Safeco Field when he was inducted in the Mariners Hall of Fame in 2013. "I think the hardest thing was Mike talking to his dad and me looking at his dad as he was crying unbelievably.
"You know, the bonds that fathers and sons have is pretty special."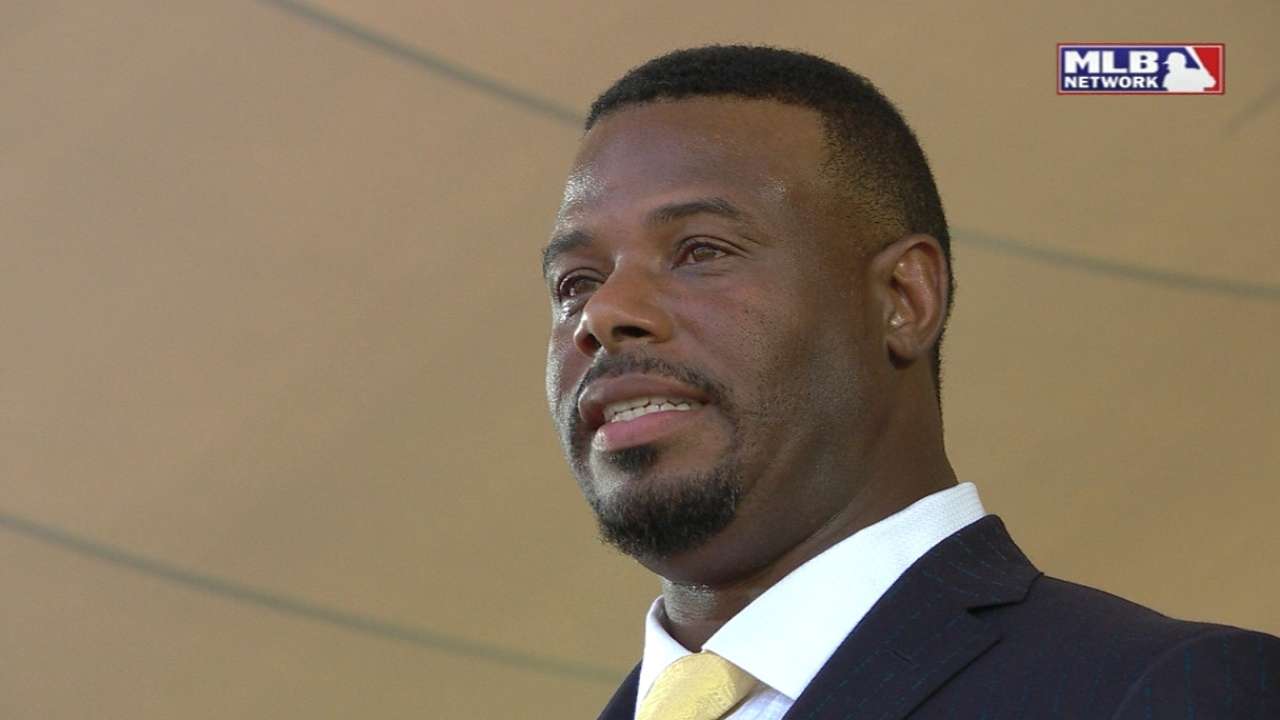 Griffey should know. His dad is Ken Griffey Sr., a 19-year Major League veteran who had as much influence on Junior playing baseball as Vince Piazza had on his son, Mike.
Asked to sum up his feelings about the weekend, the younger Piazza was pretty succinct.
"Euphoric," he said before he and Griffey took part in a Legends of the Game roundtable in front of 3,000 baseball diehards at Doubleday Field, Monday's final event of the weekend. "I feel a lot more relaxed today. I know that. The night before the speech, I don't think I slept an hour.
"It was just so special to spend it with my family -- especially with my dad, obviously. As I mentioned in my speech, he had a major stroke only a few years ago and we almost lost him. I consider myself really blessed that he's here and that I shared this with him, because he's a big reason I was able to play baseball."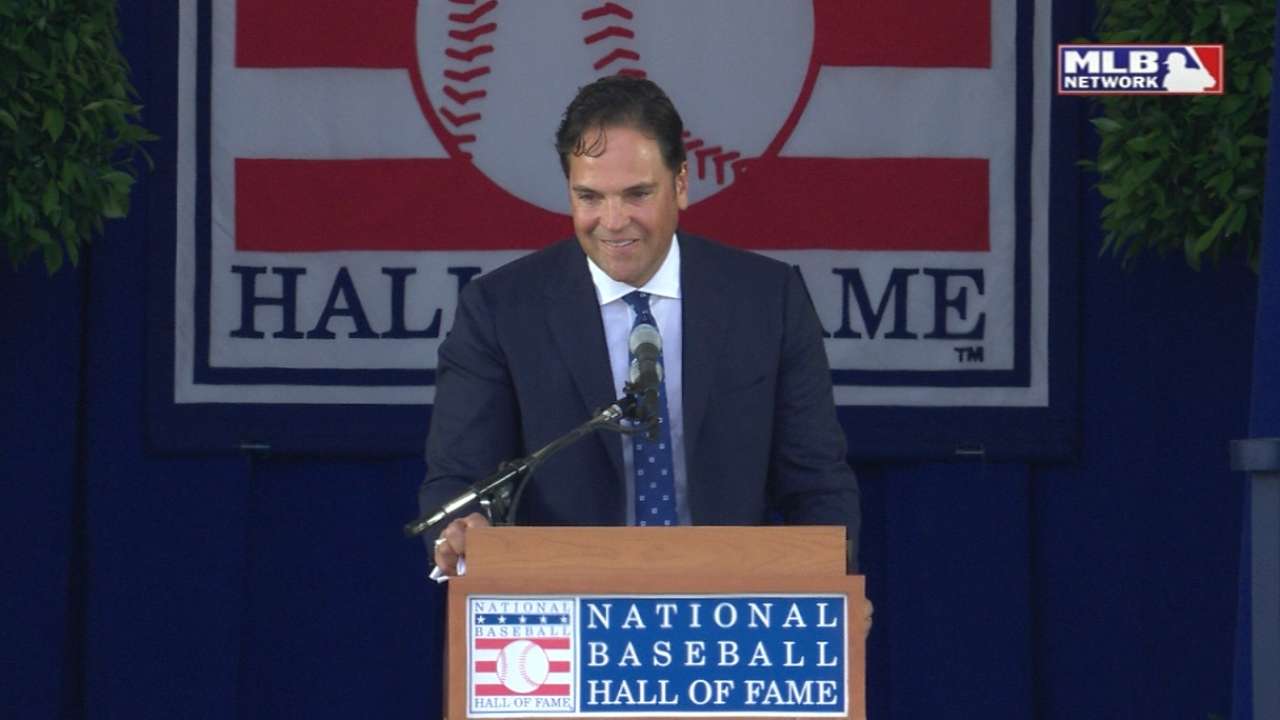 The pace, though, is not going to slow much from here. Both newly minted Hall of Famers head back to Safeco Field and Citi Field, respectively, to have their number retired.
Griffey's famous No. 24 will be retired in Seattle on Aug. 6. Piazza's No. 31 will be retired Saturday evening prior to the Mets playing the Rockies.
It's no rest for the weary.
"You just keep going, you just keep going through it," Piazza said. "We just try to get it done and strategically rest when you can. I'll get to the city on Tuesday. Probably get a nice steak or nice Italian meal and try to prepare for the weekend. Try to recharge."
Mimicking this weekend's trend, Griffey's number is the first retired by the Mariners in the 39-year history of the franchise. Likewise, he was the first player to go into the Hall with the Mariners logo on his plaque.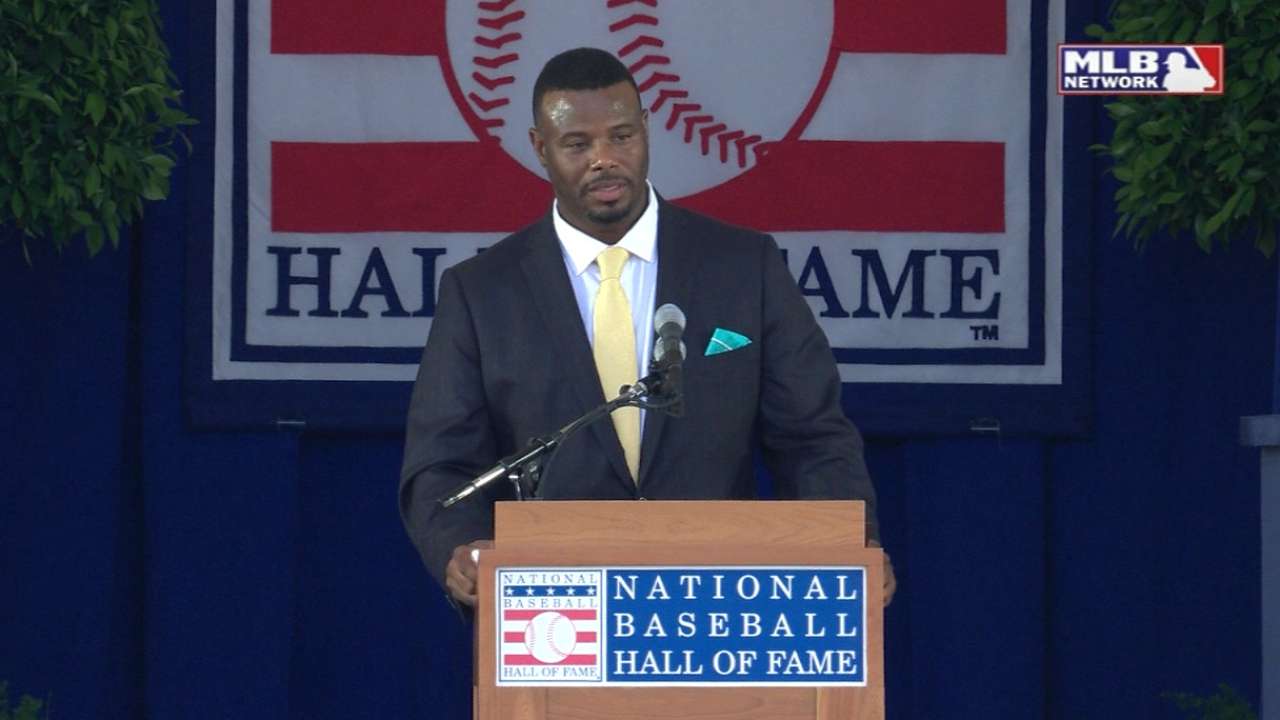 Piazza is the second Mets player to enjoy the honor behind Tom Seaver's No. 41. He was also the second Met in the Hall behind Seaver, who was inducted in 1992. The Mets were established in 1962.
At least Griffey will have a week to catch his breath.
"Yeah, but that will definitely cap a long and wonderful couple of weeks," Griffey said.
Piazza was wearing his Hall of Fame ring and showed it off on Monday. Piazza and Griffey each got their ring at the private Sunday night dinner.
Fresh from what Piazza called the euphoria of the afternoon, the group of 50 Hall of Famers and Commissioner Rob Manfred returned to the Otesaga Hotel for the dinner and some down time.
"What a great club to belong to," Piazza said. "It was like being a rookie again. I'm still a rookie until I leave here."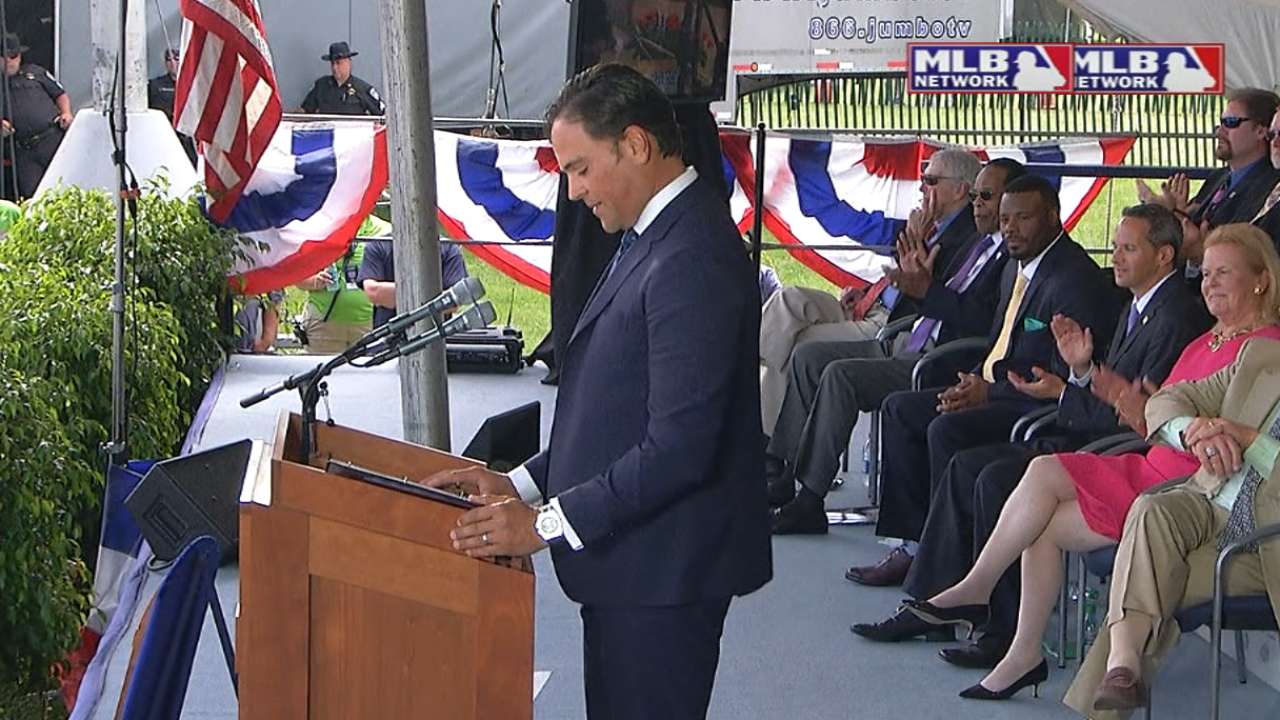 Picture it in your mind's eye. The red-bricked hotel is set on the banks of beatific Lake Otsego. At the rear of the lobby, there is a set of screen doors that open up to a white-washed wooden porch replete with white deck and rocking chairs, peaking out on the clear blue water.
Johnny Bench established a tradition for the new inductees. When they come back from the Clark Center, Bench brings them to the porch and asks them to sit down, relax, drink in the scenery and digest the magnitude of what has happened during the weekend.
More than 18,000 people have played in the Major Leagues, but there are just 217 of them in the Hall of Fame, 121 elected -- like Piazza and Griffey -- by eligible members of the Baseball Writers' Association of America. That alone, is pretty mind-boggling.
Griffey, unlike Piazza, said he hardly felt like a rookie.
"Most of these guys have known me since I was kid, so there was no verbal jockeying," Griffey said. "Johnny Bench was great. He said, 'Just sit here in the rocking chair and just rock for a couple of minutes.' I thought they were messing with me at first, but after about three minutes and nobody touched me, it was like, 'OK, I'm good.'"
Barry M. Bloom is a national reporter for MLB.com and writes an MLBlog, Boomskie on Baseball. Follow @boomskie on Twitter. This story was not subject to the approval of Major League Baseball or its clubs.