Zimmer, Frazier promoted to Triple-A Columbus
Indians' top two prospects expected to see time in center field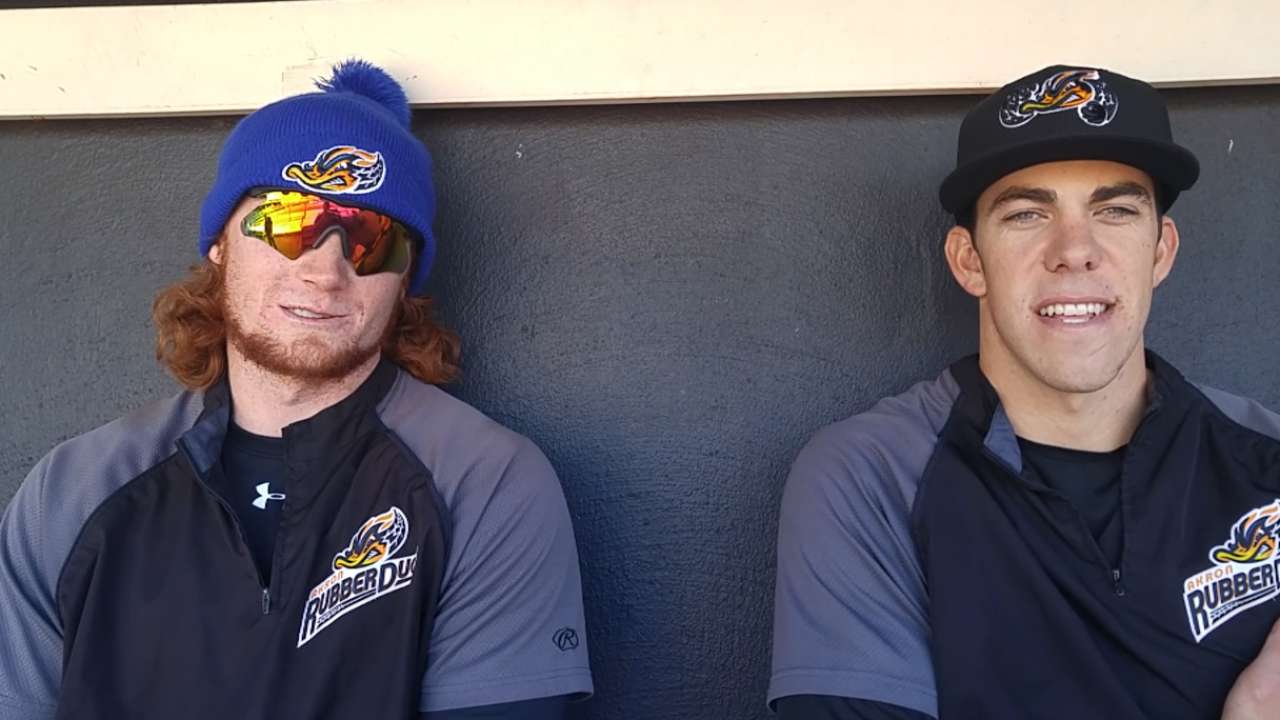 CLEVELAND -- As trade rumors and reports swirled late Sunday night, the Indians told Double-A Akron manager Dave Wallace to call top prospects Brad Zimmer and Clint Frazier into his office. The outfielders were told that the time had come to pack their bags.
Zimmer and Frazier -- ranked by MLBPipeline.com as Cleveland's No. 1 and No. 2 prospects, respectively -- were both promoted to Triple-A Columbus.
"They're certainly not a package deal," said Carter Hawkins, the Indians' director of player development. "But as we thought through the progress that both of those guys have made over the course of the year, we felt like the next best challenge to continue their development, the next best environment, was going to be Columbus. And we felt like the ability for them to do that at the same time was only going to provide a better support system and a better foundation."
Hawkins said there were a couple factors that played into the timing of the outfielders' move to Triple-A. The Indians wanted to first get through the All-Star break, considering Zimmer (Cleveland's top pick in the 2014 Draft) and Frazier (Cleveland's top pick in the '13 Draft) each made the Eastern League All-Star team, with the latter also flying to San Diego to participate in the SiriusXM All-Star Futures Game.
Beyond that, Hawkins and the rest of the Indians' player development staff did not believe either outfielder had anything left to prove at Akron. In 93 games, Zimmer hit .253 with 14 homers, 20 doubles, six triples, 33 steals, 53 RBIs, 58 runs scored and an .842 OPS. Frazier, meanwhile, hit .276 with 13 homers, 25 doubles, one triple, 13 steals, 48 RBIs, 56 runs and an .825 OPS.
At Double-A, the 23-year-old Zimmer spent 76 games in center field and another nine in right, while the 21-year-old Frazier split his time between right (31 games), left (26) and center (18). Hawkins noted that both outfielders will spend some time in center field with Columbus, but they will also have to move around some to accommodate Yandy Diaz, Collin Cowgill, Joey Butler and Michael Choice, too.
"As we've seen at the Major League level," Hawkins said, "being able to play multiple positions is a huge plus. It just gives our lineup so much more flexibility. Obviously, we'll want those guys each to play center field to the extent that they can, because it's a valuable position and we want them to have experience there."
Even though Zimmer and Frazier are getting their first taste of Triple-A, Hawkins did not rule out the possibility of either of them reaching the Major League club down the stretch.
"It's so hard to predict what happens day to day, week to week or month to month," Hawkins said, "especially when you're in a playoff race. This move was 100 percent about Clint and Brad's development. It was not about positioning our rosters. That being said, I think anyone that can help us win, if [manager Terry Francona and the front-office leaders] feel like guys can help us win, we're going to consider that."
The success of rookie Tyler Naquin provides a great example.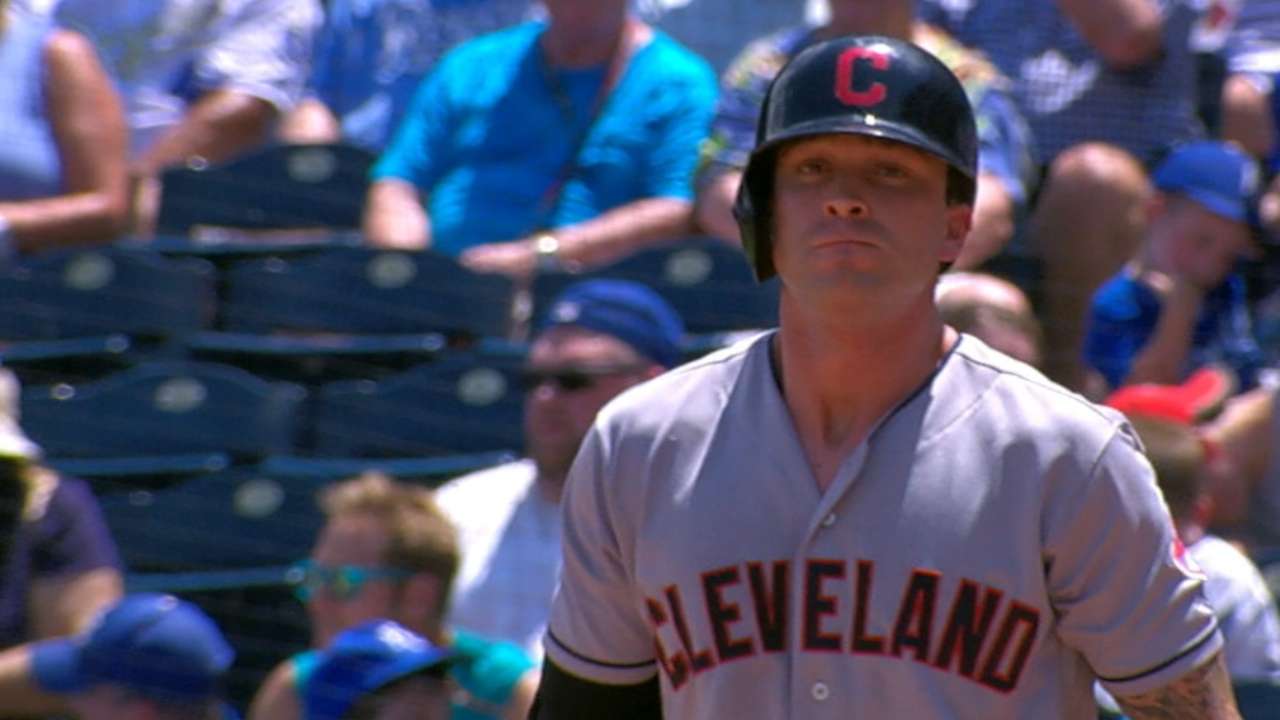 Naquin, who was the Tribe's first-round pick in the 2012 Draft, made the Indians' Opening Day roster out of Spring Training despite having only 67 Triple-A games under his belt. Through 66 games in the big leagues, Naquin has hit .321 with a 1.006 OPS, while mostly playing center field. Even while learning on the fly in the Majors, Naquin has turned into a potential American League Rookie of the Year Award candidate.
"I don't think anybody would've said that Tyler Naquin was going to be on our Opening Day roster, much less being such a huge cog in a playoff race for us," Hawkins said. "But he's helping us win, obviously. He took advantage of the opportunities that he was given, put himself in that position and is having a lot of success.
"So to the extent that Clint, Brad or any of our players at Columbus, or even Akron, can do that, we're not going to shut the door because of some lack of perceived playing time, or lack of perceived experience."
Hawkins said it is also important for players such as Zimmer and Frazier to tune out trade rumors right now.
"We talk a lot with our players about that," Hawkins said. "They're being mentioned specifically in tweets and in stories on the internet. We talk to those guys about, 'Hey, just continue to try to be as normal as possible. Stay within your routines. Treat each day as if it were a day in April or May, when you're just trying to become a better baseball player.'"
Jordan Bastian has covered the Indians for MLB.com since 2011, and previously covered the Blue Jays from 2006-10. Read his blog, Major League Bastian, follow him on Twitter @MLBastian and listen to his podcast. This story was not subject to the approval of Major League Baseball or its clubs.