Trio of Diazes lead Prospect Team of the Week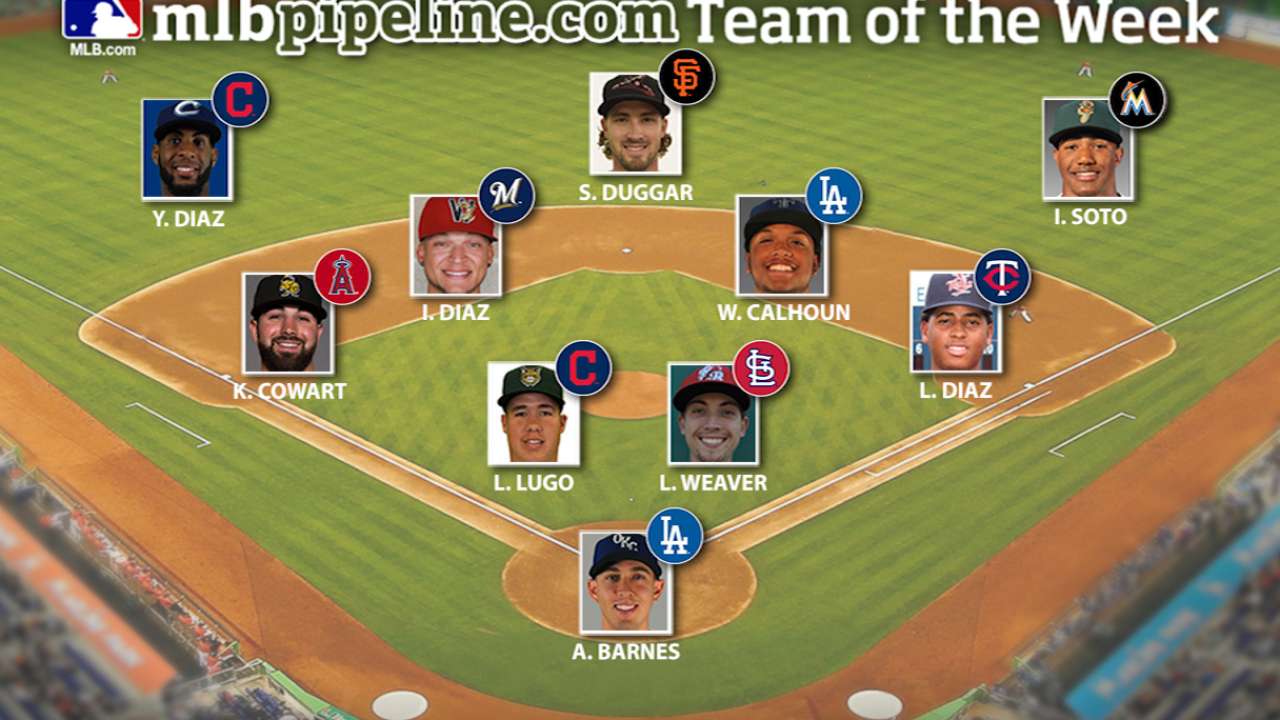 MLBPipeline.com's Prospect Team of the Week honors the best performances from the previous seven days. Any player currently on an organization Top 30 Prospects list on our Prospect Watch is eligible, including big leaguers.
The latest edition of MLBPipeline.com's Prospect Team of the Week (July 18-24) is led by a trio of Diazes in Isan Diaz, Yandy Diaz and Lewin Diaz, each of whom had a big week.
Isan Diaz (Brewers' No. 11) turned in the performance of the week on Saturday, when he slugged a pair of home runs, including a walk-off shot, to propel Class A Wisconsin past Lake County, 9-8. Diaz went 3-for-4 and also hit a triple in the contest, while his six RBIs represented a new career high for the 20-year-old shortstop.
Not to be outdone, Lewin Diaz (Twins' No. 29) also tallied a career-high six RBIs in a game last week as he connected on a grand slam as part of a 3-for-4 performance to help power Rookie-level Elizabethton to a win over Johnson City. As for Yandy Diaz (Indians' No. 13), he notched six multihit games for Triple-A Indianapolis to finish the week with a .519 average, 14 hits and 22 total bases.
Here's our complete Prospect Team of the Week:
C: Austin Barnes, Los Angeles Dodgers/Oklahoma City Dodgers (MLB/Triple-A)
(Rockies' No. 9 prospect)
5 G, .313/.353/.813, 3 R, 2 2B, 2 HR, 4 RBIs, 1 BB, 0 K, 1 SB
Barnes homered in two of his three games for Oklahoma City last week before joining the Dodgers on the road against the Cardinals. Though he has struggled across three stints in the big leagues this season, hitting .143 with a .440 OPS in 21 at-bats, Barnes' .299/.383/.454 slash line, 25 extra-base hits and 17 stolen bases for Oklahoma City suggests he has little left to prove in the Minor Leagues.
1B: Lewin Diaz, Elizabethton Twins (Rookie)
(Twins' No. 29 prospect)
6 G, .423/.464/.808, 6 R, 4 2B, 2 HR, 14 RBIs, 2 BB, 4 K
No prospect drove in more runs than Diaz, who tallied one, three, four and six RBIs in four consecutive games respectively for Elizabethton, to finish the week with 14 RBIs. The 19-year-old first baseman has put up big numbers thus far in his return to the Appalachian League, hitting .321/.349/.667 with five homers, 11 doubles and 24 RBIs through 20 games.
2B: Willie Calhoun, Tulsa Drillers (Double-A)
(Dodgers' No. 11 prospect)
8 G, .300/.353/1.153, 7 R, 5 HR, 9 RBIs, 2 BB, 5 K
Calhoun connected on five home runs in eight games for Tulsa to earn Prospect Team of the Week honors for the third time this season. He also led all second basemen with his 24 total bases and nine RBIs. After his monstrous week, the 2015 fourth-rounder now leads the Texas League with 67 RBIs, while his 22 homers has him tied atop the league's leaderboard with Matt Chapman.
3B: Kaleb Cowart, Salt Lake Bees (Triple-A)
(Angels' No. 5 prospect)
7 G, .429/.467/.750, 4 R, 4 2B, 1 3B, 1 HR, 6 RBIs, 2 BB, 6 K
Cowart earns PTOW honors for the first time this season after recording six extra-base hits in his first five games for Salt Lake, and pacing all third basemen with 21 total bases. The 24-year-old has swung a hot bat since returning from his latest big league stint, slashing .273/.342/.436, with 19 extra-base hits and 11 steals over his 44 games for the Bees.
SS: Isan Diaz, Wisconsin Timber Rattlers (Class A)
(Brewers' No. 11 prospect)
6 G, .500/.607/1.182, 8 R, 2 2B, 2 3B, 3 HR, 10 RBIs, 6 BB, 7 K, 3 SB
Diaz led all hitters last week with 26 total bases, a product of seven of his 11 hits going for extra bases. The 20-year-old went deep three times, highlighted by his aforementioned walk-off shot Saturday, and also tallied 10 RBIs to assume the outright lead in the Midwest League with 15 home runs and 62 RBIs.
OF: Isael Soto, Greensboro Grasshoppers (Class A)
(Marlins' No. 8 prospect)
5 G, .563/.611/1.188, 5 R, 2 2B, 1 3B, 2 HR, 6 RBIs, 2 BB, 0 K
Soto's week was bookended by two near cycles, as he fell a triple shy of accomplishing the feat on Monday and then came up a single short on Sunday. In total, the 19-year-old had five of his nine hits go for extra bases, giving him the best slugging percentage and OPS (1.799) among outfielders.
OF: Steven Duggar, Richmond Flying Squirrels (Double-A)
(Giants' No. 23 prospect)
7 G, .565/.643/.739, 6 R, 2 2B, 1 3B, 2 RBIs, 5 BB, 1 K, 4 SB
Duggar's week saw him collect 13 hits in 23 at-bats en route to pacing all outfielders with a .565 average. The 22-year-old also reached base five times via walks, which enabled him to accrue four stolen bases and score six runs. After a strong showing with Class A Advanced San Jose during the first half, the 2015 sixth-rounder owns a .301 average through 21 games since being promoted to Double-A.
OF: Yandy Diaz, Columbus Clippers (Triple-A)
(Indians' No. 13 prospect)
7 G, .519/.576/.815, 6 R, 3 2B, 1 3B, 1 HR, 8 RBIs, 5 BB, 3 K
Diaz turned in six multihit performances and hit safely in all seven games last week to extend his hitting streak to 14 games for Columbus. The 24-year-old either ranked first or tied for first among all outfielders in most offensive categories with his 14 hits, 22 total bases, eight RBIs and five walks. Overall, Diaz has hit .340/.419/.496 over 63 games for the Clippers.
LHP: Luis Lugo, Lynchburg Hillcats (Class A Advanced)
(Indians' No. 25 prospect)
2-0, 0.00 ERA, 2 GS, 12 IP, 7 H, 1 R, 0 ER, 3 BB, 16 K, 0.83 WHIP
Lugo's week began with one of the better starts of his career, when he matched his career high with 10 strikeouts over seven scoreless innings in a win over Wilmington. On Sunday, the 6-foot-5 southpaw locked up a spot on his first Prospect Team of the Week by tossing five four-hit frames, and allowing just one unearned run in a win versus Lynchburg. All together, Lugo punched out 16 of the 44 hitters he faced between the two starts, while limiting opposing hitters to just one extra-base hit and a .175/.227/.200 batting line.
RHP: Luke Weaver, Springfield Cardinals (Double-A)
(Cardinals' No. 3 prospect)
0-1, 0.68 ERA, 2 GS, 13.1 IP, 7 H, 3 R, 1 ER, 2 BB, 14 K, 0.68 WHIP
Weaver was the victim of bad luck last week as he failed to record a win despite yielding just one earned run in 13 1/3 innings across two starts for Springfield. The 22-year-old righty was plenty hard to hit, as he fanned nearly 28 percent of opposing hitters, while also holding them to a paltry .146/.196/.271 slash line. Weaver didn't begin his season until June as a result of a fractured left wrist, but he's quickly made up for the lost time by posting a 1.31 ERA, 1.02 WHIP and a 71-9 strikeout-to-walk ratio over 62 innings (10 starts) in the Texas League.
Mike Rosenbaum is a reporter for MLB.com. Follow him on Twitter at @GoldenSombrero. This story was not subject to the approval of Major League Baseball or its clubs.