MLB.com Columnist
Mike Petriello
Dahl adds top arm to vast Coors Field outfield
Rockies prospect hit 96.7 mph with a throw during Futures Game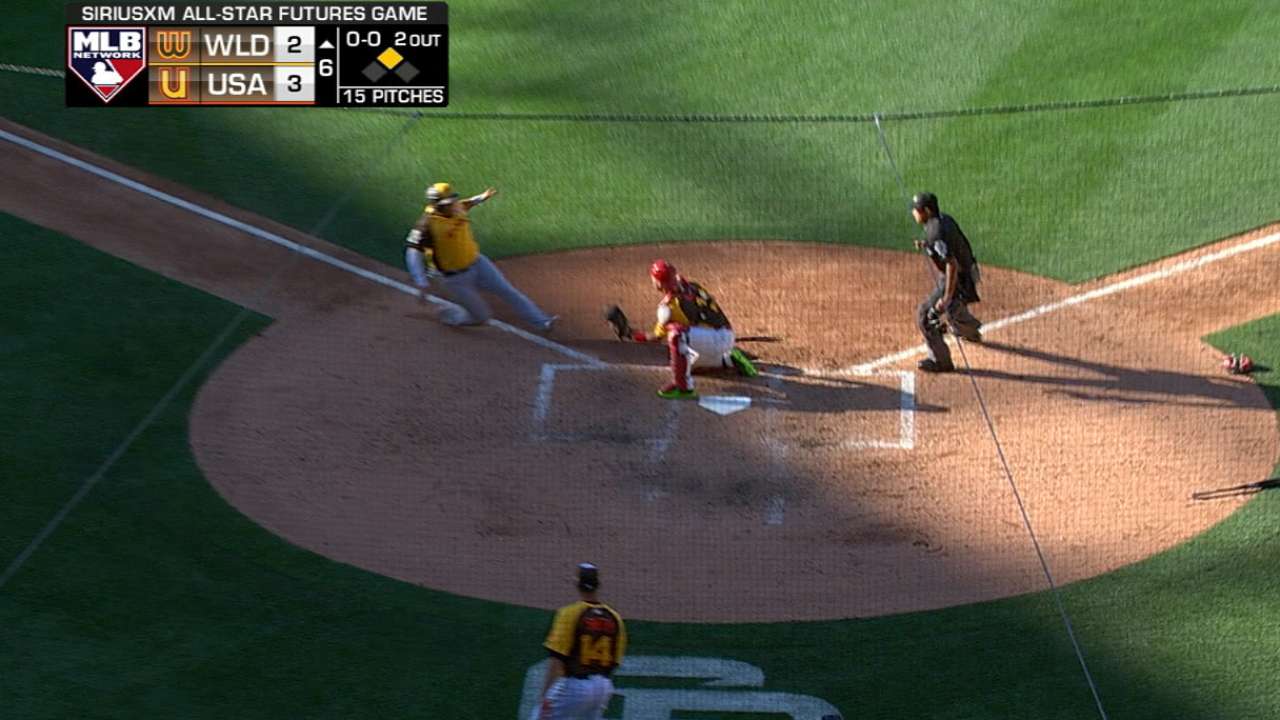 The Rockies are promoting power-hitting outfielder David Dahl, and it's not difficult to see why: The 10th overall pick in the 2012 Draft has been crushing the ball ever since he arrived in the pros. In more than 1,600 plate appearances, Dahl has hit a scorching .310/.357/.513, despite an on-field injury in 2015 so serious that it required his spleen to be removed. He's been even better this year, hitting .314/.394/.569 combined at Double-A and Triple-A.
But while the focus will be on Dahl's offense and especially how Coors Field might make it look even better, that's not the only tool that him brings to the Majors. Ever since he was selected, references to a good throwing arm were tucked away in scouting reports. When Dahl was ranked baseball's 55th-best prospect by MLBPipeline.com in 2013, it was noted that he had "a plus arm." Now that he's Colorado's No. 2-ranked prospect, it's "a strong, accurate arm [that] is better than most." And because Dahl played at Petco Park in the Futures Game earlier this month, we were able to get him in front of Statcast™'s tracking radars to see if the numbers held up to the reputation. They did.
Dahl didn't get into center field until the sixth inning, but he nearly immediately made two outstanding throws that lit up the scoreboard. First, he hit 95.6 mph on a throw from center to home trying to catch Eloy Jimenez on Josh Naylor's single. While Dahl wasn't able to get Jimenez, that was quickly forgotten, because on the next play, he got up to 96.7 mph throwing out Naylor at the plate on a Carlos Asuaje hit.
While that's obviously a sample size of only two throws, it's consistent with the scouting reports, and obviously you can't fake throwing that hard. When we look at the Major League average for "competitive throws" (which we've defined as the average of throws above a player's demonstrated 90th-percentile arm strength, to eliminate the easy lobs back in), it's 89.1 mph, which should show you what 96.7 mph means. In terms of raw strength, there have only been 152 throws at or above 96 mph by Major League outfielders combined this year, and only 25 have managed to do it more than once. Dahl very nearly did so in his first tracked inning.
Remember, also, that a strong arm should be especially beneficial in the vast expanse that is the Coors Field outfield. As of earlier this month, Rockies outfielders were playing deeper than average across the board. In left, where Dahl may start off as the injured Gerardo Parra heals, that was an average of 300.8 feet, the fifth deepest, fewer than five feet shallower than the D-backs and more than 21 feet deeper than the shallowest group in Houston, due to obvious ballpark differences. In center, their average of 322.5 feet was tied for fifth deepest; in right, the average of 299.8 feet was second deepest.
The only team routinely playing deeper was Arizona, and that makes sense -- the D-backs not only have a large outfield but a slew of infielders and emergency fill-ins trying to patch over holes caused by injuries. The math here is simple, really. In a park where the ball flies farther and the fences are deeper, it makes plenty of sense to be farther away from home plate. It also leaves you more distance to cover when getting the ball back in.
The Rockies already employ one of baseball's strongest outfield throwing arms, anyway. While it's natural to wonder if Dahl's promotion is timed in part because a trade of Charlie Blackmon or Carlos Gonzalez might be coming shortly, for now they're all wearing purple and black, and look where Gonzalez ranks on our latest list of top outfield arms:
2016 top outfield throwing arms, through July 24, minimum 30 throws
1. Aaron Hicks: 100.5 mph
2. Starling Marte: 96.7 mph
3. Gonzalez and Carlos Gomez: 95.9 mph
5. Jackie Bradley Jr. and Jake Marisnick: 95.5 mph
Parra also ranked in the top 20 at 93 mph, while Blackmon, at 89.4 mph, came in at just about average -- and just about exactly at his 89.8-mph average from last year.
So when Dahl makes his Colorado debut, remember that it's not just about the bat. It's about the arm, too, in a park that might require one nearly as much as anywhere else. After all, the trick in Coors Field isn't really scoring runs. It's preventing them, any way you can.
Mike Petriello is an analyst for MLB.com and the host of the Statcast podcast. He has previously written for ESPN Insider and FanGraphs. This story was not subject to the approval of Major League Baseball or its clubs.