Week Ahead: Rumors heating up summer
Off-the-field news could trump on-field games this week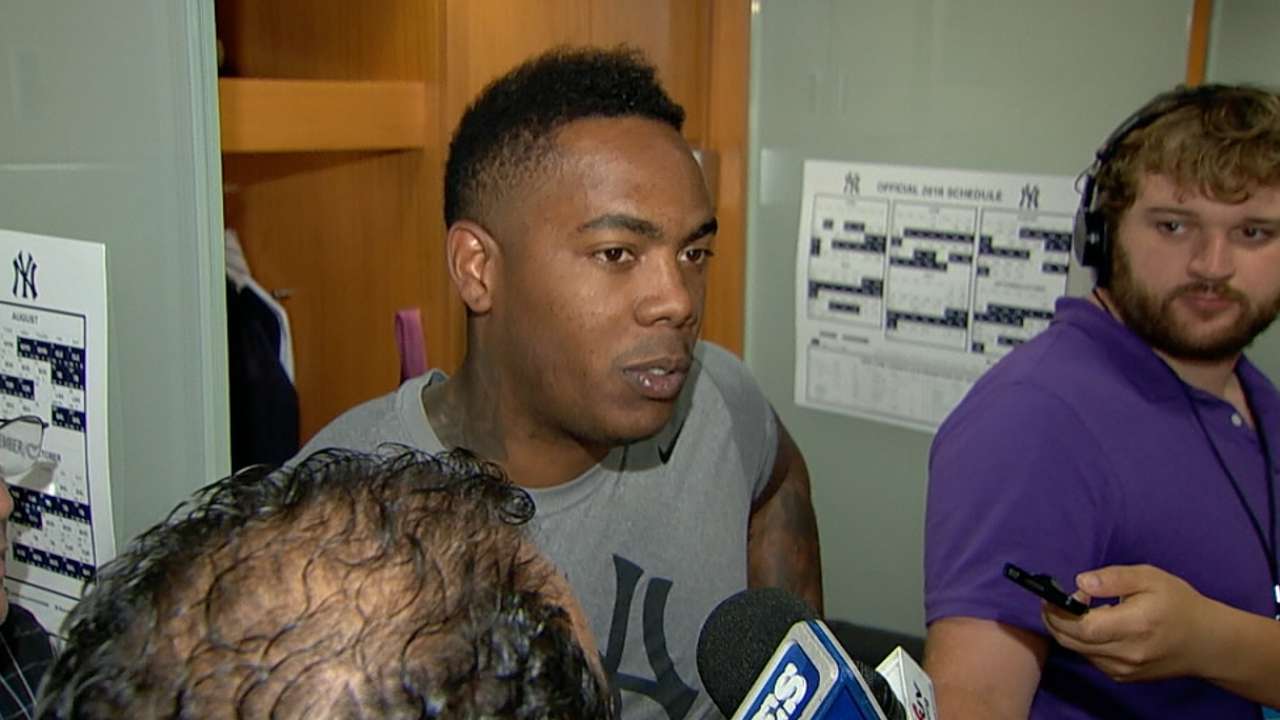 The week ahead in baseball takes us to the final day of July, and as the schedules of the contending clubs of the Major Leagues are undoubtedly heating up, well, so is that stove.
The last work week before the Aug. 1 non-waiver Trade Deadline is upon us, and throughout the next seven days, while solid matchups promise to alter the standings in the American and National Leagues, big-time trades could do the same.
The biggest names being bandied about are current Yankees closer Aroldis Chapman and White Sox ace Chris Sale. The departure of either or both from their current teams would not only mean serious prospects would be coming back. It would mean that the teams shooting for those stars would be as all-in as anyone as we prepare for the final two months of the regular season leading up to October.
As of late Sunday, reports were swirling that a deal to send Chapman to the Cubs for 19-year-old shortstop prospect Gleyber Torres, ranked 24th overall by MLBpipeline.com, was nearing completion.
Meanwhile, Sale's five-game suspension by his club for insubordination and destruction of team property raises questions of how long the left-hander might stay in Chicago and if the White Sox will try to land what is expected to be an enormous package of talent in return.
Those aren't the only two names that could be in play during the next seven days.
Starters Rich Hill, Sonny Gray, Julio Teheran, Andrew Cashner, Jake Odorizzi, Matt Moore and Jeremy Hellickson, hitters Carlos Gonzalez, Ryan Braun, Carlos Beltran, Matt Kemp, Jay Bruce, Josh Reddick, Jonathan Lucroy and Derek Norris, and relievers Arodys Vizcaino and Ryan Madson are just some of the names still being discussed. In the past, there also have been deadline surprises.
All the swap talk should frame a competitive and important week on the diamonds of the big leagues.
It's somewhat fitting that the Cubs and White Sox will play the home-and-home Crosstown Series, with games at U.S. Cellular Field on Monday and Tuesday and at Wrigley Field on Wednesday and Thursday.
We will see if Chapman becomes part of the Cubs bullpen and if Sale departs the White Sox during that North Side vs. South Side tangle, but Monday brings a Jake Arrieta vs. Miguel Gonzalez duel, and that's exciting for Chicago baseball fans.
"I enjoy the banter," Cubs manager Joe Maddon said. "Even when I come out of the hotel in the morning, there are dudes stopping me on the sidewalk wearing White Sox caps. They give me a hard time. I enjoy it. I hear mostly from Cubs fans, but there's the occasional White Sox fan who says they like what we're doing over here."
Such niceties might not be present in the Cardinals-Mets series that will play out between the two NL contenders Monday through Wednesday in Citi Field.
Or in Fenway Park, where the Tigers and Red Sox, both in second place in their divisions entering Monday, will lock horns while hoping for a sweep that will get them closer to the AL Central-leading Indians and AL East-leading Orioles.
Speaking of the Orioles, they'll host the recently improved and back-in-the-race Blue Jays at Camden Yards over the weekend.
And then there's the huge week for the nearby Nationals, who enter Monday with a 4 ½-game lead in the NL East but have quite a challenging six-game slate this week.
Washington has games in Cleveland on Tuesday and Wednesday (how does Stephen Strasburg vs. Carlos Carrasco grab you?) and a trip to San Francisco to play the NL West-leading Giants in four crucial games Thursday through Sunday.
The Giants will welcome the journey back home after a trying eight-game road trip that included scheduled off days last Monday and Thursday.
"I'm looking forward to getting back on a normal schedule," San Francisco starter Jeff Samardzija said. "The fact of the matter is that we're creatures of habit."
We'll see in the next week which creatures might be changing their lairs.
Doug Miller is a reporter for MLB.com. Follow him on Twitter @DougMillerMLB. This story was not subject to the approval of Major League Baseball or its clubs.