MLB.com Columnist
Jim Callis
What to expect from Astros' Bregman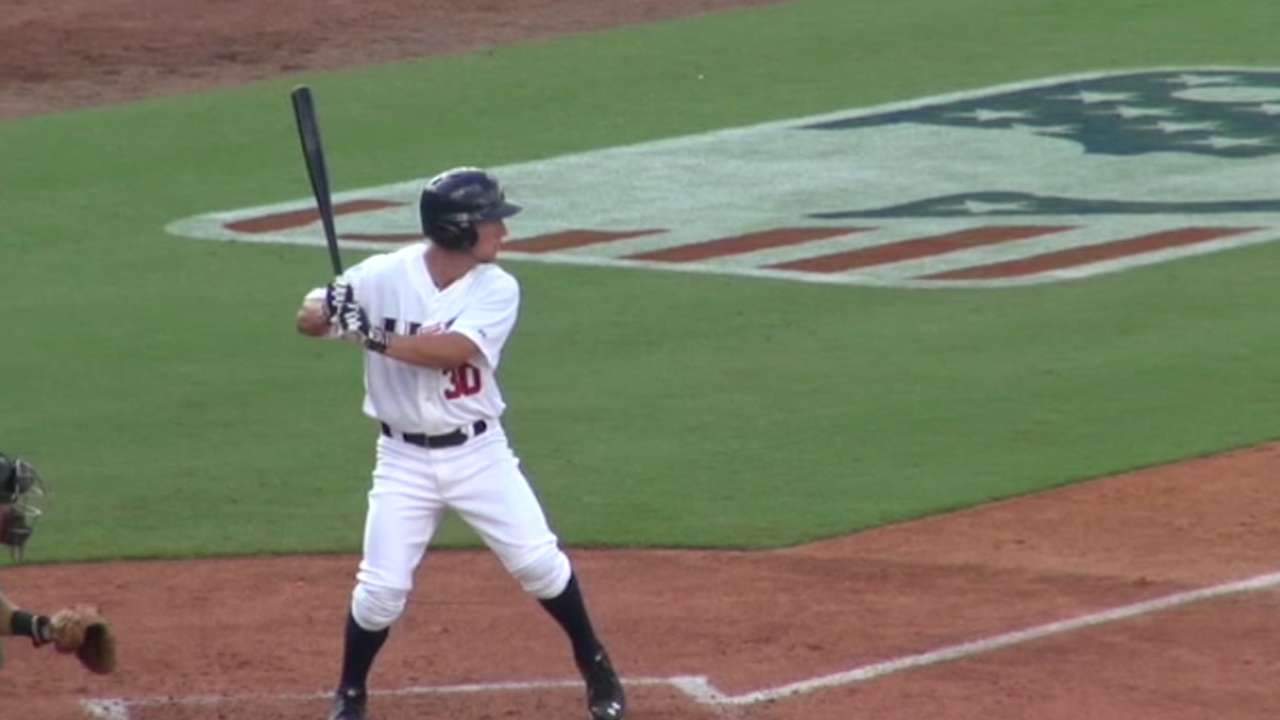 The Astros have announced plans to promote Alex Bregman to the big leagues on Monday, barely more than a year after they signed him as the No. 2 overall pick in the 2015 Draft.
Bregman will become the first position player from that Draft to reach the Majors and the third member of his class to get there, following right-handers Carson Fulmer (White Sox) and Koda Glover (Nationals). Based on the way Bregman has performed in his first full season in pro ball, he could have merited an even earlier look.
Signed for $5.9 million, Bregman ended his pro debut in high Class A and opened his first full season in Double-A at age 22. He earned a promotion after just 62 games, batting .297 with 14 homers and leading the Texas League in on-base percentage (.415) and slugging (.559) when he departed in late June. Bregman homered five times in his first eight Triple-A games, batted .333/.373/.641 in 18 contests at that level and threw in three hits (two for extra-base hits) at the SiriusXM All-Star Futures Game.
Bregman entered the season ranked No. 22 and since has risen to No. 18 on MLBPipeline's Top 100 Prospects list. We won't give away exactly where he'll stand on our revamped Top 100 that will be released early this week, but let's just say that we consider him baseball's best middle-infield prospect.
Though Bregman is a natural shortstop, the Astros have Carlos Correa there. Second base would be the next logical position, but he's blocked there by another young star in Jose Altuve. Bregman played 13 games at third base in the Minors last year, and he saw action in left field during three of his last four contests.
Interestingly, Houston manager A.J. Hinch said Bregman will be in the starting lineup, but he declined to say which position he would play. Bregman should play on a regular basis while shuffling among third base, left field and designated hitter. Playing him at the hot corner might make the most sense, allowing the Astros to use Luis Valbuena more at first base and return Marwin Gonzalez to a utility role.
Wherever he plays, Bregman is equipped to be a star. There's no weakness in his offensive game, as he has outstanding bat speed from the right side of the plate and has complete control of the strike zone. Bregman barrels balls consistently, and since he has made an adjustment to attack and turn on pitches on the inner half of the plate since turning pro, he could hit 25 homers per season.
Though Bregman has elicited comparisons to Dustin Pedroia for years because he has similar size and plays with the same chip on his shoulder, he has more speed and defensive versatility. He's an average runner with excellent instincts on the bases. Bregman is capable of playing at least an average shortstop, and his solid arm and gift for anticipating plays could make him a plus defender at third base.
Bregman has a long track record of success that includes winning MVP honors at the Pan American Youth Championships and USA Baseball's Player of the Year Award in 2010, earning a gold medal with the U.S. national 18-and-under team in 2011 and leading Louisiana State to College World Series appearances in 2013 and '15.
Bregman won't be fazed by joining an Astros team that has climbed to within a half-game of an American League Wild Card berth, and his promotion may have a greater impact on the race for the postseason than any player who changes clubs at the non-waiver Trade Deadline.
Jim Callis is a reporter for MLB.com. Follow @jimcallisMLB on Twitter and listen to him on the weekly Pipeline Podcast. This story was not subject to the approval of Major League Baseball or its clubs.