Eaton leads way as White Sox show resiliency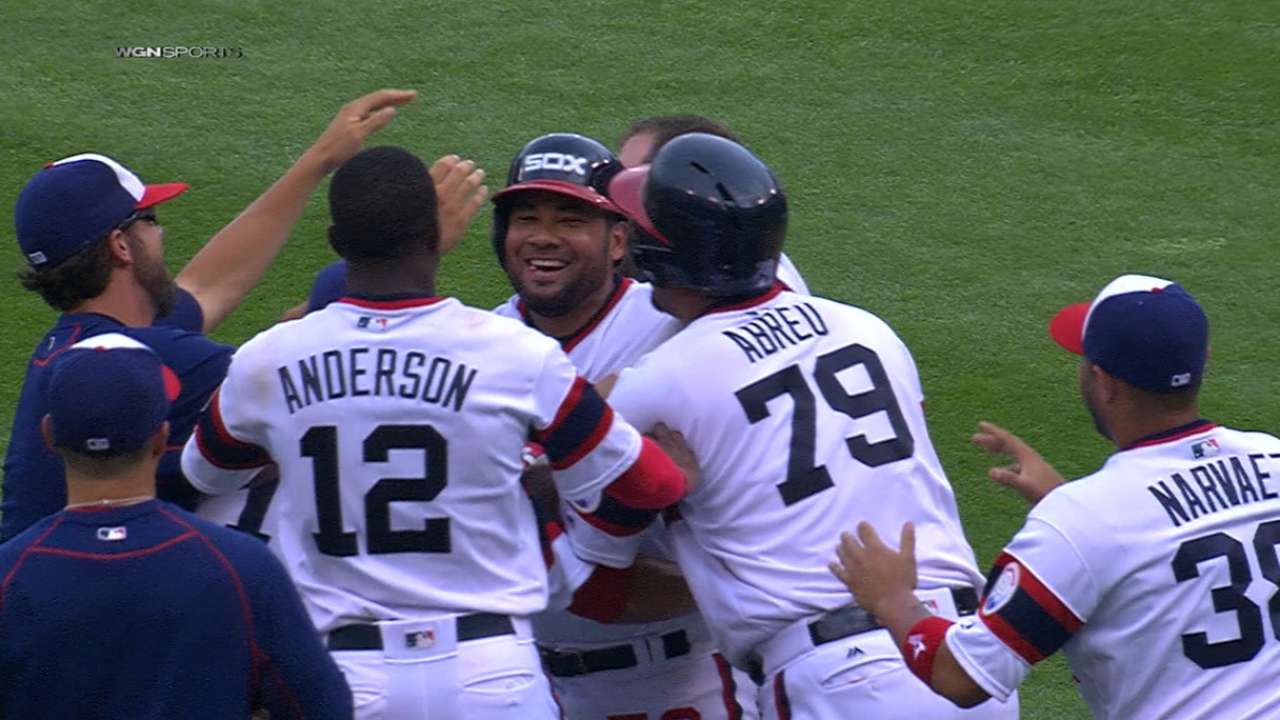 CHICAGO -- His foot is sore from fouling a ball off it on Friday and he was plunked in the lower back with a fastball Saturday, but Adam Eaton still managed to be the catalyst the White Sox needed on Sunday.
After driving in the game-winning run with a walk-off single in the ninth inning for a 4-3 win in a game that was suspended by rain after eight innings on Saturday night, Eaton finished Sunday by going 2-for-3 with a home run, three RBIs and scoring three runs, including the game-winner on a walk-off single by Melky Cabrera.
The White Sox's 5-4 win in the finale split the series, which featured four rain delays, ace left-hander Chris Sale getting suspended for five days and closer David Robertson picking up two wins in one day -- the second after blowing a 4-1 lead in the series finale on three home runs.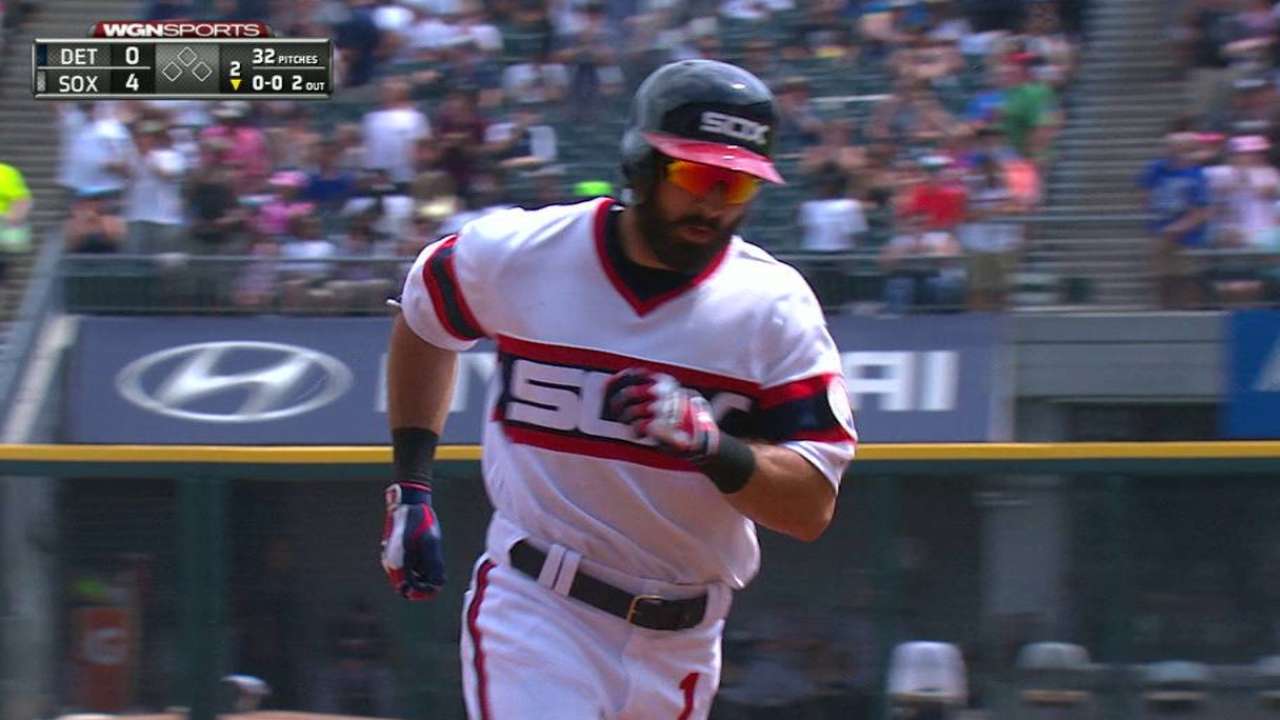 "Baseball is funny like that," said Eaton, who's hitting .425 against Detroit this season, including three doubles, two triples, a home run and nine RBIs in 10 games. "It will beat you down, but then it will build you back up. It's a love-hate relationship, for sure. To have two walk-off wins, especially to get two wins off a great opponent like Detroit, and for them to be walk-offs, is huge for us. It's a lot of fun and kind of brings a good atmosphere in here, too. It was big for our club, on and off the field."
Sale was scratched from his scheduled start on Saturday and suspended five days for "violating team rules, insubordination and destroying team equipment," and his teammates spent the better part of Saturday night and Sunday morning dealing with a stream of questions about the incident.
The White Sox, who were 1-7 coming out of the All-Star break, could've continued to struggle and been swept, but Eaton made sure that didn't happen.
In the first game on Sunday, he laced the game-winning single into left field that scored Avisail Garcia with the winning run. In the second game, he worked a walk off Bruce Rondon to start the winning rally in the ninth, after watching the third of Detroit's homers off Roberston sail over the fence in right field.
Rookie Tim Anderson moved Eaton to second with a sacrifice bunt and Cabrera drove him home to end the game in the next at-bat.
"Five-pitch walk and the rest is history," White Sox third baseman Todd Frazier said. "I told [Anderson], 'You don't know how big that bunt really was.' Big hit by Melky, and it was a good comeback from what ensued before that."
The next task is spinning the momentum forward into four straight games against the crosstown rival Cubs, with each team getting two home games -- starting with the first game Monday at U.S. Cellular Field.
"It's definitely good for the team," Eaton said. "Like I've mentioned for the last couple days, we've got to get going. We've been playing a little stagnant. We need to get on a little roll here and get back above .500 and make a run for this thing. It starts here against a good club that we're battling with in Detroit. Splitting with those guys after losing the first two is huge."
Brian Hedger is a contributor to MLB.com based in Chicago. This story was not subject to the approval of Major League Baseball or its clubs.