Wrigley's relieve it or not: Chapman to Cubs?
Closer, Yankees teammates would like him to stay in New York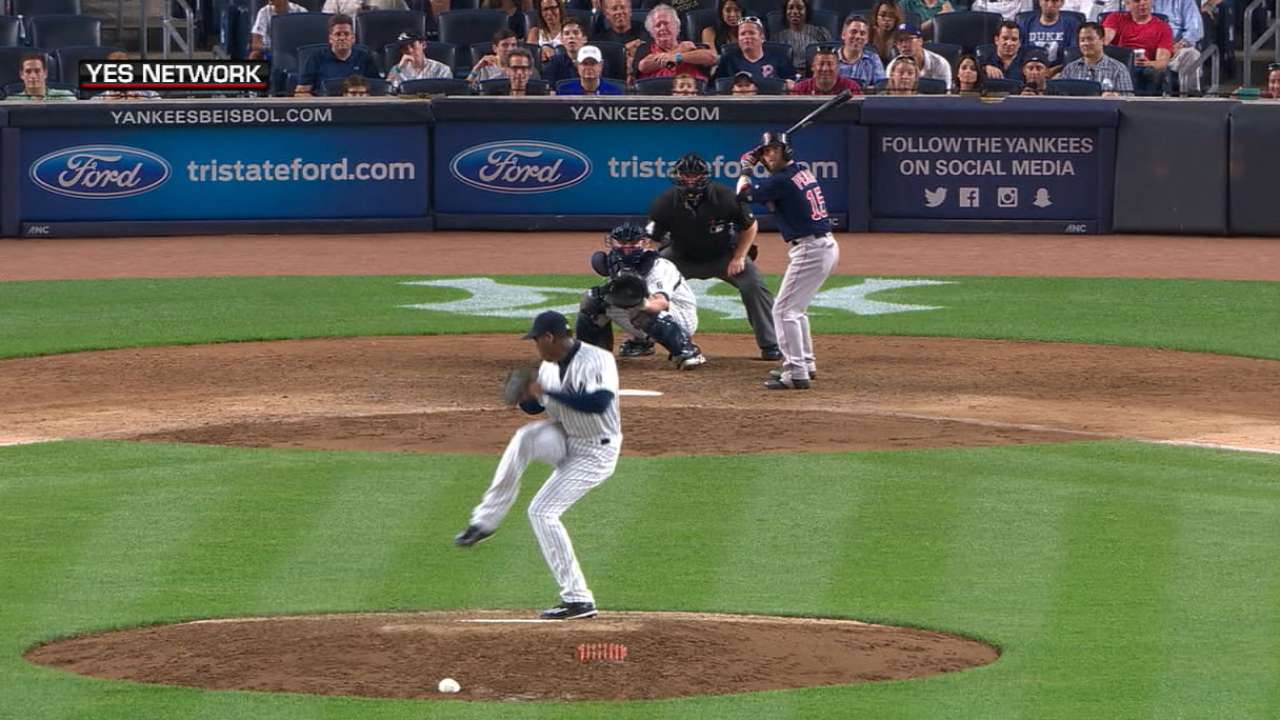 NEW YORK -- Aroldis Chapman zipped his suitcase on Sunday afternoon following a 5-2 win over the Giants to prepare for what he hopes will be a week-long road trip, but the closer recognizes the possibility that he may have walked out of the Yankees' clubhouse for the final time.
With the Yankees openly fielding offers for the flame-throwing left-hander, Chapman said that he is being kept up to speed on his uncertain future by his representatives at Magnus Sports, who are receiving updates from general manager Brian Cashman and the Yankees' baseball operations department.
"There's a lot of rumors and stuff out there right now," Chapman said through an interpreter. "I don't have any information, but my agent did say that [the Yankees are] talking to him. But that's all I have."
Chapman would fill need in Cubs' bullpen
MLB Network's Jon Heyman reported on Sunday night that the Cubs' top prospect, shortstop Gleyber Torres, would be a part of a deal between Chicago and the Yankees involving Chapman. Torres was scratched from the lineup before his game Sunday at Class A Advanced Myrtle Beach.
Cubs closer Hector Rondon entered the week with 18 saves in 22 opportunities and a 1.95 ERA. But with Chicago just 12-15 in one-run games, it could be looking to acquire a late-game force equivalent to Jeurys Familia, who dominated in the Mets' National League Championship Series sweep last season. Jon Heyman put the odds of a deal for Chapman at "9 out of 10" on MLB Network on Sunday night.
The Yankees likely would get back four players, Joel Sherman of the New York Post reported on Monday, and one of them would be right-hander Adam Warren, whom the Yankees traded to the Cubs in a deal for Starlin Castro last offseason. Neither outfielder Jorge Soler nor third-base prospect Jeimer Candelario is said to be included.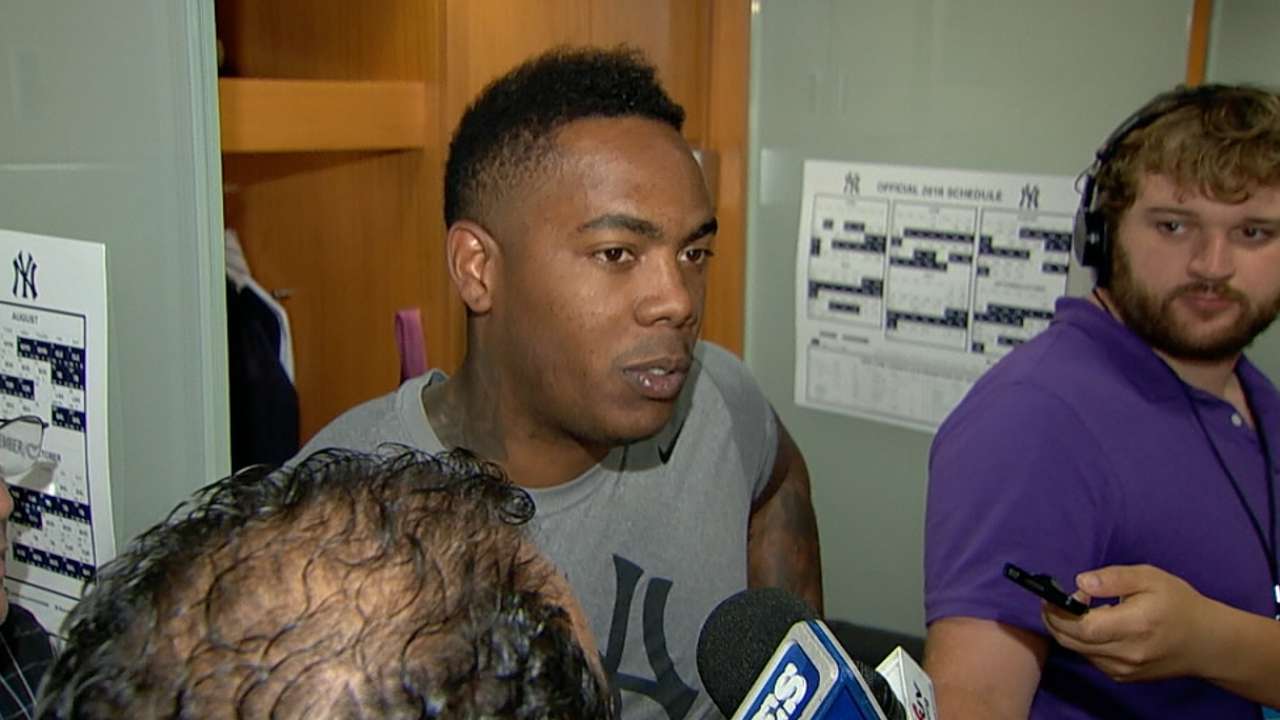 Torres is ranked by MLBPipeline.com as the Cubs' top prospect and the No. 24 prospect in the game. The 19-year-old is hitting .275/.359/.407 in 94 games with the Pelicans this season, with 23 doubles, nine homers and three triples, along with 19 stolen bases. He would be a fantastic fit atop a Yankees farm system that also includes infielder Jorge Mateo and sluggers Aaron Judge and Gary Sanchez.
MLB Network insider Ken Rosenthal reported late on Saturday that the Yankees informed clubs that they were willing to trade Chapman, but that they intend to hang on to left-hander Andrew Miller. The Cubs, Dodgers, Giants, Indians and Nationals have been linked to Chapman in published reports.
"We haven't touched certain parts of our prospects inventory, which will keep us viable for every opportunity that's still out there between now and Aug. 1," Cubs president of baseball operations Theo Epstein said on Wednesday, after the Cubs acquired lefty Mike Montgomery from the Mariners for Minor Leaguers Dan Vogelbach and Paul Blackburn. "I like doing something that you like. This keeps all our opportunities open."
"We don't want to see him go," Mark Teixeira said of Chapman. "We're trying to win games. He's a big part of that. We want him here."
Chapman, 28, is 3-0 with a 2.01 ERA in 31 appearances for New York, recording 20 saves in 21 opportunities while striking out 44 in 31 1/3 innings. Chapman said that he has been trying to block out the noise and focus on being ready to pitch when called upon.
"It's tough. I feel comfortable here, I feel part of the family here," Chapman said. "Being traded halfway into the season is not as comfortable as starting there. But yeah, it's tough."
Chapman said that he has enjoyed his time in New York and would consider re-signing with the Yankees as a free agent.
"Oh yeah," Chapman said. "If there's a possibility and God willing, yes."
Should the Yankees deal Chapman, they will be seeking a greater return than they sent the Reds in December, when they bought low on the four-time All-Star with a four-player package of pitchers Caleb Cotham and Rookie Davis, plus infielders Eric Jagielo and Tony Renda.
• Girardi: 'Block out the noise'
Count Yankees outfielder Brett Gardner as one person that would be in favor of keeping Chapman in the Bronx.
"Everybody's been talking about it for a few weeks," Gardner said. "I'm a huge Chapman fan, I've been a Chapman fan since Day One when he got over here. He's been very professional, and I hope that not only is he here for the rest of this year but for the next however many years as long as I'm here.
"He's a great competitor, he works hard and I love handing the ball to him at the end of the game. As long as he's on the same team as me, I don't have to face him."
Bryan Hoch has covered the Yankees for MLB.com since 2007. Follow him on Twitter @bryanhoch, on Facebook and read his MLBlog, Bombers Beat. This story was not subject to the approval of Major League Baseball or its clubs.