Warren to start in Triple-A; Maddon optimistic
Fowler gets day off Sunday; Coghlan, Soler rehabbing in Double-A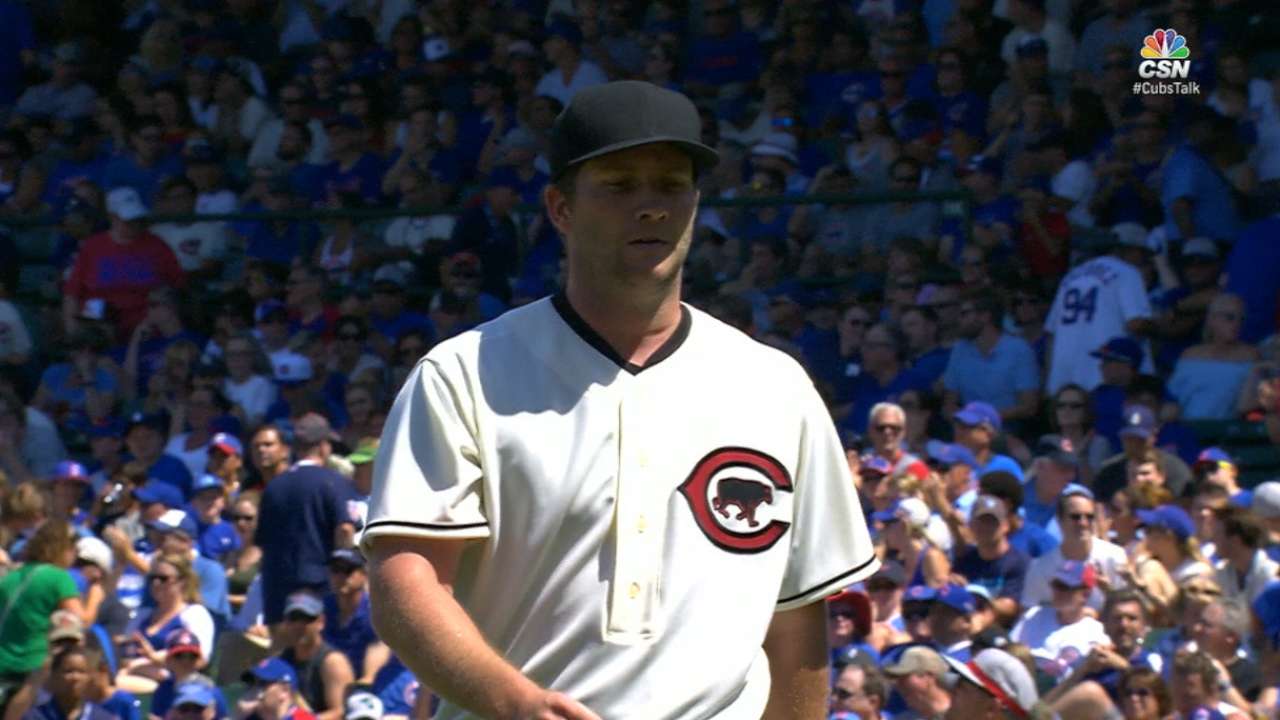 MILWAUKEE -- Adam Warren was optioned to Triple-A Iowa on Sunday to make room on the Cubs' roster for Joe Nathan, who was activated from the 60-day disabled list. Warren will start for Iowa.
"We still believe he's going to be able to help us in that role," manager Joe Maddon said Sunday of Warren, who had a 6.60 ERA in 28 relief appearances and one start for the Cubs.
"He was very professional about it," Maddon said. "I give this guy a lot of credit -- he gets it and knows it's good for him to pitch more consistently. Very, very professionally done on Adam's part."
Warren started on July 6 in order to give the rest of the rotation a breather during a stretch of 24-straight games. The Cubs had talked about going with a six-man rotation again after the All-Star break, but since then, the starters have combined for a 2.03 ERA in eight games.
Chicago also has a doubleheader on Aug. 16 against the Brewers, but Maddon said that was not discussed regarding Warren.
• In the fifth inning of Sunday's 6-5 win, Maddon and crew chief Fieldin Culbreth had a long conversation regarding fielding gloves. The Brewers had the bases loaded and pitcher Junior Guerra tried to bunt.
"I was trying to create things on the fly," Maddon said. "When the pitcher was attempting to bunt and we had [first baseman Anthony Rizzo] in and Tommy [La Stella] on the bag, they were concerned that 'Riz' had a first baseman's glove but was not at the base. They were telling me you have to have a first baseman's glove when you're on the bag.
"We went back and forth on that," Maddon said. "I'd never heard that you can't play fist base without a first baseman's glove. [Culbreth] didn't like where Rizzo was set up. I was trying to explain it's no different than when a third baseman goes into the shift in the hole, he's still the third baseman."
So La Stella came in on the grass instead of Rizzo, and Guerra hit into a fielder's choice, ending the incident.
• Dexter Fowler, activated from the disabled list on Friday, did not start Sunday to give him a recovery day. He did appear as a pinch-hitter and walk in the ninth inning of Sunday's win.
"He's sore," Maddon said of the center fielder, who missed 27 games because of a right hamstring strain. "It's not his hammy; just general body soreness. You talk about sending guys out on rehab and you worry about how many at-bats is he going to get. Well, 'How's my ankle going to feel? My calf?' They just get sore. He's able to play today if we need him, but I'd rather not push him coming off a short rehab."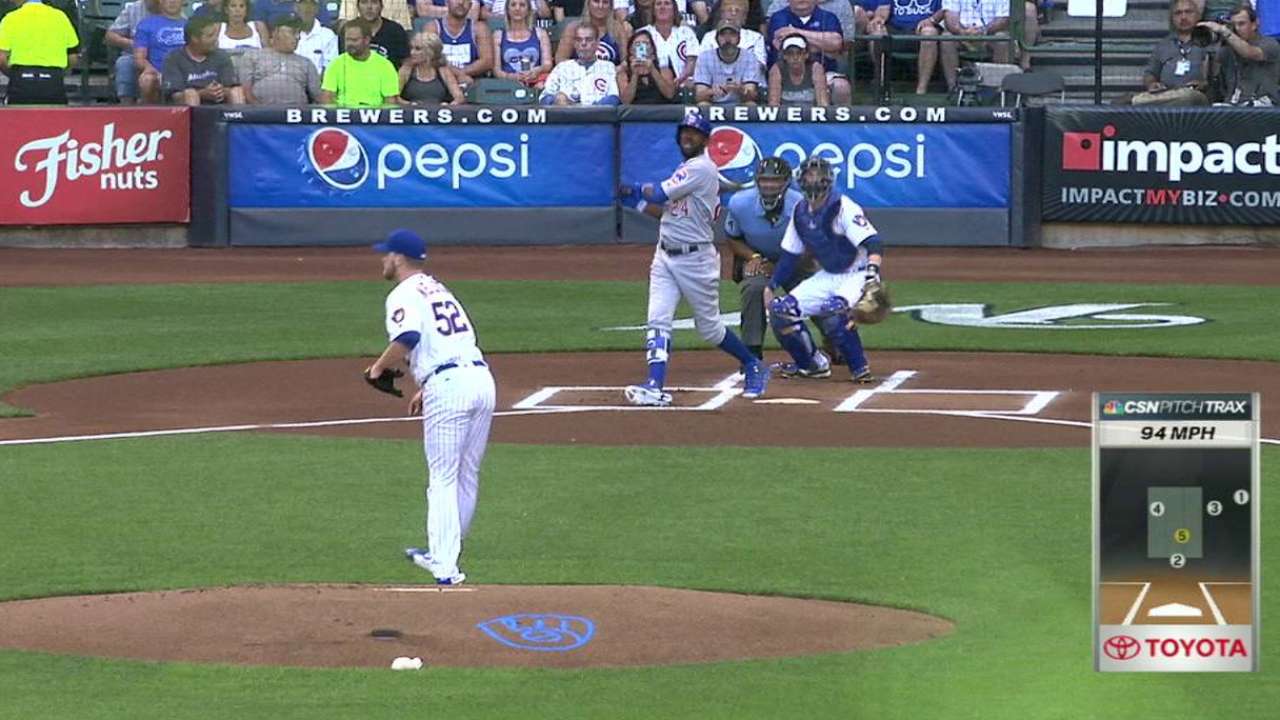 Fowler hit a leadoff home run on Friday in his first at-bat and added a two-run double but was 0-for-4 on Saturday against the Brewers.
• Maddon has yet to name who his designated hitter will be for the Cubs' two Interleague games against the White Sox Monday and Tuesday. He wanted to check the White Sox starting pitching first, saying they were "kind of in a state of flux" following the suspension of Chris Sale on Sunday. Sale is in contention to start Thursday in the series finale at Wrigley Field.
The Cubs' other Interleague games in American League ballparks include Aug. 5-7 at Oakland and Sept. 9-11 at Houston.
• Chris Coghlan hit a double in three at-bats and Jorge Soler was 0-for-3 in rehab outings for Double-A Tennessee on Saturday night. Coghlan is coming back from a right rib cage strain suffered July 3, while Soler has been sidelined with a left hamstring strain since June 7.
• Cubs president of baseball operations Theo Epstein and general manager Jed Hoyer both have said the team is considering options prior to the Aug. 1 Trade Deadline. The Cubs have been linked in trade rumors to some outfielders, such as Josh Reddick.
"All I know is Theo and Jed have all kinds of different lines in the water," Maddon said. "Like any other [general managers] at this time of year, they're always looking to make us better. If something makes sense for the boys, I'm sure they're considering it."
Carrie Muskat has covered the Cubs since 1987, and for MLB.com since 2001. She writes a blog, Muskat Ramblings. You can follow her on Twitter @CarrieMuskat and listen to her podcast. This story was not subject to the approval of Major League Baseball or its clubs.