Nathan registers win, K's side in Cubs debut
Veteran reliever has 377 career saves across 15 big league seasons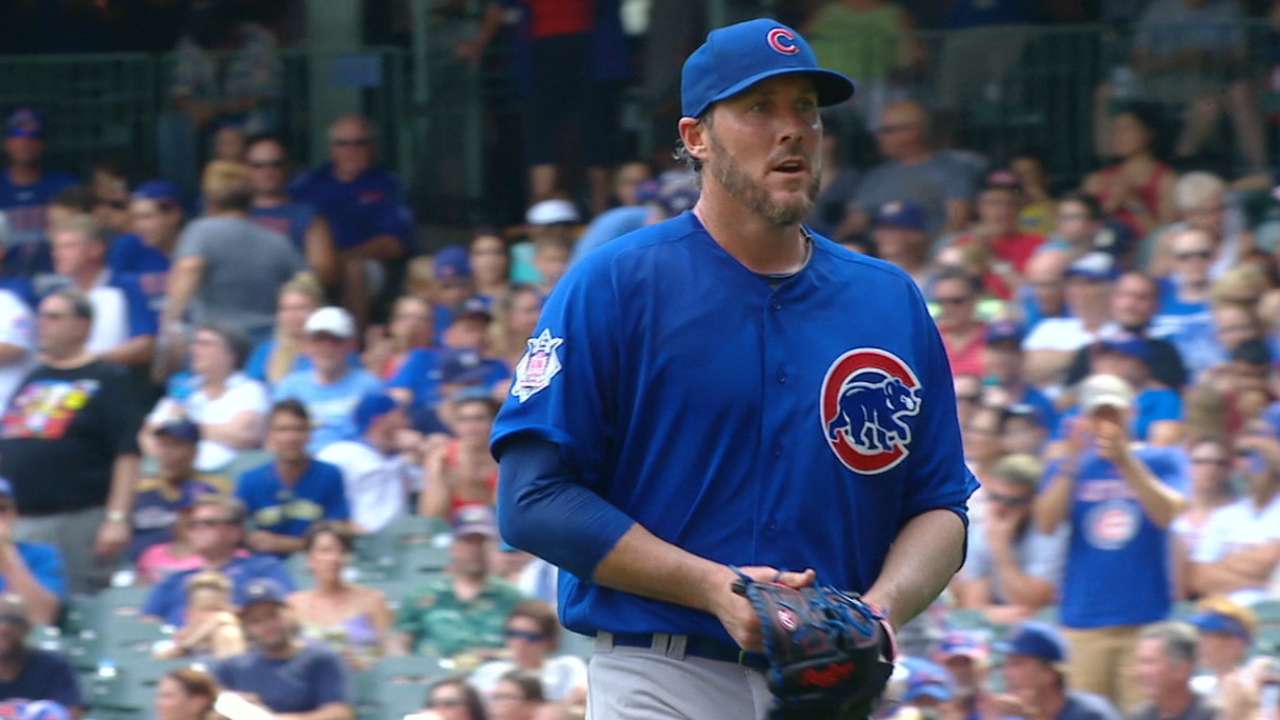 MILWAUKEE -- Joe Nathan joked that he was so nervous running in from the bullpen on Sunday that he needed a defibrillator when he got to the mound. For the first time since his second Tommy John surgery, he was pitching in the big leagues. And the right-hander got into a mess pretty quickly, before showing why he could be a key piece for the Cubs down the stretch.
Nathan, activated from the disabled list Sunday, started the sixth inning against the Brewers, and gave up a triple to Jonathan Villar, then walked Hernan Perez. Nathan now faced the Brewers' 3-4-5 batters, Ryan Braun, Jonathan Lucroy and Chris Carter. And he struck out all three.
"That was a bad moment," Cubs manager Joe Maddon said of the start of the inning. "He made good pitches to every one of them. ... That was purely experience. I thought everything got better inning in progress."
As it turned out, Nathan got the win as the Cubs topped the Brewers, 6-5.
"Nathan gets the victory by pitching out of a real storm," Maddon said.
"My energy was definitely a lot higher than I probably wanted it running out there," Nathan said. "The adrenaline was through the roof. Villar put a good swing on a slider I left up a little bit more than I wanted to. I put myself in the hole right out of the chute.
"I knew I was in a tough spot. I just tried to tell myself to stay within myself and make pitches. I told myself, 'Take the results out of it and let's make quality pitches and see what we can do.'"
After Nathan had Tommy John surgery on his right elbow a second time, he could've walked away from the game. But the right-hander said he wasn't ready to retire.
"For me, from day one [of rehab], it wasn't a question of if I'm going to try to come back from this," Nathan said before the game. "Why wouldn't I at least put my best foot forward to rehab this either way? I needed to get healthy to just live my life and play catch with my son and my daughter and do that stuff.
"If I'm going to rehab it, I might as well go 100 percent and see where it goes," he said. "At the same time, a good test for me was I was living at home, going through it, bringing the kids to school, doing homework, doing normal stuff and at the same time I still had the itch and still had that bug. I think that told me, too."
It's not Nathan didn't like being home with his family.
"I think if that's what these guys do after wins, I'm looking forward to many more," Nathan said. "I knew it was a fun team just by watching them on television. It seems even more so when you're part of them."
Carrie Muskat has covered the Cubs since 1987, and for MLB.com since 2001. She writes a blog, Muskat Ramblings. You can follow her on Twitter @CarrieMuskat and listen to her podcast. This story was not subject to the approval of Major League Baseball or its clubs.