Sale scratched after 'clubhouse incident'
According to source, issue involved throwback jerseys; White Sox unsure of ace's next start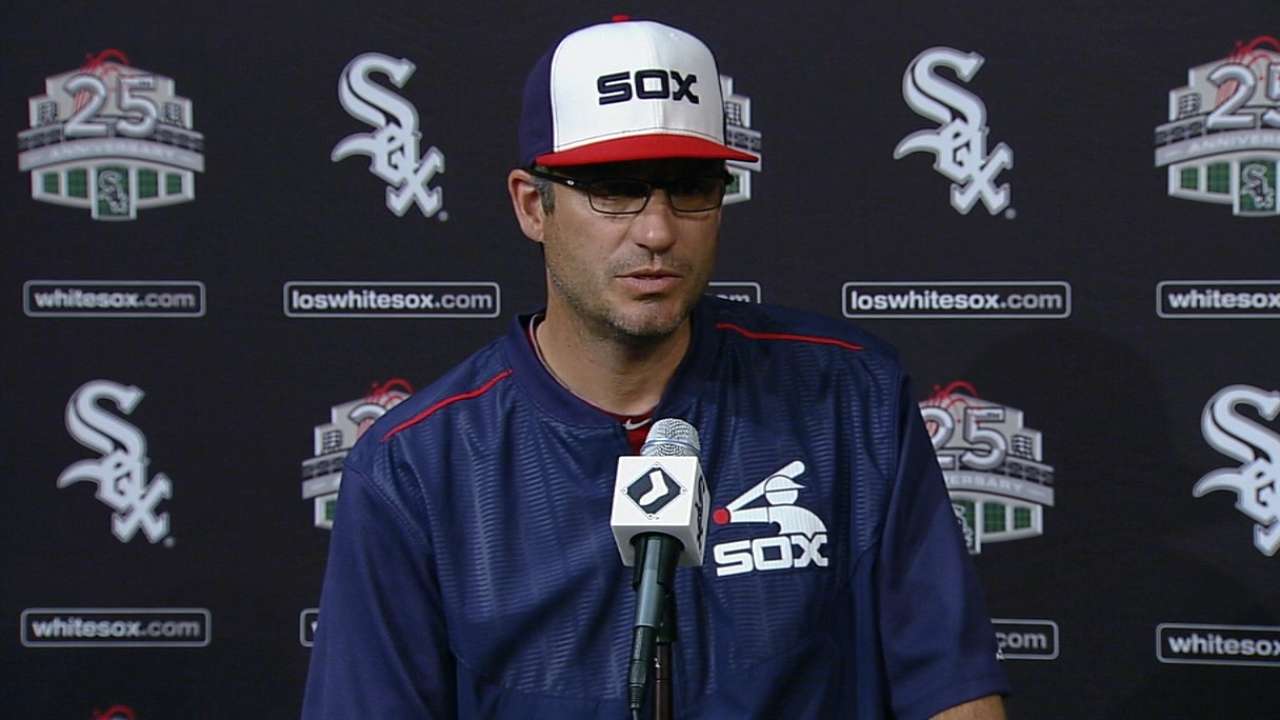 CHICAGO -- The White Sox remained tight-lipped Saturday night about the decision to scratch ace left-hander Chris Sale from his scheduled start at U.S. Cellular Field.
Sale (14-3) was supposed to start Chicago's game against the Tigers, which was suspended by rain after eight innings with the score tied at 3. Instead, he was sent home after a pregame incident in the home clubhouse.
A source told MLB.com's Jon Paul Morosi the incident stemmed in part from Sale protesting the use of throwback jerseys, which was tied into a jersey giveaway for fans. The club has not confirmed that detail, which was first reported by Tommy Stokke of FanRag Sports.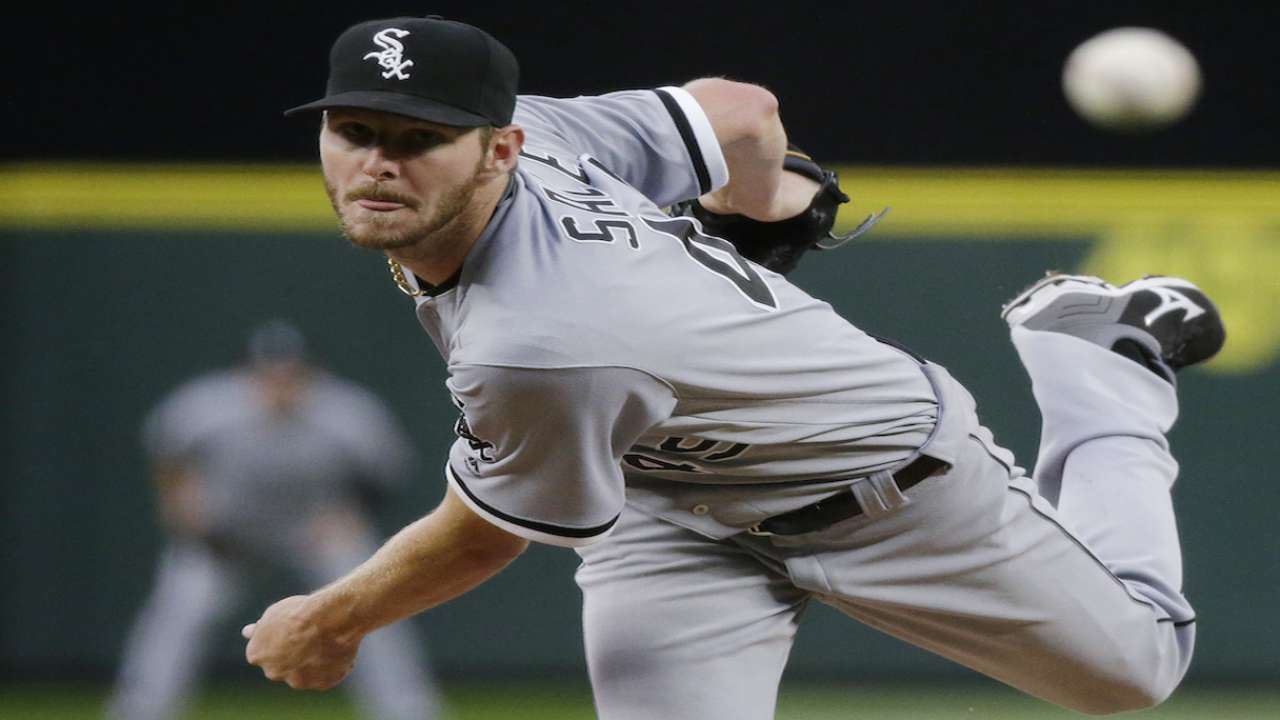 Prior to the game, the White Sox issued a statement from general manager Rick Hahn about the decision to send Sale home.
"Chris Sale has been scratched from tonight's scheduled start and sent home from the ballpark by the White Sox due to a clubhouse incident before the game," Hahn said in the statement. "The incident, which was non-physical in nature, currently is under further investigation by the club."
The statement concluded with the White Sox saying no further comment will be made until their investigation is complete.
"I'll talk about the game, but any of that stuff, we'll wait on that," White Sox manager Robin Ventura said. "I know the team put out a press release on that, and we're just going to stick with that. I'm not going to discuss what went on in there. But it's unfortunate he didn't start tonight, and I'm proud of the guys that came in and filled in."
Ventura said Sale will not start Sunday in the finale, which will immediately follow the conclusion of the suspended game that resumes at 1:10 p.m. CT. Jose Quintana will start the finale, when each team will be granted a 26th man on the roster.
Ventura said he didn't know when Sale will make his next start, and he declined to comment on whether further discipline might be enforced.
• Rogers: Sale's Sox future may have new wrinkle
Right-hander Matt Albers made his first start since 2008, and he was the first of six pitchers used by the White Sox. He allowed one run over two innings before a 1-hour, 14-minute rain delay after the second prompted his exit with the Sox holding a 2-1 lead. He was followed by Dan Jennings, who allowed three hits and fanned three over two scoreless innings, departing with the Sox leading, 3-1. Tommy Kahnle followed with two innings, serving up a home run to Justin Upton to make the score, 3-2, in the sixth.
The White Sox then called on Zach Duke, who struck out one in a perfect seventh, but Nate Jones entered in the eighth and allowed an RBI single to Nick Castellanos that tied the game at 3. Closer David Robertson then came on with two outs and struck out pinch-hitter Tyler Collins to end the inning before rain delayed the game again after the bottom of the frame, prompting the suspension.
"I don't know what time it was, about 4:30 [p.m.], [pitching coach Don Cooper] came up to me and just told me that I was going to start," Albers said. "So, I just kind of mentally prepared to get ready to probably throw a few innings."
Albers declined to discuss the situation regarding Sale specifically.
"I think we're going to keep that in-house," Albers said. "For me, obviously [reporters] probably know what happened, but for me as a player, and in our clubhouse, we're going to keep it in-house."
Chicago's clubhouse was closed earlier than normal before the game for a travel meeting about the White Sox annual crosstown trip to play the Cubs next week at Wrigley Field.
The initial throwback jerseys were patterned after those worn by the White Sox in 1976. By the time reporters were allowed into the White Sox clubhouse for pregame access, around 2:30 p.m., the 1983 throwback jerseys they wore in the game hung in the lockers instead.
Sale has become the subject of widespread trade speculation as the Aug. 1 non-waiver Trade Deadline approaches. Prior to the opener of this series, reports surfaced that teams were inquiring about some of the White Sox top players, including Sale. Hahn didn't deny there had been inquiries and said the White Sox front office would keep "an open mind."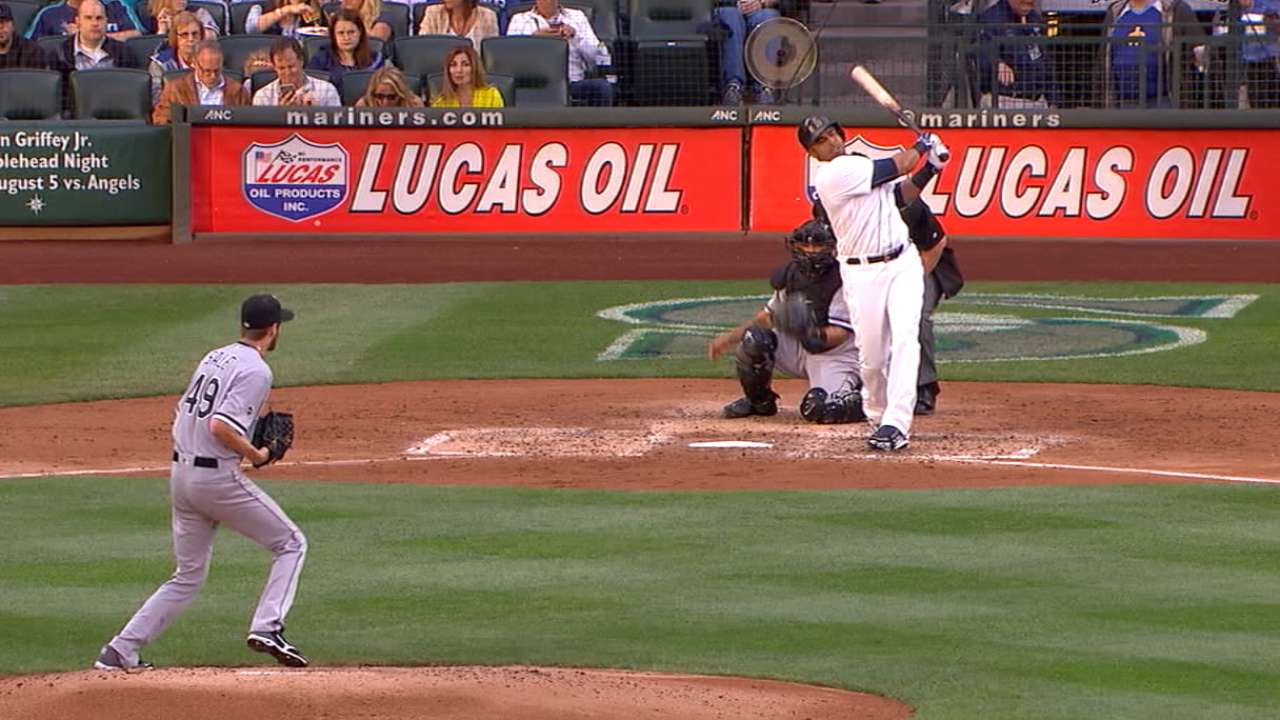 As soon as news of Sale being scratched began spreading on social media, trade speculation involving the lefty picked back up. None of the White Sox who spoke after the game ruled out the possibility that stress from the trade rumors might have players on edge.
"That's possible, I don't know," Ventura said. "That's possible. Nobody's really voiced that, but it's possible."
Brian Hedger is a contributor to MLB.com based in Chicago. This story was not subject to the approval of Major League Baseball or its clubs.