Griffey ready to accept place in baseball history
Electee soaking up experience in Cooperstown ahead of Sunday's induction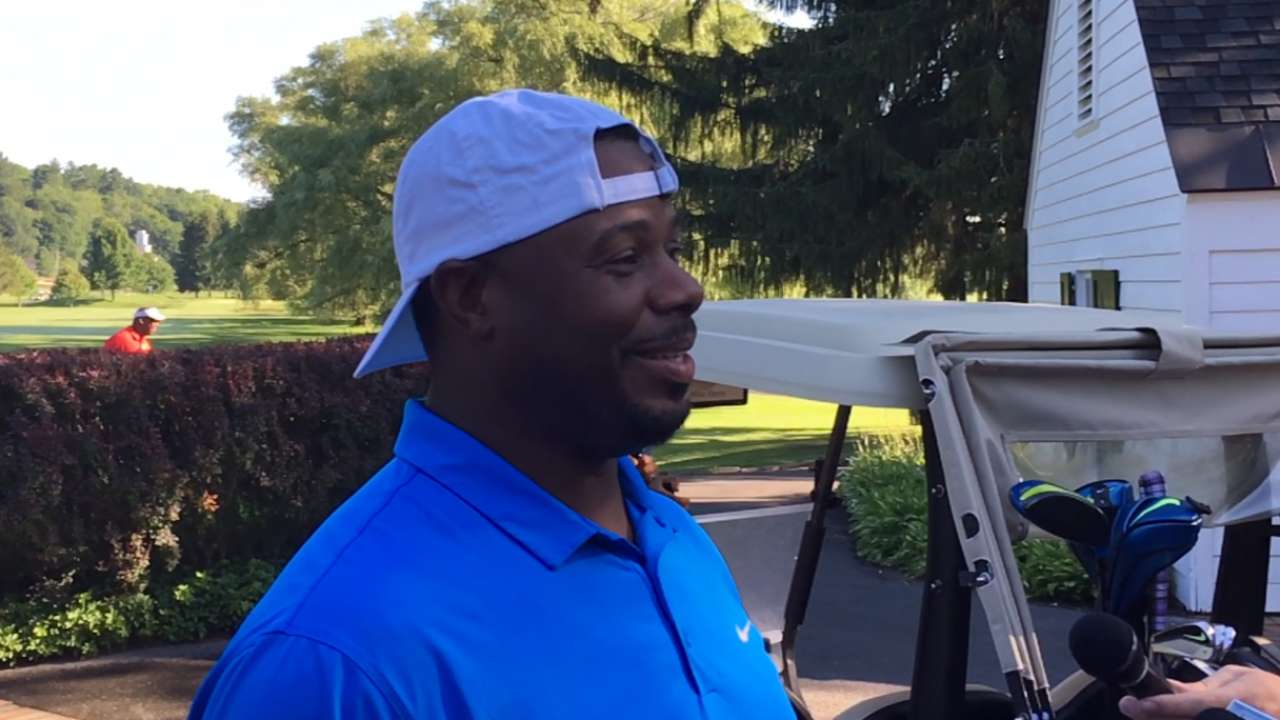 COOPERSTOWN, N.Y. -- For Ken Griffey Jr., reality sank in as he walked into the National Baseball Hall of Fame for the first time on Friday night for a personal tour.
Until that moment, Griffey had never visited the historic museum, wanting to wait until he was a member of baseball's most exclusive club. But on the cusp of Sunday's induction, Junior and his family checked out the Hall after it closed to the public, and the impression was profound.
"Quite interesting, knowing from here on out that I'm going to be in there," Griffey said Saturday after a press conference alongside fellow electee Mike Piazza. "I got the tour before I got to all the plaques, then I went down the rows and looked at the guys I played against and my dad played against. It was pretty interesting to look at that and look where I'm going to be for the rest of my life and then some."
2016 Hall of Fame Inductions
Cooperstown will do that to a fellow, especially one who grew up around the game and respects its traditions. And yes, that desire to honor the game is why Griffey's plaque won't have him wearing a backward hat like so many have encouraged.
Live coverage on MLB Network and MLB.com began at 8 a.m. PT Sunday, with the Hall of Fame induction ceremonies getting underway live at 10:30 a.m.
Griffey will become the first inductee to wear a Mariners logo on his cap, and he'll do so proudly.
"It's whatever you want to do," he said. "But you respect the game of baseball and what these doors have behind them. Everybody's hat is on forward to show the logo of their team, unless you played for multiple teams and can't make your mind up. But for me, it was going to be forward, and maybe I'll get a dummy one for the house with my hat backward."
While Griffey played 13 of his 22 seasons in Seattle, he said his nine years in Cincinnati were important, as well.
"You had your ups and downs," he said. "I spent a little more time on the DL than I care to talk about. But being able to wear the same uniform and, at the time, the same number that my father wore, it's something you only dream of."
• Griffey Sr. proud of son before HOF enshrinement
Griffey and Piazza at Hall of Fame press conference before tomorrow's induction ceremony. #Cooperstown pic.twitter.com/5b2Uzv2iLm

— Greg Johns (@GregJohnsMLB) July 23, 2016
Griffey said he's trying to soak up the weekend and his time with the 52 living Hall of Famers who'll be in Cooperstown for the ceremonies. He said it helps that he knows many of those players because they competed with or against his dad, Ken Griffey Sr., during his own 19-year career. And he said former Mariners teammate Randy Johnson has communicated with him regularly about what to expect.
"Randy has given me probably the most advice," Griffey said. "How about that? A pitcher talking to a hitter. But he's been good."
Griffey said his speech is written, but he declined to give any clues other than sidestepping a question about former teammate Edgar Martinez, inferring that is a topic that will be addressed Sunday.
The most common advice from his fellow Hall of Famers?
"They've told me to keep my speech short and sweet," he said with a laugh. "It's unbelievable, these guys and the stories they can tell, just looking at all the things they've done. To me, they've thrown up Bugs Bunny numbers. I look at some of these numbers and say, 'How did somebody do that?'
"You look at Nolan [Ryan], for instance, with seven no-hitters and 5,000 strikeouts and the next person is Randy with 4,000 and some change? That's still five more years of 200 strikeouts, it's crazy. And the things Randy has done, how he went from not knowing where his fastball and everything else was going to a guy that is going to go down as one of the most dominant left-handed pitchers of all time."
Griffey, of course, has the numbers to rival all those players, which is why he'll enter the Hall with the highest voting percentage of any inductee in history. For a guy who never won a World Series ring, as his three-time champion dad likes to remind him on occasion, that new Hall of Fame ring won't be tucked away in a drawer or hidden in a safe.
"I'm going to put it front and center in the house," he said with a grin. "It might be on the gate when you ring it, or something like that. A lot of people will be seeing it. It might be like the Stanley Cup where I take it around with me and do some things like that. Brush my hair with it. I'll figure out something, but it will be seen."
Greg Johns has covered the Mariners since 1997, and for MLB.com since 2011. Follow him on Twitter @GregJohnsMLB and listen to his podcast. This story was not subject to the approval of Major League Baseball or its clubs.