'Dominant' Manaea delivers career-best start
'Everything was just working today,' A's starter says of 8-frame gem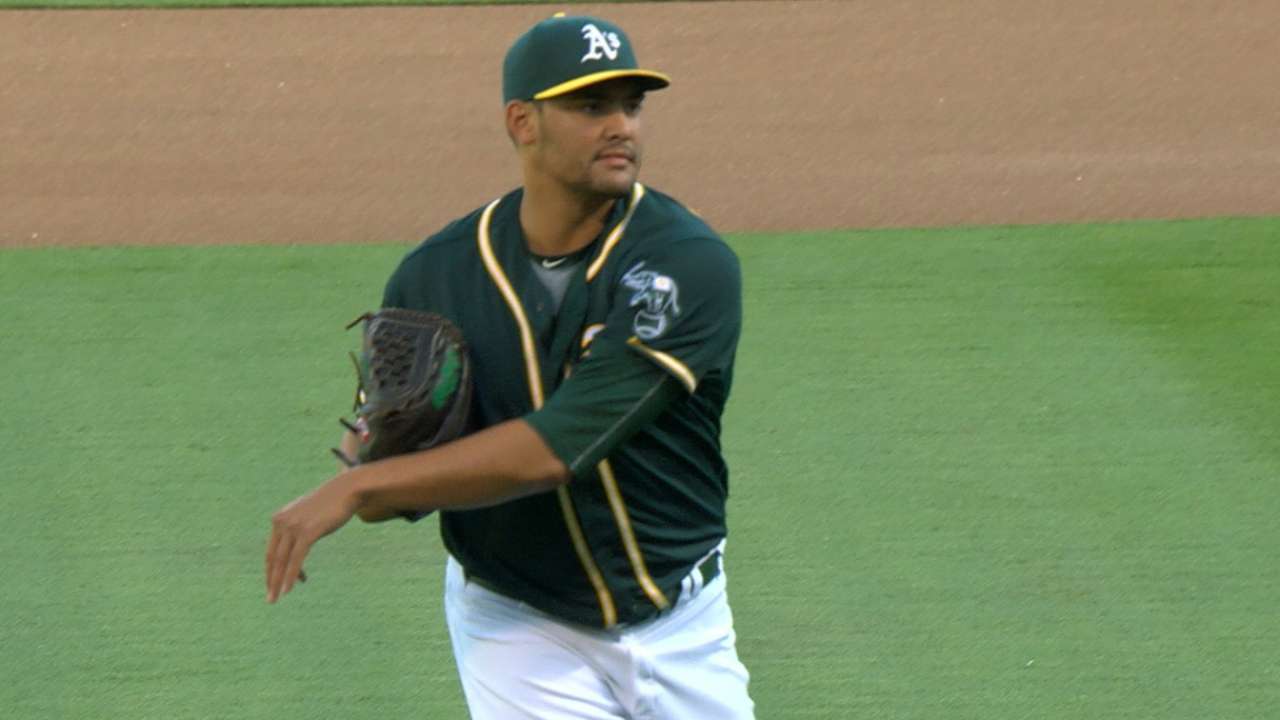 OAKLAND -- A's manager Bob Melvin stuck with Sean Manaea in the eighth inning of Friday's 1-0, 13-inning win over the Rays, even with his pitch count rising and the go-ahead run, Kevin Kiermaier, standing at third base.
Melvin would've been justified in turning the game over to reliever Ryan Dull, who stood ready in the bullpen and has allowed only 2-of-39 inherited runners to score this season. But Manaea had twirled his way to this point, delivering the best start of his career, and Melvin let him see it through.
Manaea rewarded him, getting Brandon Guyer to fly out and keeping the game scoreless entering the bottom of the eighth. Manaea didn't factor into a decision -- and was long out of the game by the time Coco Crisp won it on a walk-off single -- but it was impossible to overlook the strides taken by the young lefty.
"He's pitched some good games but not like that," Melvin said. "That's the best. …When we heard about our best pitching prospect coming up, that was the type of game you look for from your top pitching prospect. That was dominant."
He matched Rays starter Jake Odorizzi frame by frame, throwing a season-high eight scoreless innings over 103 pitches while striking out seven. Manaea retired the first 14 batters he faced, striking out six, and saw his ERA drop from 5.13 to 4.61 by game's end.
The lefty's continuing a strong stretch since coming off the disabled list June 29 with a left forearm strain. Three of his five starts have been shutouts, and he hasn't walked a batter in 20 innings.
"That was the best start I've had up here, everything was just working today," Manaea said.
Manaea mainly utilized his fastball and changeup -- something he's doing more frequently as the season progresses -- and mixed in his slider. He showed an especially potent changeup despite coming out of his pregame session saying he felt "iffy."
It was the type of stuff the team knows Manaea has, and he's mixed in increased command over the last month, saying the combination of his stuff and mechanics are the best he's felt all year. His teammates are taking notice, ranging from Ryon Healy, who played with him in Double-A last year, to elder statesman Crisp.
"He's always had stuff," said Healy, who opened the 13th inning with a double and scored the game-winning run.
"It's really just been fine-tuning the location. I'm not a pitching expert. I don't know a whole lot about it, but you watch him throwing like he did tonight and you really open your eyes and go, 'Wow, that's special.'"
Friday's gem offered a preview of what may be on the horizon for Manaea.
"A game like tonight for him is big, not just for himself but for us," Crisp said. "We're counting on him. Not to necessarily pitch like tonight, that would be a Hall of Fame career, but the future is ahead of him. We'll see how good he can be."
Mark Chiarelli is a reporter for MLB.com based in the Bay Area. This story was not subject to the approval of Major League Baseball or its clubs.