Rockies hang on after Gray's gem vs. Braves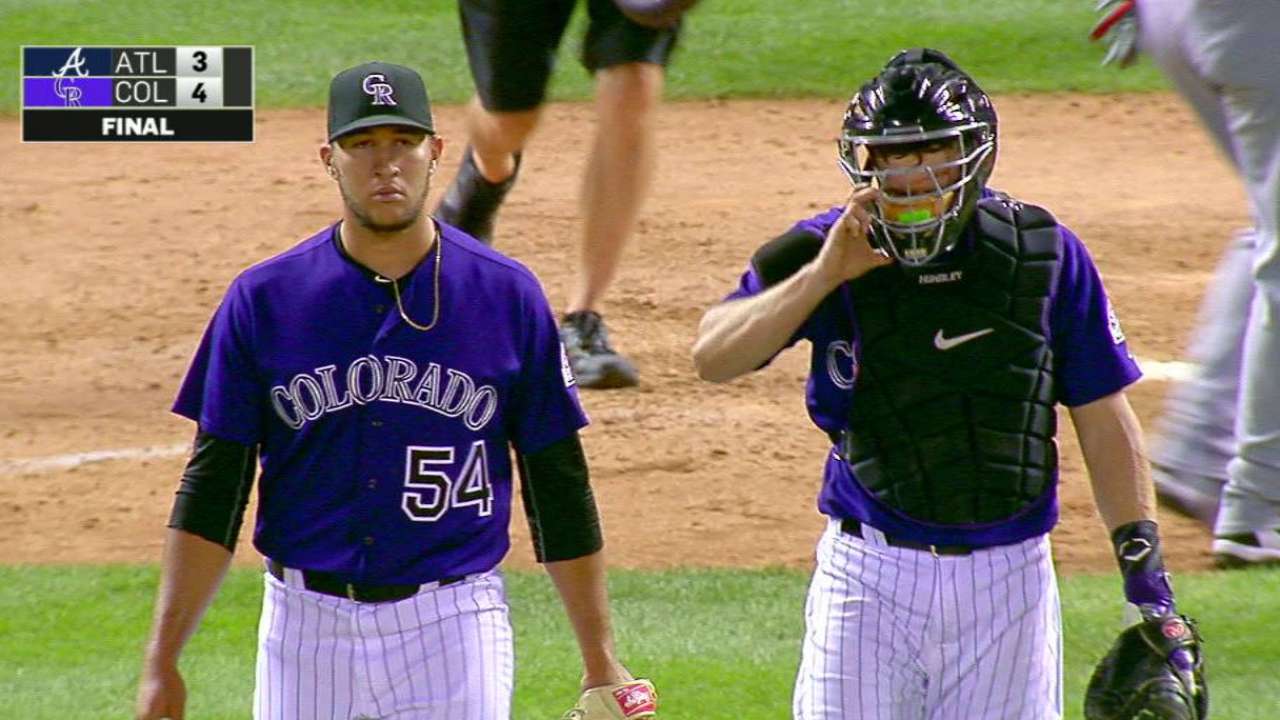 DENVER -- In a rematch of a pitcher's duel from five days prior against Julio Teheran, the Rockies' Jon Gray got the upper hand. The rookie right-hander tossed seven brilliant innings and closer Carlos Estevez survived a wild ninth for a 4-3 victory over the Braves on Friday night at Coors Field.
After not factoring into the decision in the Rockies' 1-0 loss in Atlanta on Sunday, Gray earned the win by holding the Braves to one run on six hits with one walk and eight strikeouts. The only run came in the first inning on Nick Markakis' RBI infield single that knocked in Freddie Freeman, whose triple popped out of left fielder Ryan Raburn's glove.
"I think we're just seeing Jonny Gray getting more and more confidence as a Major League pitcher," Rockies manager Walt Weiss said. "We're seeing it almost from start to start."
Teheran looked like he was on his way to spoiling another solid start by Gray, but he left with tightness in his back while working on a shutout in the fifth inning. The Braves are hoping their ace exited early enough to avoid a significant injury and the need to be placed on the disabled list.
"I'd prefer to miss a couple innings and not have to miss another start over the rest of the season," said Teheran, who initially felt the discomfort during the third inning.
The Rockies took advantage against the Braves' bullpen, taking the lead in the sixth when Nolan Arenado and Trevor Story hit two-run homers off Joel De La Cruz and Dario Alvarez, respectively. The Braves made it a one-run game when Jace Peterson hit a two-run homer off Jason Motte in the eighth, but Estevez earned his eighth save despite loading the bases with one out in the ninth.
MOMENTS THAT MATTERED
Arenado breaks his slump: Arenado got just his second day off of the season on Thursday, and Weiss' decision immediately paid off. Arenado broke out of his 4-for-18 slump by going 2-for-4 with his first home run in 45 at-bats. Arenado's sixth-inning two-run homer gave the Rockies their first lead of the night.
"Sometimes it's good to hit the reset button," Weiss said. "Physically, he's very, very durable, but everyone needs a mental break from time to time, especially when Nolan's real hard on himself. Once in awhile it's good to catch your breath for a day." More >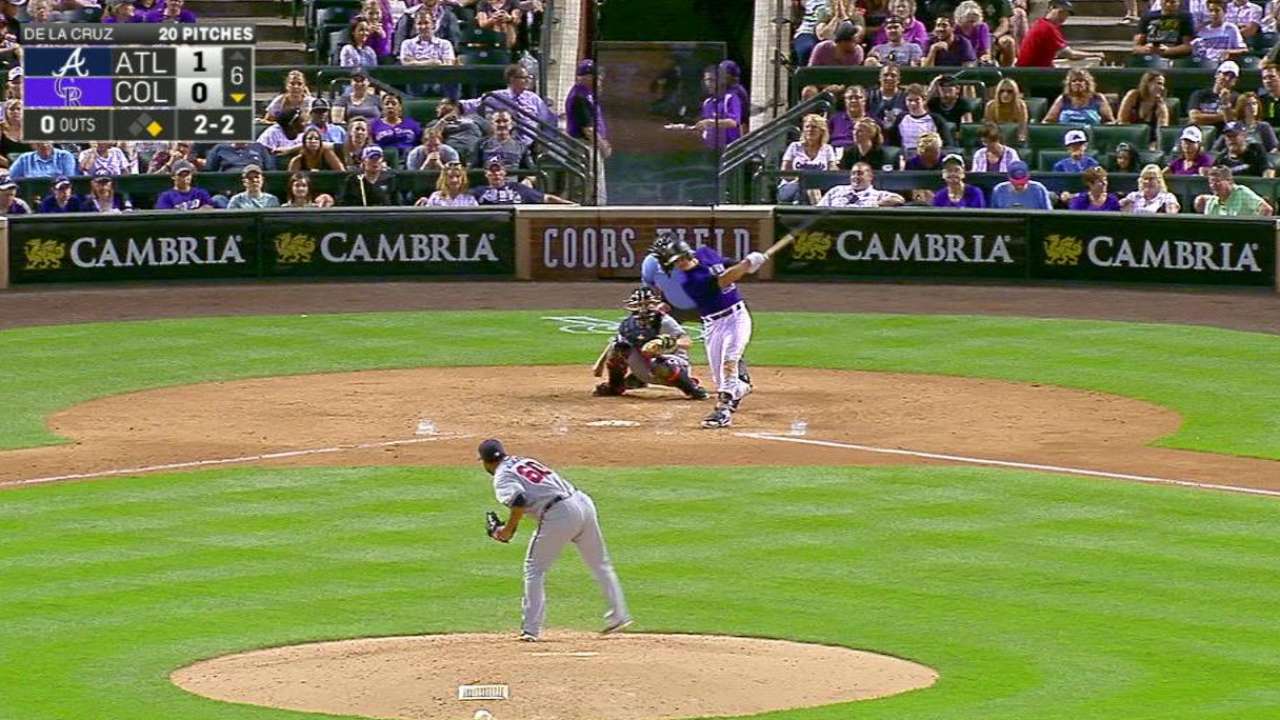 Teheran exits: Teheran pitched around a pair of hits in the first inning and a pair of walks in the fourth. But his night abruptly ended after he attempted to field Mark Reynolds' infield single to begin the bottom of the fifth. The All-Star hurler did not aggravate his back while pursuing Reynolds' grounder, but after the play, he signaled for the trainers at the behest of shortstop Erick Aybar, who knew Teheran had initially felt some discomfort in the third inning. The Braves termed the injury as right lat tightness and listed the pitcher's status as day to day.
"He told me he was good," Braves catcher Anthony Recker said. "He was telling the same thing to Aybar, but Aybar was telling him to get it looked at because it's not worth hurting yourself more." More >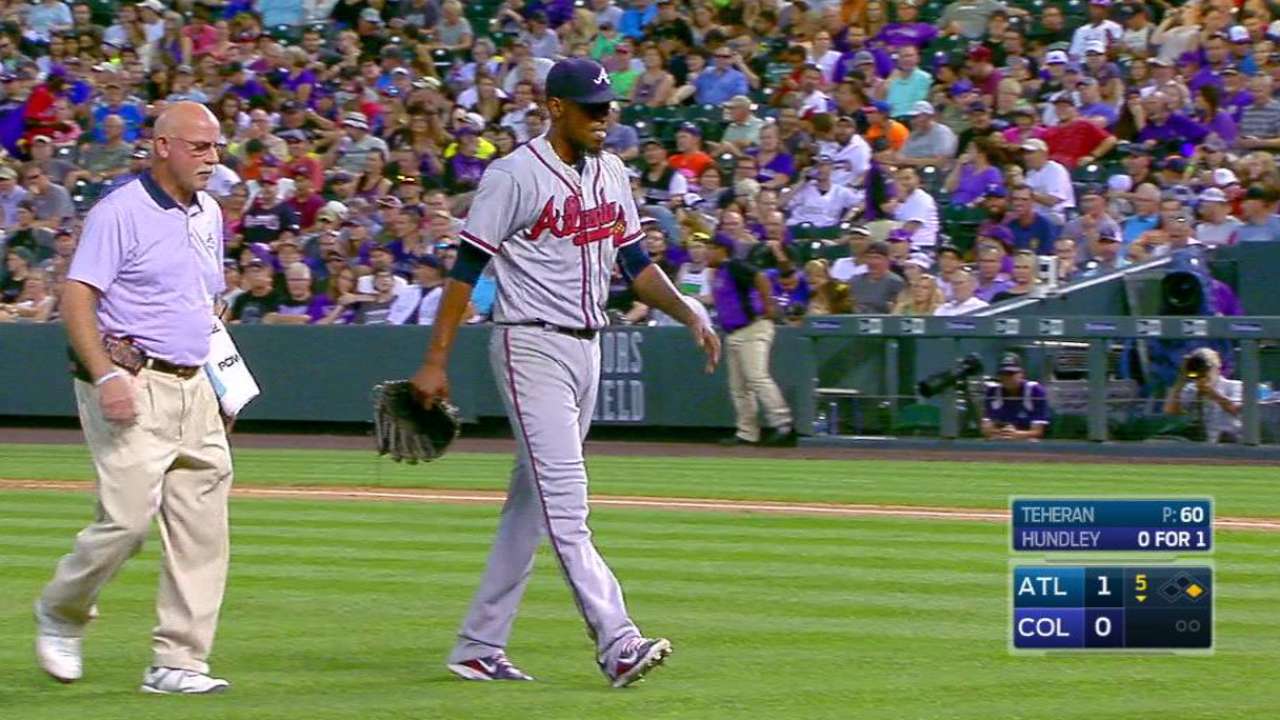 Story ties a rookie mark: Two batters after Arenado gave Colorado a 2-1 lead, Story extended it to 4-1 with his 24th home run of the season. That home run tied him with former Rockies slugger Troy Tulowitzki for the most home runs by a rookie shortstop in National League history. Story has 66 games to break Nomar Garciaparra's 1997 record of 30 home runs for a Major League rookie shortstop.
"It's been amazing," Weiss said. "I know he made a lot of noise with the historical start, but he's been very good throughout. Nobody's going to keep up the pace he had going early on. He's a good player." More >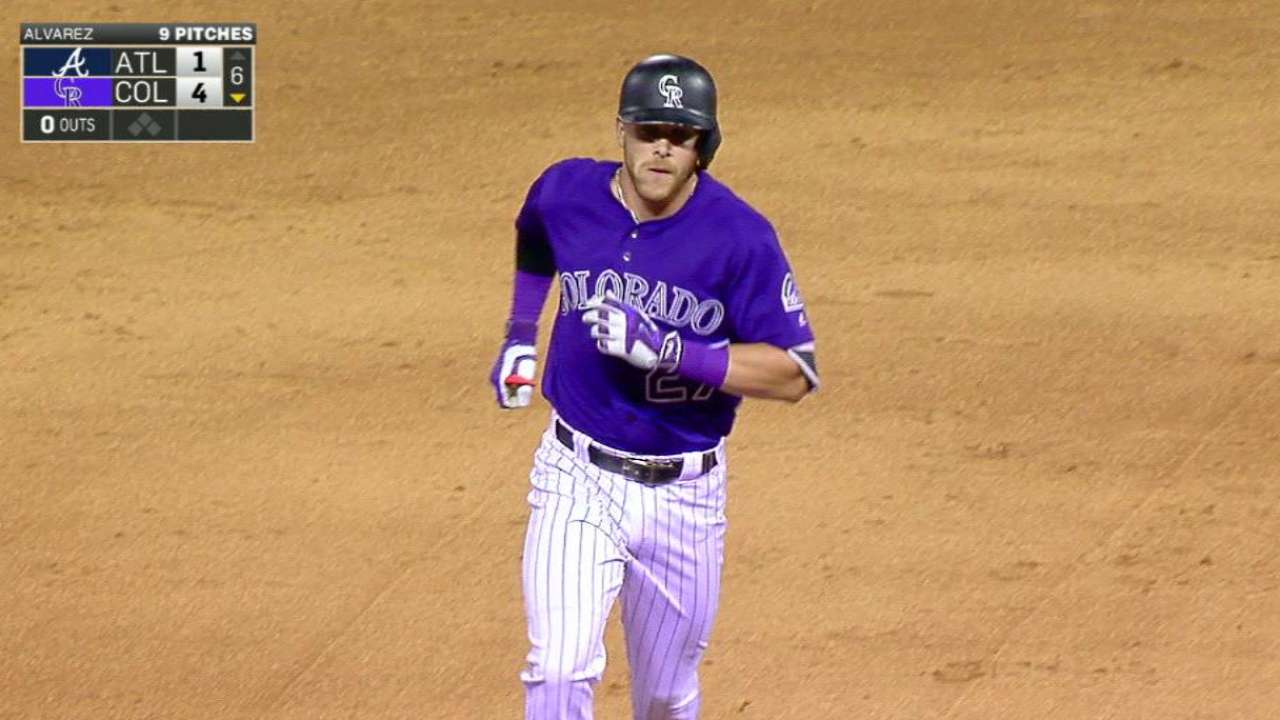 Late rally attempt: Peterson's two-run homer, which was projected by Statcast™ to travel 437 feet, made it a 4-3 game. Adonis Garcia opened the ninth with a double and Atlanta eventually loaded the bases with one out. But Estevez escaped unscathed when Chase d'Arnaud popped out to shortstop and Peterson struck out on a check swing to end the game.
QUOTABLE
"I'm good. This one just still pops out sometimes. It's happened seven or six [times]. I don't remember how I popped it out the first time. But it still does that sometimes. Tomorrow I'll be fine. A little bit sore, but I'll be fine. I popped it out once in Low-A, but I pitch through it. It's my left arm. It's not my throwing arm. I'll be fine." -- Estevez, on his left shoulder bothering him in the ninth inning
"I felt a little out of whack with my delivery, and the command wasn't all that great, but I just tried to throw everything with conviction and leave it out. I don't think it was mechanical, I think I was just a little bit early leaking to the plate. I was glad to be able to pitch through it and give us a shot." -- Gray
SOUND SMART WITH YOUR FRIENDS
Teheran prevented a run in the first inning when he picked off Blackmon at second base ahead of Arenado's triple. The Braves right-hander now has a Major League-best 22 pickoffs since the start of the 2013 season. Lefties Clayton Kershaw and Madison Bumgarner have 21, but no other right-hander has more than 11.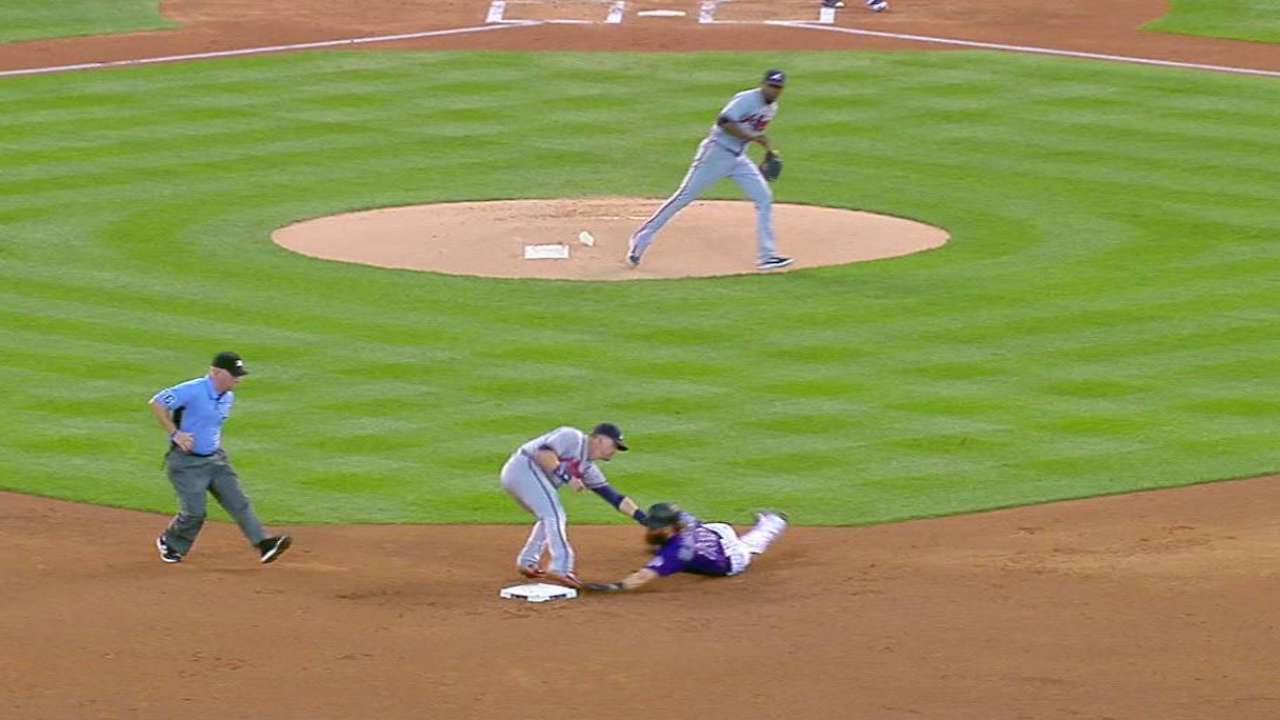 GRAY'S FILTHY SLIDER
Six of Gray's eight strikeouts came on his slider, and the other two were on his curveball. For the season, 74 of his 111 strikeouts have come on his slider. The Braves went 0-for-7 vs. the slider, which has held batters to a .156 batting average this season (24-for-154).
"It's always there to bail me out," Gray said. "If the fastball or anything else isn't working -- the changeup -- I don't know, I've just always got that pitch to throw in any count. I feel like it's a good ground-ball pitch. I can make it short, put it down in the zone, get a ground ball or you can get a swing-and-miss. I feel like it's constantly bailing me out."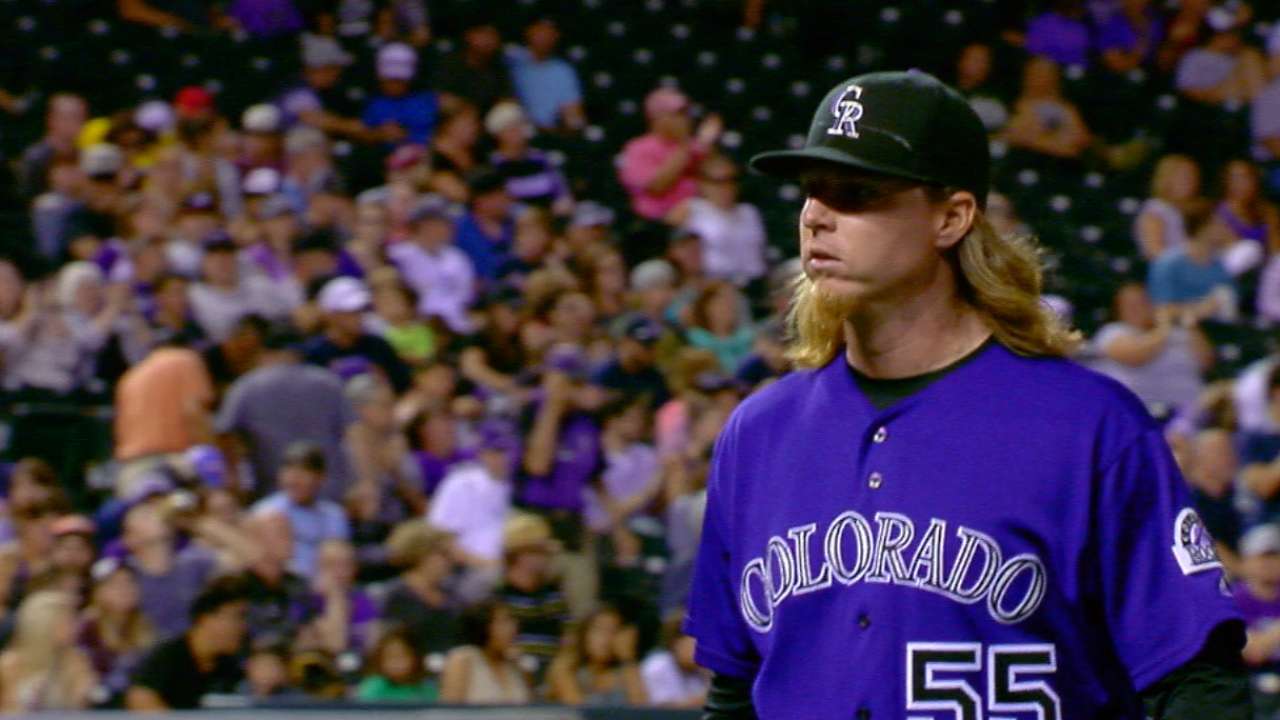 AFTER FURTHER REVIEW
The Rockies challenged a fifth-inning call that had Reynolds out at first base on a pickoff by De la Cruz. After a two-minute review, the call was allowed to stand, as the Replay Official could not definitively determine whether Reynolds contacted first base prior to the tag.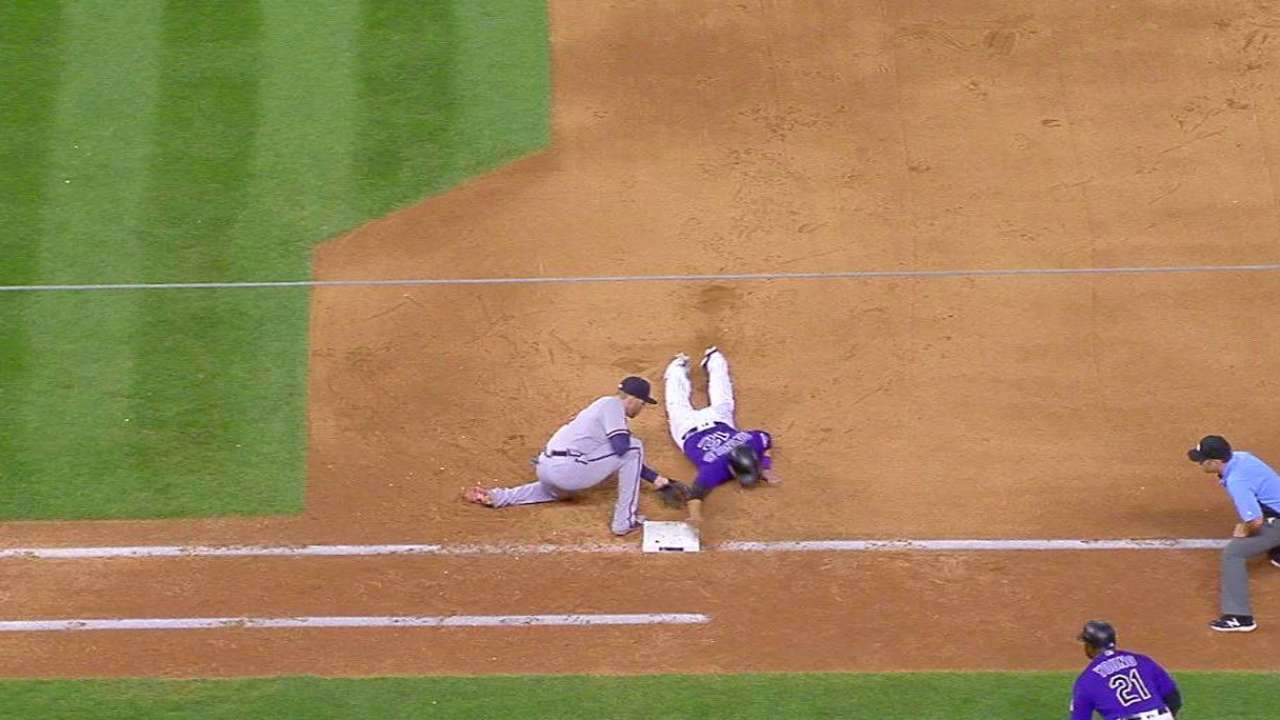 WHAT'S NEXT
Braves: Matt Wisler will attempt to halt his recent struggles when Atlanta and Colorado resume their four-game series on Saturday at 8:10 p.m. ET. Wisler has allowed at least five earned runs in four of his last eight starts, including his last two.
Rockies: Tyler Anderson gets the call for the third game of the four-game set against the Braves on Saturday at 6:10 p.m. MT. He broke a streak of three consecutive quality starts when he gave up four runs in 6 2/3 innings to the Rays his last time out.
Watch every out-of-market regular-season game live on MLB.TV.
Mark Bowman has covered the Braves for MLB.com since 2001.

Ben Weinrib is a reporter for MLB.com who covered the Rockies on Friday. This story was not subject to the approval of Major League Baseball or its clubs.