Cain keeps working toward return to Royals
Outfielder skips team's trip to White House to continue injury rehab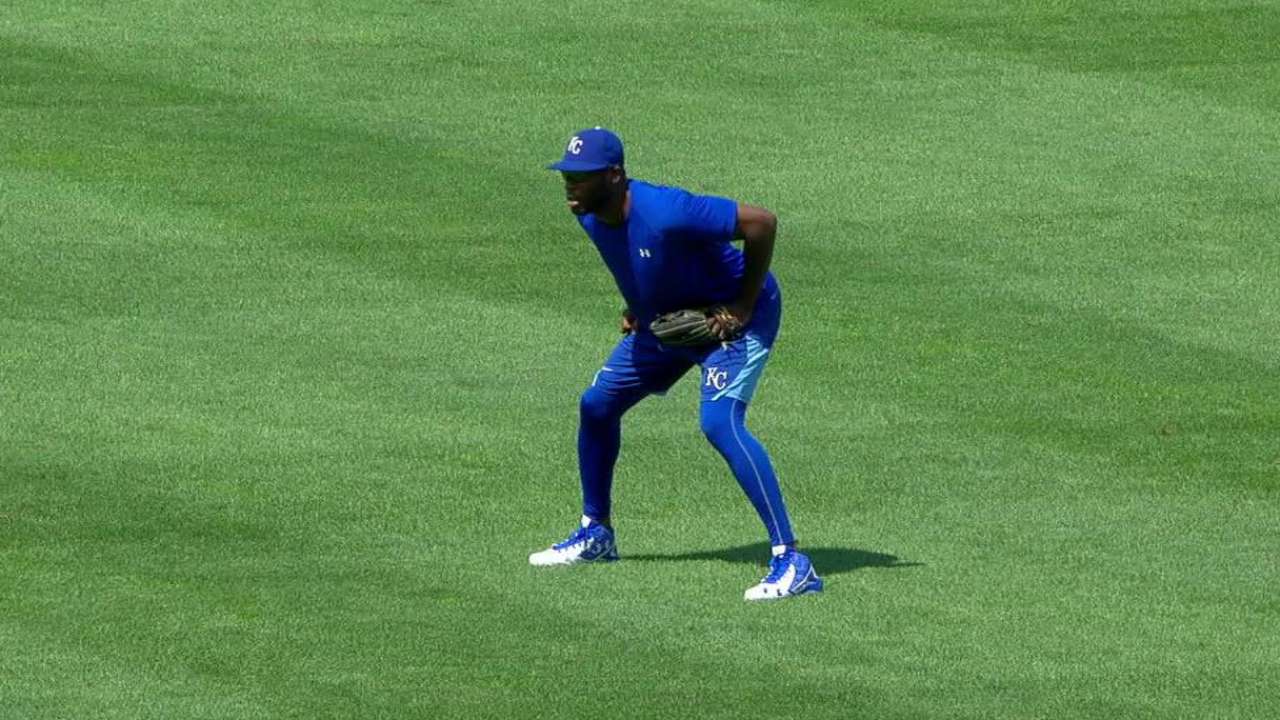 KANSAS CITY -- As the Royals gathered at the White House to celebrate their 2015 World Series championship on Thursday, there were a few faces missing, notably outfielder Lorenzo Cain.
Cain stayed behind to continue to work through his left hamstring injury sustained on June 28.
"He's focused on getting back out," manager Ned Yost said. "It's like Wade [Davis] missing the All-Star Game. It's a big thing to miss, but the priority is getting back on the field."
While the team was in D.C., Cain spent his day getting treatment. Yost said there weren't any setbacks "by any stretch of the imagination," but that Cain had pushed his leg too hard a couple of days earlier, which led to some soreness.
Prior to Friday' series opener against the Rangers, Cain was in right field catching fly balls. He finished out the session at home plate, where he took a faux swing without a bat. Cain made his way to first like it was a single before stealing second and eventually rounding third toward home.
"He went through the drills with [first-base coach Rusty Kuntz], who said he looked a lot better," Yost said. "He's a pretty big offensive piece to our lineup. When that leg gets right, we'll be glad to have him back."
Cain did not speak to reporters on Friday, but did say earlier in the week that he "definitely" wasn't where he wanted to be with his recovery. At that point, Cain said he wasn't sure whether he'd end up making the trip to the White House, but he hinted at the recovery process factoring into his decision.
"It could be because of rehab. If I go out here and run tomorrow, I could be playing games while they're in D.C.," Cain said on Tuesday. "It's a wait and see type thing."
But even after missing out on the chance to meet President Barack Obama and going through the drills in the humid, near-100 degree heat in Kansas City, Cain had a smile on his face as he walked into the clubhouse. He was singing the words to "Let it Go" as he walked over to his locker and dropped off a pullover, before turning around and heading back out the door.
"LoCain is a big part of this team. I know he's doing everything possible to get back in the lineup," infielder Christian Colon said. "It says a lot about a guy that [he's] willing to put off that opportunity [to meet the President]."
Scott Chasen is a reporter for MLB.com based in Kansas City. This story was not subject to the approval of Major League Baseball or its clubs.