Sabathia, Nova diverge on desire to swing bat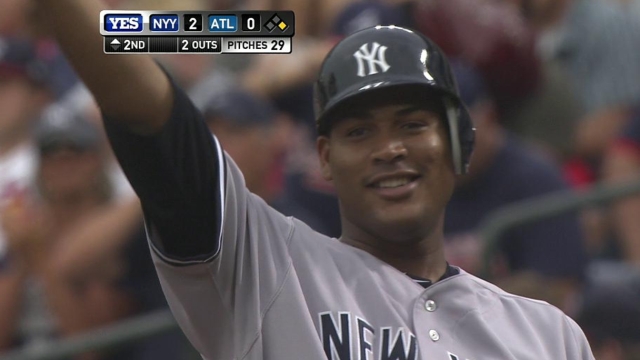 NEW YORK -- This season, the average Major League pitcher is hitting .132.
So it almost never comes as a surprise when a National League ballclub elects to use a designated hitter when it visits an American League park, as the Giants will Friday night. But Friday is one of those rare situations that a team is questioned for not factoring its pitcher into the lineup with Giants star Madison Bumgarner and his 13 career home runs on the mound.
Giving Bumgarner at-bats in an AL park isn't wholly unprecedented; the All-Star hit for himself in Oakland on June 30. But the Giants and manager Bruce Bochy elected against doing so again Friday night, instead allowing Jarrett Parker the opportunity to DH.
Friday night will be Bumgarner's first start against the Yankees, but to members of the Yankees' pitching staff, Bumgarner's reputation is enough to work on. Both Ivan Nova and CC Sabathia explained they are more than aware of Bumgarner's offensive prowess, and Sabathia went as far as to say he was a little surprised to see the Giants use a DH.
But that's just about where the two pitchers' opinions on hitting split. You see, Sabathia loves to hit. He doesn't do it anymore because of his age and injury history, but he said he never thought of it as a chore. Instead, he always liked taking batting practice just for the fun of it.
Nova, on the other hand, is the kind of guy who's glad he plays for an AL club.
"There's a lot of pitchers that would like to hit more," Nova said. "I'm good the way I am right now. If it presents the opportunity, you've got to hit. But I'm not a big fan of hitting."
The problem with hitting, at least in Nova's mind, is the preparation. NL pitchers have to be ready to hit. It's part of their job. But as an AL pitcher, hitting is never at the top of Nova's preparation list. Which is why when he's had to face hard-throwers like San Diego's Edwin Jackson, Nova has had a not-so-brave message for the catchers.
"I look to the catcher and say, 'Just throw fastballs. I'm not going to hit it. Don't waste your time with me. Just throw fastballs,'" Nova said.
Sabathia actually gives opposing batteries a similar message, but for different reasons.
"'Please just throw me a fastball and I'll throw you a fastball,'" Sabathia said he tells his opponents. "'Let's just trade them off. It don't matter, just throw me the heaters.' Just to trade off. See what they can do and hopefully they give me one, too."
The big lefty was no slouch at the plate in his heyday. Sabathia is a lifetime .219 hitter with three home runs and 15 RBIs, six of which came in the half a season he played in the National League. And to that success, Sabathia credits his realistic approach at the plate.
"I just always took it as being an American League pitcher pretty much my whole career that if I get a hit, get a home run, then that's fine," Sabathia said. "But if not, who cares? It was kind of like all the pressure is off and I'm going to swing as hard as I can and try to find the barrel."
Nick Suss is a reporter for MLB.com based in New York. This story was not subject to the approval of Major League Baseball or its clubs.