Marte likely headed for DL with mononucleosis
O'Malley, Sardinas to see time in young shortstop's absence
TORONTO -- Just when Scott Servais thought his team was nearing full health, the Mariners were dealt another blow. Seattle will be without the services of shortstop Ketel Marte, who was diagnosed with a form of mononucleosis, for an indefinite period.
Marte is expected to be placed on the disabled list. Servais says Shawn O'Malley and recently recalled Luis Sardinas will fill in at short in Marte's absence.
With Marte headed to the DL, the Mariners will recall another pitcher from Triple-A Tacoma on Saturday.
• Mariners recall Sardinas from Triple-A
Marte is hitting .273 with 17 doubles and 19 RBIs in 74 games this season. The 22-year-old has appeared in just two of the past six games for the Mariners since the All-Star break due to injuries and illness.
"Does it affect you? Yes," Servais said on Friday ahead of the Mariners' three-game series against the Blue Jays. "[Marte] has been our regular shortstop, but Sardinas is up here, O'Malley -- those two will kind of mix and match, they'll share the duties.
"I don't want to put too much on one guy. I think O'Malley has done a nice job for us in the three games he's filled in. Not looking for the spectacular, make the routine plays and battle at the plate and do what you can to help us out offensively."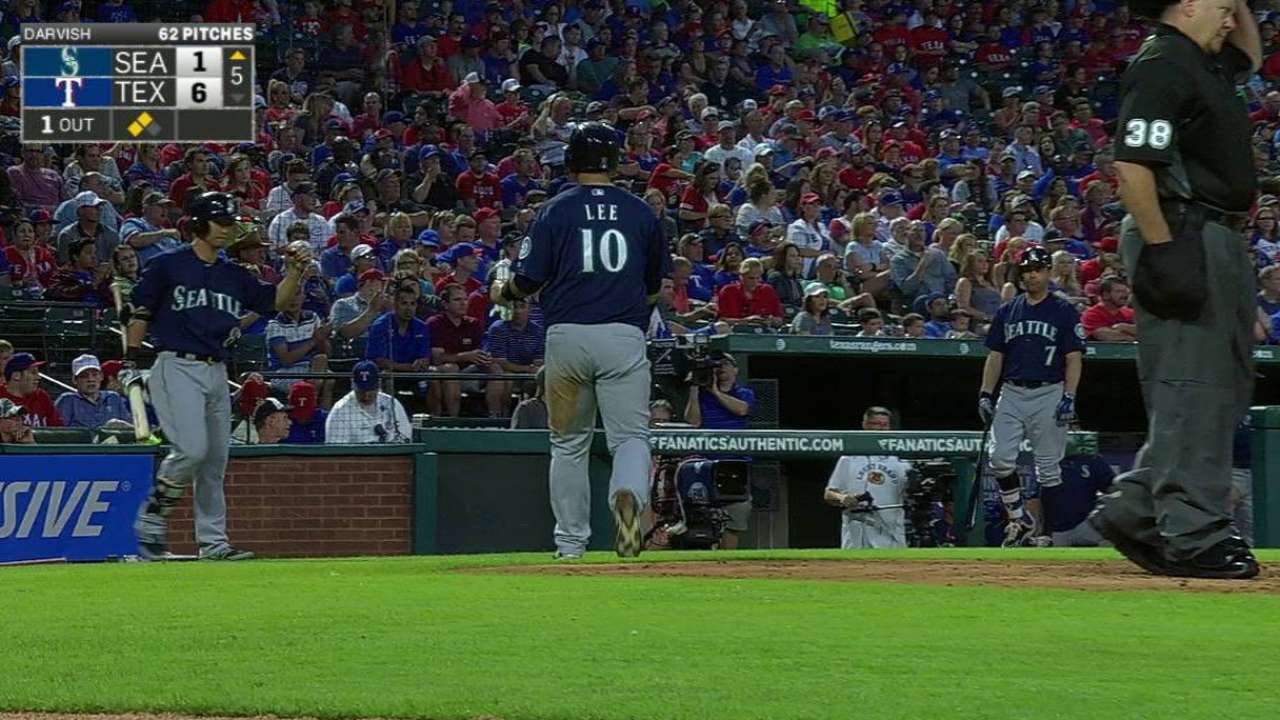 Sardinas was hitting .250 with 17 runs, four doubles and 17 RBIs in 42 games with Tacoma. The 23-year-old has appeared 25 games with the Mariners this season, over two stints, hitting .190 with two home runs and five RBIs.
"We've kind of put Sardinas in [Mike] Montgomery's spot so to speak, if you want to look at our roster," Servais said. "We are short a guy tonight, but we'll be fine. It's not going to affect us tonight. We should have another pitcher here tomorrow and fill out our 25-man roster that way."
O'Malley will make his fourth consecutive start at short in place of Marte on Friday. The 28-year-old is hitting .218 with five doubles and seven RBIs in 42 games this season.
Worth noting
• Left-hander Charlie Furbush (left shoulder tightness) tossed a scoreless inning on Thursday night with Triple-A Tacoma allowing one walk and a hit.
• Right-hander Taijuan Walker threw a 25-pitch bullpen session on Friday, and according to Servais, everything "went very well." Right-handed reliever Nick Vincent (mid-back strain) has yet to throw from the mound.
"Vincent is feeling better, being aggressive in his flat ground," Servais said. "Workout the next couple days, and hopefully get him on the mound in a bullpen shortly."
Both Walker and Vincent will require rehab assignments before rejoining the Mariners.
Dhiren Mahiban is a contributor to MLB.com based in Toronto. This story was not subject to the approval of Major League Baseball or its clubs.