CarGo, Reynolds homer to lift Rox over Braves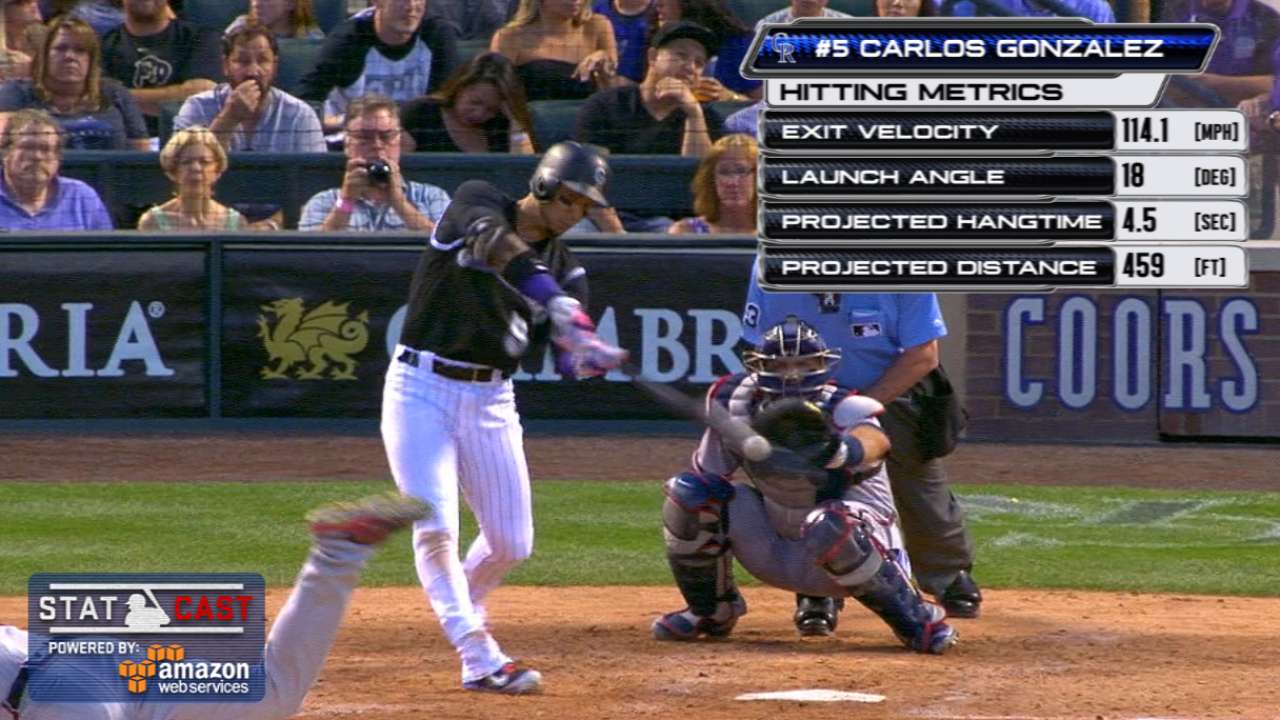 DENVER -- Rockies right fielder Carlos Gonzalez and pinch-hitter Mark Reynolds made their homers count Thursday night in a 7-3 victory over the Braves at Coors Field.
Gonzalez's three-run homer in the sixth inning, off Braves starter Mike Foltynewicz, carried a 114.1-mph exit velocity and a projected distance of 459 feet -- the second-hardest and second-longest homer for Gonzalez this year, according to Statcast™. More important, it was Gonzalez's first homer in 23 plate appearances and, even better, his first homer in a Rockies win in 73 plate appearances since June 27.
"You can't fall behind one of the best fastball hitters in the game, and you especially can't pitch around him at that time because the bases would be loaded," Foltynewicz said. "You've just got to tip your cap. He was waiting for the inside fastball and he turned on it."
Gonzalez's 20th homer this season backed starter Chad Bettis, who held the Braves to one run and four hits in 6 2/3 innings, and fanned four while helping the Rockies improve to 4-3 since the All-Star break.
"We've been facing some pretty good arms, but not being able to score runs was frustrating," Gonzalez said. "When I hit that home run, I kind of looked angry. But I was pumped up, because I knew Bettis was doing a tremendous job. Not scoring runs, I took it personally -- he was doing his thing, we've got to be able to do our things."
The only run off Bettis came on A.J. Pierzynski's one-out, RBI double in the seventh. But with Pierzynski at third, reliever Adam Ottavino struck out pinch-hitter Brandon Snyder, and Reynolds opened the seventh with his 10th homer of the year -- a 484-foot shot that was the second-longest in the Majors this year, according to Statcast™.
MOMENTS THAT MATTERED
Score one against Pierzynski: In the July 16 meeting in Atlanta, Pierzynski's two-run homer off Bettis was a key reason Bettis ended up with a no-decision in a 4-3 Rockies victory. In the second inning Thursday, Bettis won at a key time. With two on and one out, Bettis forced Pierzynski into a double-play grounder. The double play made for two of the 11 outs Bettis gained on the ground.
"We like when they strike them out and get grounders -- that's good," Rockies manager Walt Weiss said. "When you've got that variation in velocity, you're going to see some ground balls." More >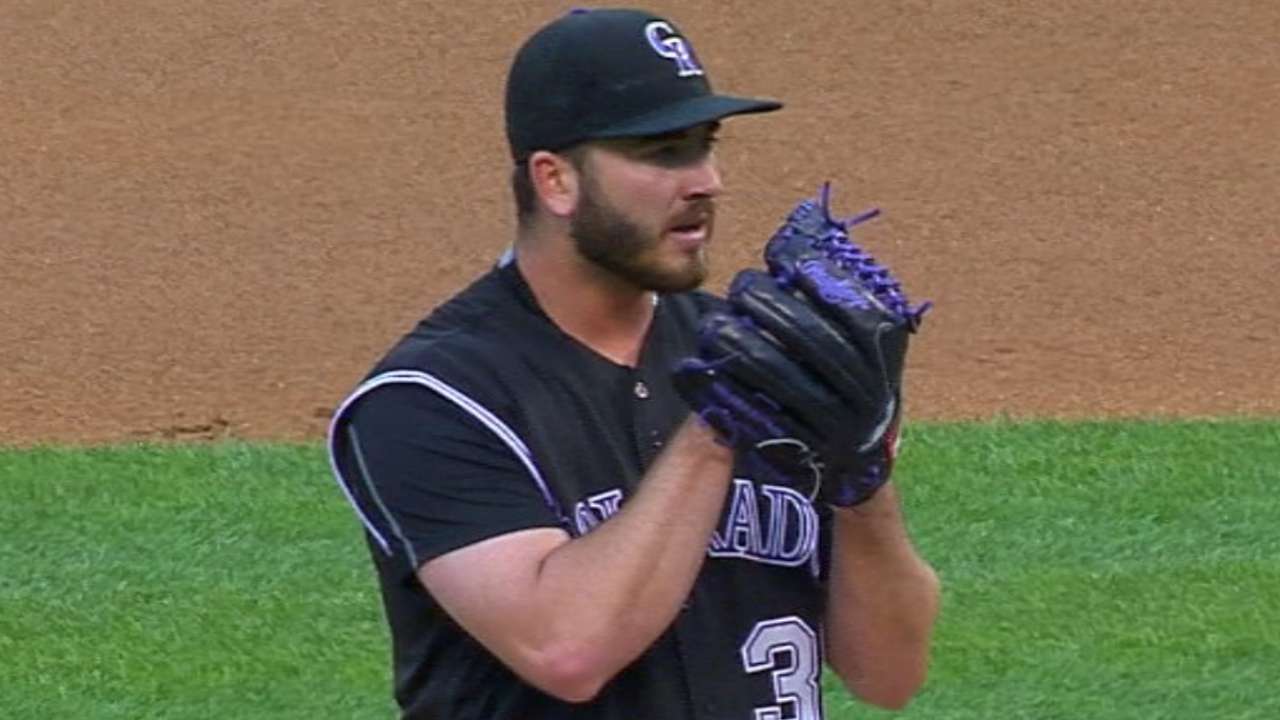 Folty's shaky command: Foltynewicz issued a season-high five walks and allowed three runs over 5 2/3 innings. The right-hander recorded four of his five strikeouts after the fourth inning, but his inconsistent command bit him as he walked Charlie Blackmon to begin the decisive sixth and then surrendered three of the four hits charged against him. Before allowing Gonzalez's mammoth home run, Foltynewicz pitched around two fourth-inning walks with the assistance of Ender Inciarte, who raced 79 feet, according to Statcast™, to catch Ryan Raburn's two-out drive in front of the center-field wall.
"Later in the game, I think I was just trying to nibble at the corners, instead of just being aggressive and pitching to contact," Foltynewicz said. "Also, I think I fell out of rhythm there out of the stretch a few times and just tried to get too quick."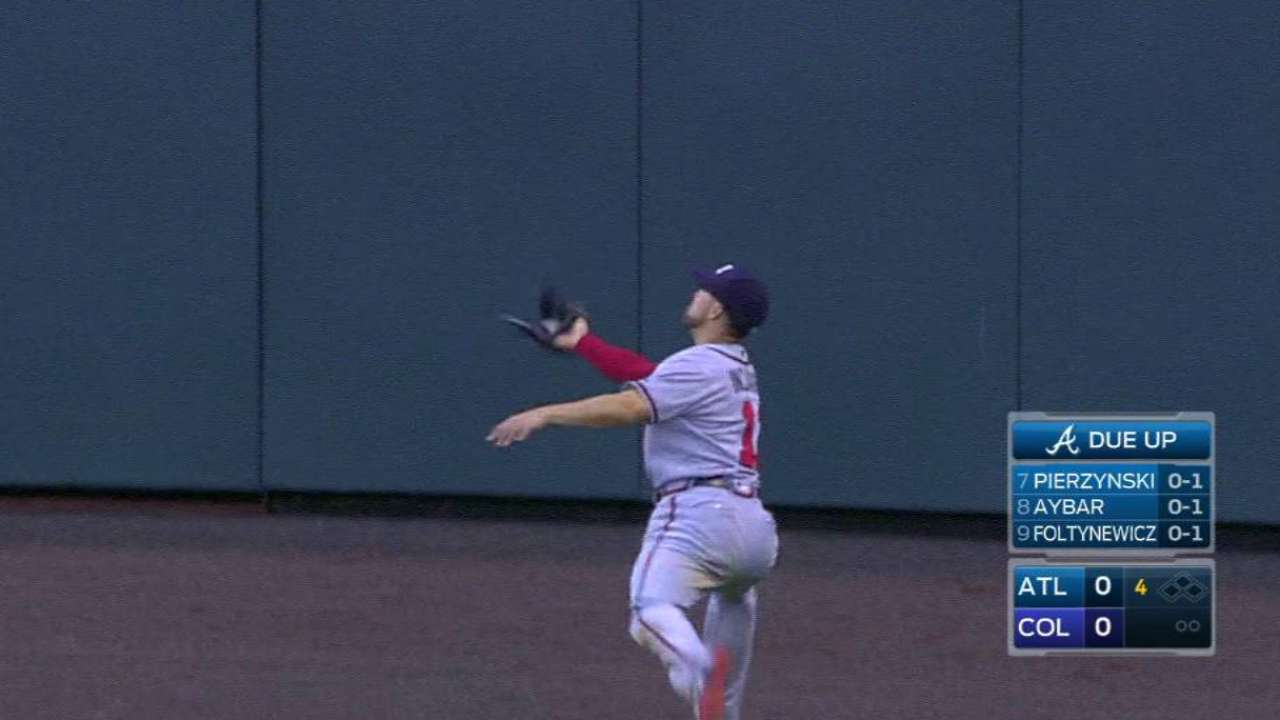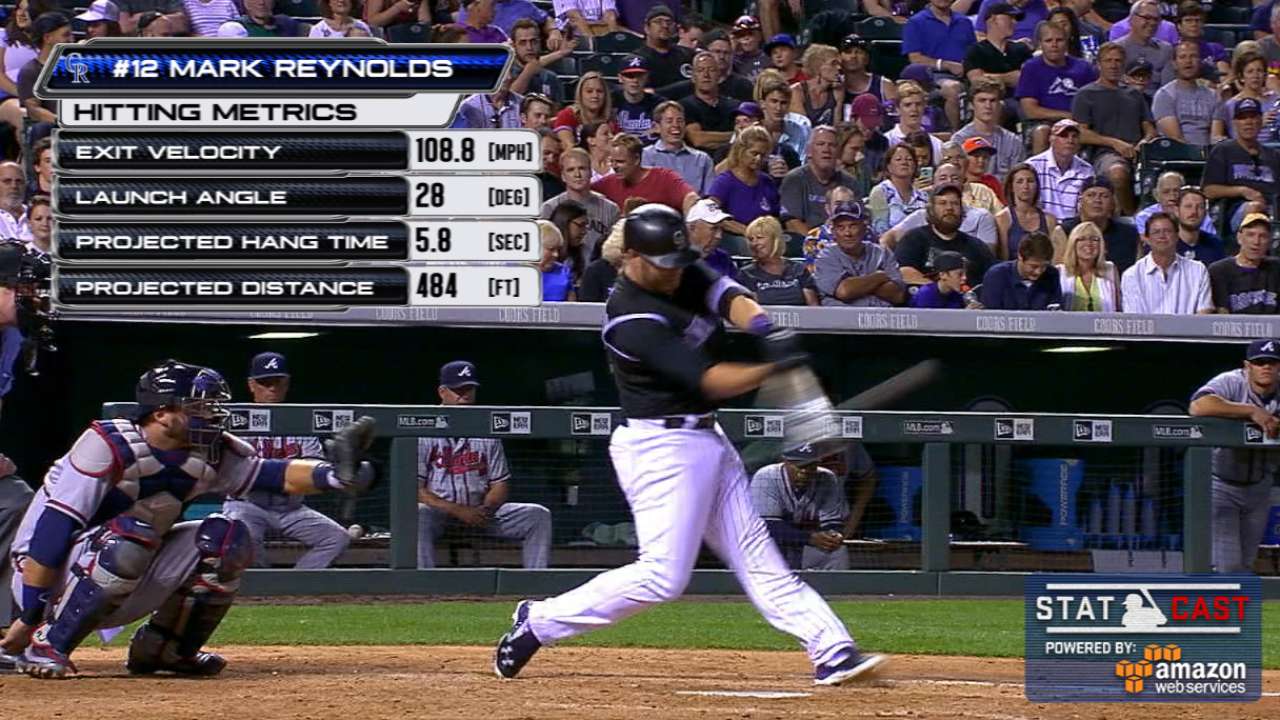 Beckham's regret: Gordon Beckham began the fourth inning with a double and beat Gonzalez's strong throw to third base after Nick Markakis followed with a flyout. When Adonis Garcia hit a one-out liner to right, Beckham took off toward the plate and was unable to get back to third base to tag. Though Gonzalez made a strong, accurate throw to the plate, Beckham appeared to immediately regret what appeared to be a bad read.
OBSTRUCTION
The Rockies plated three insurance runs in the eighth, with the assistance of an obstruction call against shortstop Erick Aybar. With runners at second and third, Nick Hundley singled through the left side to score Trevor Story from third. Aybar stepped into the path of Daniel Descalso between second and third. Descalso continued home and was beaten by the throw from left fielder Jace Peterson. However, because Descalso didn't stop after the obstruction, he was awarded the plate and Aybar was charged with an error. Braves catcher Pierzynski was ejected for what he claimed was innocently kicking a ball toward the Rockies dugout as Snitker and Aybar argued near third base. .
"Erick is running for the ball and the guy is behind him," Braves manager Brian Snitker said. "It's kind of hard to feel that guy and stop to get out of the way of him when he's trying to score. Did he interfere with him? Maybe. But sometimes that happens when a guy can't help but do that. That's just kind of a natural play." More >
SOUND SMART WITH YOUR FRIENDS
Markakis had gone 32 consecutive plate appearances without a swing-and-miss before he swung through Jason Motte's two-strike fastball to open the ninth inning.
REPLAY REVIEW
A key play in the fourth stood after replay, when Pierzynski's throw and shortstop Aybar's high tag to the face were in time to retire Story on a steal attempt with one out. The Rockies had runners at first and third with Descalso batting. Story, who had taken advantage of a couple of pitches in the dirt against Pierzynski Friday night in Atlanta, was running to stay out of the double play. Runners had an 82.1 percent success rate against Pierzynski previously (with pitcher caught stealings subtracted).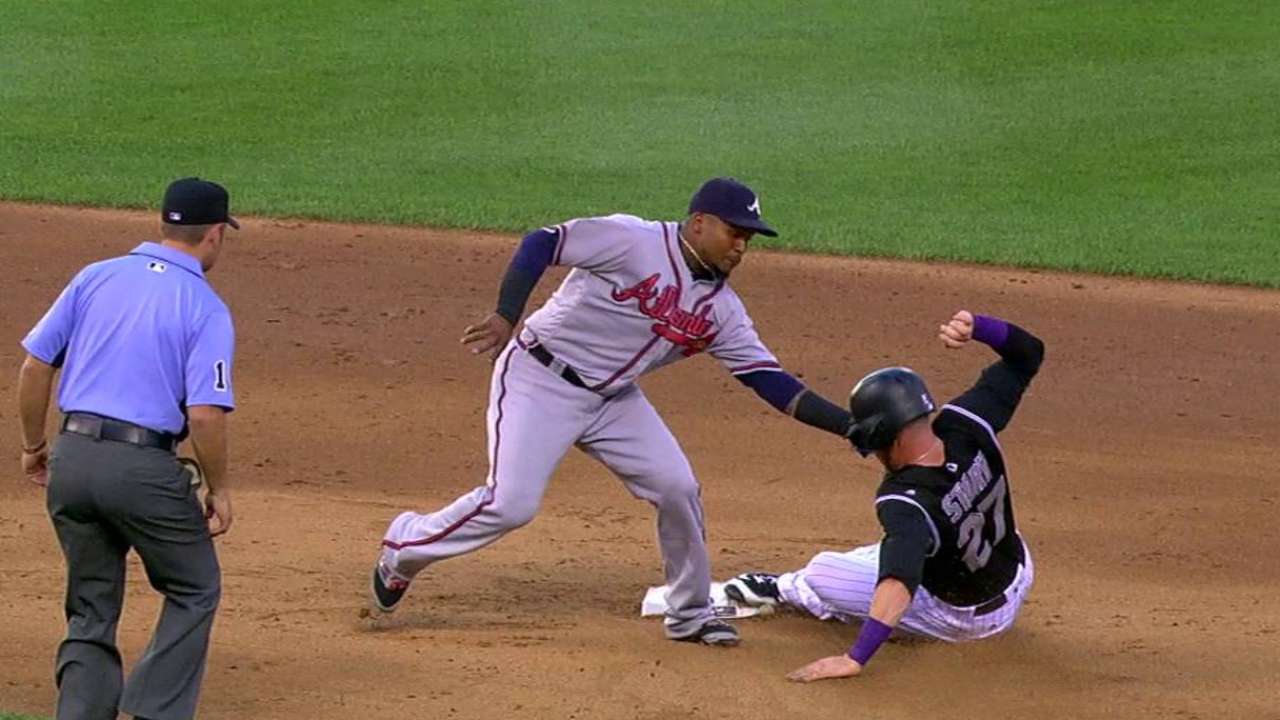 The game ended on a review. Tony Wolters, who usually plays catcher, but was playing second in the ninth after doubling in a run as a pinch-hitter in the top of the ninth, charged Peterson's broken-bat grounder and flipped to first base. Replay confirmed the out call.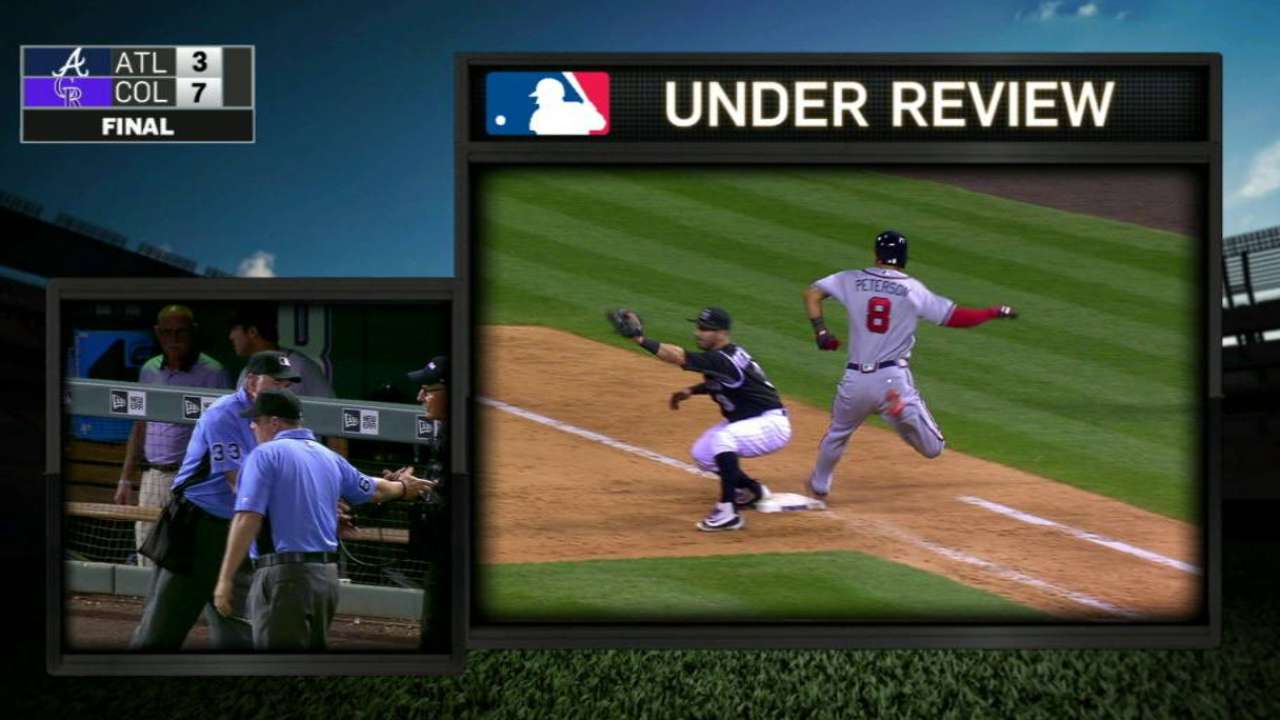 WHAT'S NEXT
Braves: Julio Teheran will take the mound when Atlanta and Colorado resume their four-game series on Friday at 8:40 p.m. ET. Teheran tossed seven scoreless innings against the Rockies on Sunday.
Rockies: Jon Gray (5-4, 4.33) gets the call against the Braves on Friday at 6:40 p.m. MT. Gray has thrown three straight quality starts after allowing four runs in his previous two outings. He has not allowed a home run in his past two starts after allowing a long ball in eight straight (10 total).
Watch every out-of-market regular-season game live on MLB.TV.
Mark Bowman has covered the Braves for MLB.com since 2001.

Thomas Harding has covered the Rockies since 2000, and for MLB.com since 2002. Follow him on Twitter @harding_at_mlb, listen to podcasts and like his Facebook page.

This story was not subject to the approval of Major League Baseball or its clubs.