MLB.com Columnist
Jim Callis
Inbox: Where would Gurriel rank if he was a prospect?
Jim Callis answers fans' questions about baseball's future stars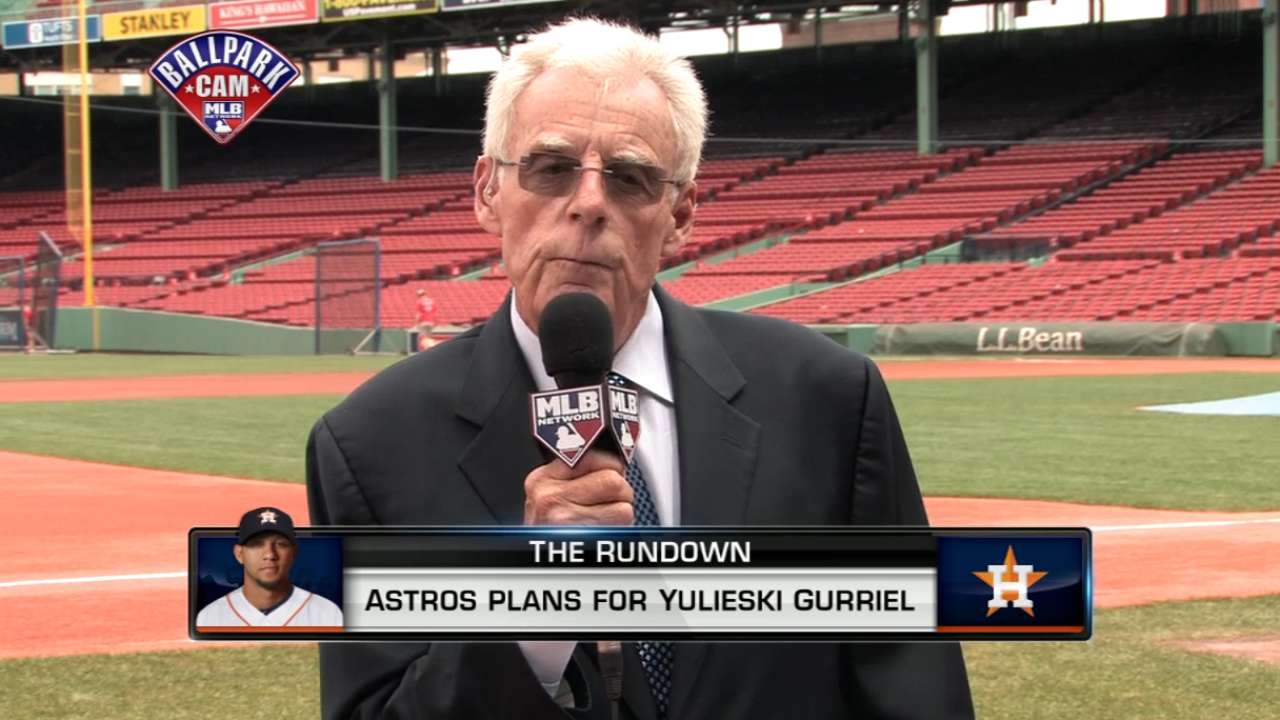 About a month ago, I had a Pipeline Inbox question about my thoughts on the Astros calling up Alex Bregman. Short version of my answer: Start playing him regularly at third base and bring him to Houston ASAP.
Since then, Bregman has bid goodbye to Double-A, where he was leading the Texas League in on-base percentage (.415) and slugging (.559), and he has torn up Triple-A with a .388/.414/.746 line and six homers in 15 games. He also threw in three hits, two for extra bases, during the SiriusXM All-Star Futures Game.
Thirteen of Bregman's 15 Triple-A starts have come at shortstop, which is a bit puzzling considering Houston has Carlos Correa at that position, and Bregman made his first pro appearance in left field Wednesday. The No. 2 overall pick in the 2015 Draft is the No. 1 prospect in baseball in my mind, and whether he plays short, third or the outfield, he should be batting second in the Astros' lineup on a daily basis.
On the subject of Bregman, this week's most popular Inbox topic relates to him as well.
@jimcallisMLB @MLBPipeline Although he won't be a prospect for long, where do you rate yulieski gourriel in the Astros system?

— Chase Kruckemeyer (@chasek17) July 18, 2016
@jimcallisMLB @MLBPipeline With the expected arrivals of Bregman & Gurriel, how do you forsee the Astros fitting them both in a lineup?

— Brian Cole (@DelCo_Brian) July 18, 2016
@jimcallisMLB @MLBDraft @MLB @MLBPipeline Does Yulieski Gurriel count as a "prospect"? If so, where do you rank him? Chances of 2017 ROY?

— Tal's Hill at MMP (@TalsHillMMP) July 20, 2016
Gurriel, 32, has agreed to a five-year, $47.5 million contract with the Astros, though he needs to resolve some visa issues and tune up in the Minors before we'll see him in Houston. Because his age and experience in Cuba mean that he doesn't count against international pools, MLBPipeline considers him a veteran and not a prospect. If we did rank Gurriel as a prospect, I would put him No. 2, right behind Bregman, on our Astros Top 30.
Gurriel has the hand-eye coordination, bat speed, strength and discipline to hit for average and power and post healthy on-base percentages. A good athlete with a strong arm, he has experience at second and third base, as well as the outfield. He starred in Cuba's Serie Nacional, on Cuban teams at international tournaments and in Japan while on loan to the Yokohama Bay Stars in 2014.
From a defensive standpoint, the Astros are best off with Correa at shortstop and Bregman at third base -- though you could argue flipping them -- and Gurriel in the outfield or at first base. Unless he exceeds 130 big league at-bats this year, Gurriel should be the front-runner for the 2017 American League Rookie of the Year Award. He could hit .280 with 20 homers and a .350 OBP.
What kind of scouting grades would Braves left-hander Kyle Muller get as a hitter? Where if at all would he have placed on MLBPipeline.com's Draft Top 200 as a position player? Is there any talk of letting him play both ways initially?
-- Joe M., Staten Island, N.Y.
As a physical left-hander with a fastball that can reach 95 mph, promising secondary pitches, athleticism and feel for pitching, Muller's potential on the mound earned him a $2.5 million bonus as the 44th overall pick (second round) in this year's Draft. While teams definitely preferred him as a pitcher, he did finish second among national high school players with 15 homers.
Muller is loaded with raw right-handed power, though some scouts wondered about how well his naturally long swing (he's 6-foot-5) would play against better velocity and better pitching in general at the pro level. He's athletic for his size and obviously has a strong arm, so he could have made an interesting right fielder.
Grading him out on the 20-80 scouting scale, I could see a team that liked Muller giving him a 50 bat, 60 power, 30 run, 60 arm and 50 defense. He likely would have fit in the third to fifth round as a position player -- though that might not have been high enough to lure him away from his college commitment to Texas -- and on the back half of the MLBPipeline Top 200.
The Braves are going to have Muller put his full effort into pitching rather than divide his attention. That makes sense, because his ceiling is a lot higher on the mound, so we'll have to wait until he gets to Double-A and faces a National League affiliate before we'll get to see him swing a bat in a pro game.
I was looking at the numbers for first basemen Dan Vogelbach (Mariners) and Josh Bell (Pirates) in Triple-A and was surprised to see that Vogelbach has a 45-point lead in OPS, as well as comparable strikeout and walk percentages (Vogelbach, 18 and 15 percent; Bell 15 and 11 percentage). Scouting reports say they are both below average at first base. So I'm wondering, why is Bell regularly considered one of the 50 best prospects in baseball but Vogelbach can't make the MLBPipeline Top 100?
-- Daniel H., Bloomington, Ind.
This is an interesting question and a timely one, too, considering that the Mariners acquired Vogelbach and right-handed pitching prospect Paul Blackburn from the Cubs Wednesday for Mike Montgomery and Triple-A righty Jordan Pries. Both Bell ($5 million) and Vogelbach ($1.6 million) received huge bonuses in the second round of the 2011 Draft, and they have posted similar numbers during their Minor League careers.
But the reason Bell is more highly regarded than Vogelbach boils down to athleticism and how it affects every aspect of the game. Bell is a good athlete who projected as a right fielder when he was drafted, moving to first base only because Pittsburgh has a logjam there. He has been error-prone since changing positions after the 2014 season, but he has the tools to develop into an average first baseman, and the 6-foot-2, 245-pounder has decent speed on the bases.
While Vogelbach's raw power and mature approach are intriguing, he is not athletic. The 6-foot, 250-pounder is a bottom-of-the-scale runner who clogs the bases, detracting from his offensive value, and has such limited range at first base that he'll have to DH, giving him no defensive value. I believe the less athletic players tend to lose their bat speed sooner, so Bell should age better than Vogelbach, too.
Jim Callis is a reporter for MLB.com. Follow @jimcallisMLB on Twitter. This story was not subject to the approval of Major League Baseball or its clubs. This story was not subject to the approval of Major League Baseball or its clubs.