MLB.com Columnist
Barry M. Bloom
For Griffey and Piazza, both roads led to Cooperstown
No. 1 Draft pick, 62nd-rounder ready to be inducted into Hall of Fame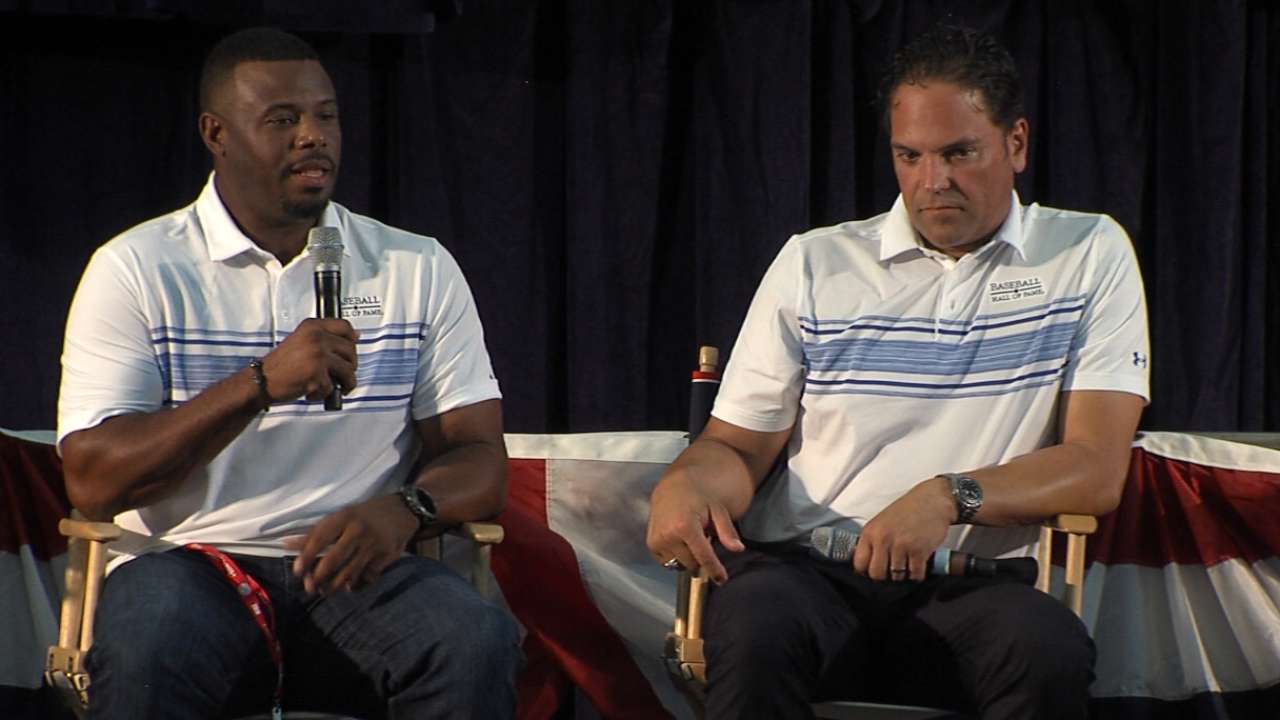 COOPERSTOWN, N.Y. -- The Mariners made Ken Griffey Jr. the first overall pick in the 1987 Draft. The following year, the Dodgers selected Mike Piazza with the 1,390th pick, in the 62nd round.
From those vastly different starting points -- Griffey as the highest Draft pick and Piazza the lowest to be inducted into the National Baseball Hall of Fame -- the two have arrived at the same place at the same time: in the Class of 2016.
• Watch live: Baseball Hall of Fame coverage on MLB Network, MLB.com
Griffey and Piazza will be inducted Sunday. Coverage began on MLB Network and MLB.com at 11 a.m. ET with the ceremonies beginning live at 1:30 p.m. The two took what appear to be vastly different routes to get to this juncture.
2016 Hall of Fame Inductions
"We've taken the same path," countered Griffey on Saturday during the last interview session for both former players prior to the induction. "We worked hard in the Minor League system and we had an opportunity to become big league ballplayers and produce. I grew up when my dad said, 'If you work hard and you do things right you're going to be rewarded.'
"For me, it's work day-in and day-out. You go out there and you do your job and you try to be the best player you can be. For Mike, it was the same thing."
Eligible voters of the Baseball Writers' Association of America have elected nine players in the past three years after selecting no one to the Class of 2013. And like the past two, this ceremony is expected to be well attended.
Fans swarmed through the village -- population 1,852 -- on Saturday, attending the awards ceremony at Doubleday Field and watching the annual parade of Hall of Famers travel in pick-up trucks up Main Street to the glass doors of the red-bricked museum.
According to Hall officials, 50 Hall of Famers and a crowd in excess of 50,000 was anticipated. Hank Aaron and Frank Robinson, originally on the roster of attending Hall of Famers, sent their regrets at the last moment.
In comparison, 48,000 flooded the town two years ago when three players and as many managers were inducted. Last year, when Pedro Martinez, John Smoltz, Randy Johnson and Craig Biggio were elected, the crowd estimate was 45,000. The largest-ever crowd of 80,000 attended the 2007 induction of Cal Ripken Jr. and the late Tony Gwynn.
The slight uptick in attendance this year is attributed to the many Mets fans and New Yorkers making the four-hour trek from New York City to honor Piazza, who played eight of his 16 seasons for the Mets.
Griffey is the first to enter as a Mariner and Piazza the second to go in as a Met, joining Tom Seaver, who was inducted in 1992. Piazza chose the Mets, over the Dodgers, the team that drafted him and for whom he played his first seven seasons.
Piazza, who finished his career in San Diego and Oakland, hit a record 396 of his 427 homers while playing behind the plate. It's the most by a catcher.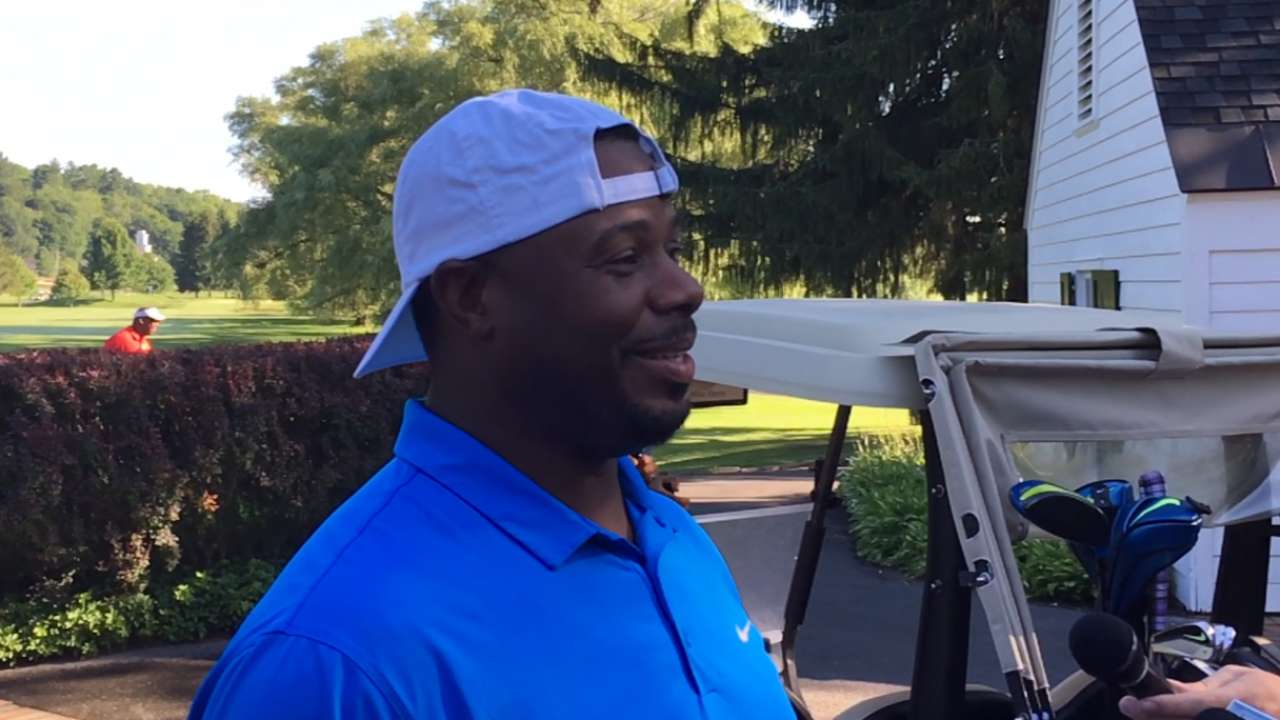 "For me, it was the Mets, obviously because of [Seaver] and to a lesser extent Gary Carter, who went in as Expo, but a lot of people remember as a Met," Piazza said. "He's obviously no longer with us and he's very much in my prayers. So look, the one thing I learned about Mets fans is that it's tough being in the same town as the Yankees with all their World Series [rings] and accomplishments. There's no better fans. So it was natural for me to go in as a Met."
The sweet left-swinging Griffey is also the first ever No. 1 pick to be elected to the Hall by eligible members of the Baseball Writers' Association of America since the Draft was introduced in 1965.
"To me, it is an honor," Griffey said. "When I got drafted the Mariners were something like 10 years old. There was not a whole lot of history. To be able to be the first to go in is something that I talked about and pretty much dreamed about -- going into the Hall of Fame as a Mariner. To be able to choose that team, it was going to be a Mariner because of my history with them."
Griffey was such a can't-miss prospect, he joined the Mariners at 19 and never looked back. On Piazza's behalf, then-Dodgers manager Tommy Lasorda urged his club to draft him, mostly because of Lasorda's friendship with Piazza's father, Vince. The right-handed power hitter fought his way through the Minors, converting from a first baseman to catcher and didn't make it to Los Angeles to stay until he was 23.
"I've said this before, I think it's a testament to our country and this game: how wonderful baseball is in the sense that if you do get an opportunity you can make the most of it," Piazza said. "Yeah, we were on the same paths, but got here in different ways. I think [Griffey] had unique challenges being a No. 1 pick. I had a unique challenge being a last-round pick. There was pressure on him and there was pressure on me."
Griffey was a first-time electee and became the seventh player elected the last three years the first time their names were on the ballot. The BBWAA has now elected 121 of the 217 players in the Hall. To be elected, a candidate needs 75 percent of the vote. It took 330 of the 440 ballots cast this year.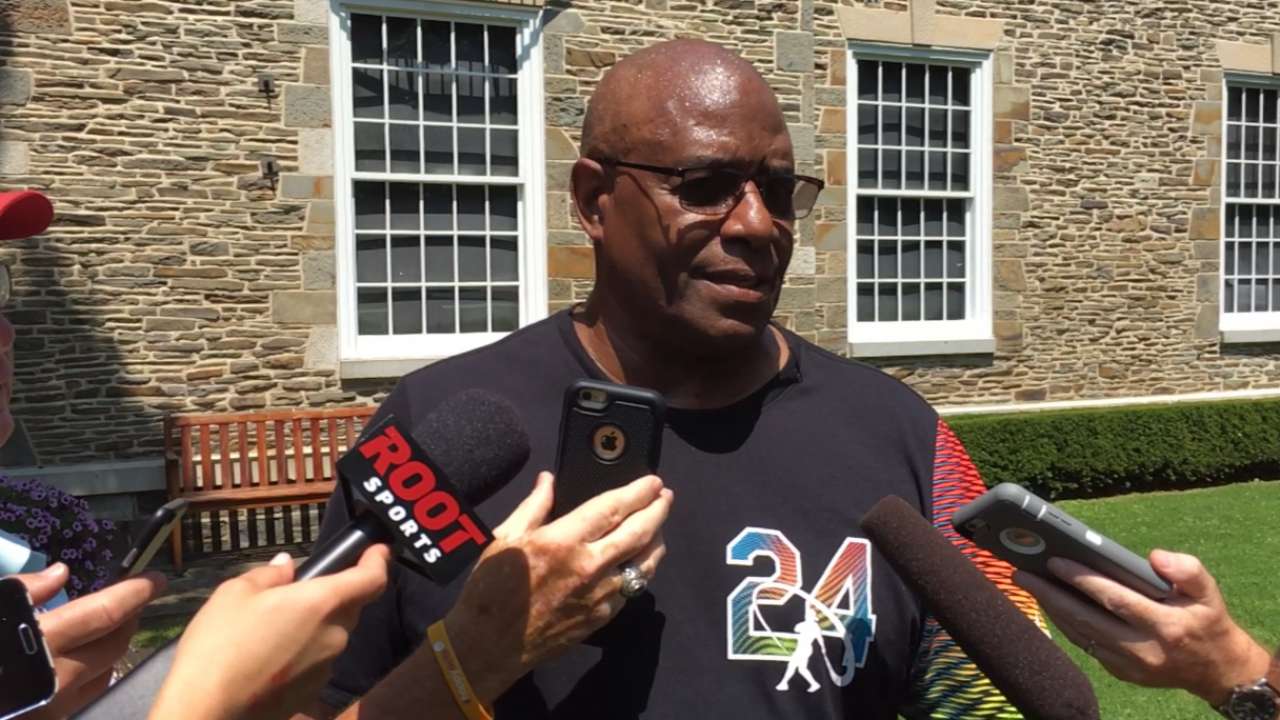 And while Griffey fell just short of being the first player elected unanimously by the BBWAA, he was named on 99.3 percent of ballots (437 of 440), breaking the record of 98.84 percent set by Seaver. Piazza received 83 percent (365 of 440) in his fourth year on the ballot.
Griffey is the son of Ken Griffey Sr., the outfielder who played for the Big Red Machine when Junior was just a tyke and later was on the field with him in Seattle at the end of his career in 1990-91. He played as well in Seattle with Edgar Martinez, the former designated hitter and current Mariners hitting coach, who is still on the Hall of Fame ballot.
The younger Griffey won 10 Gold Gloves in a row playing superlative center field for the Mariners from 1990-99. Overall, he hit 630 homers, good for sixth all-time. He also played for his hometown Reds and had a quick spin with the White Sox before finishing his career where it began: in Seattle.
Griffey's one regret is that he never played in the World Series. And his father made note of that on Friday, saying, "the only thing I tell him is that I've got three World Series rings and he doesn't have any. But I told him he has the big ring now, so he's the boss."
And Griffey added on Saturday that he intends to take full advantage of that distinction.
"Well, I'm going to put it front and center of the house," Junior said. "It might be on the gate when you ring in. A lot of people are going to see it. It might be like the Stanley Cup and I'll take it around with me. Brush my hair with it. I'll figure out something, but it will be seen."
Barry M. Bloom is a national reporter for MLB.com and writes an MLBlog, Boomskie on Baseball. Follow @boomskie on Twitter. This story was not subject to the approval of Major League Baseball or its clubs.