Harper launches moon shot into third deck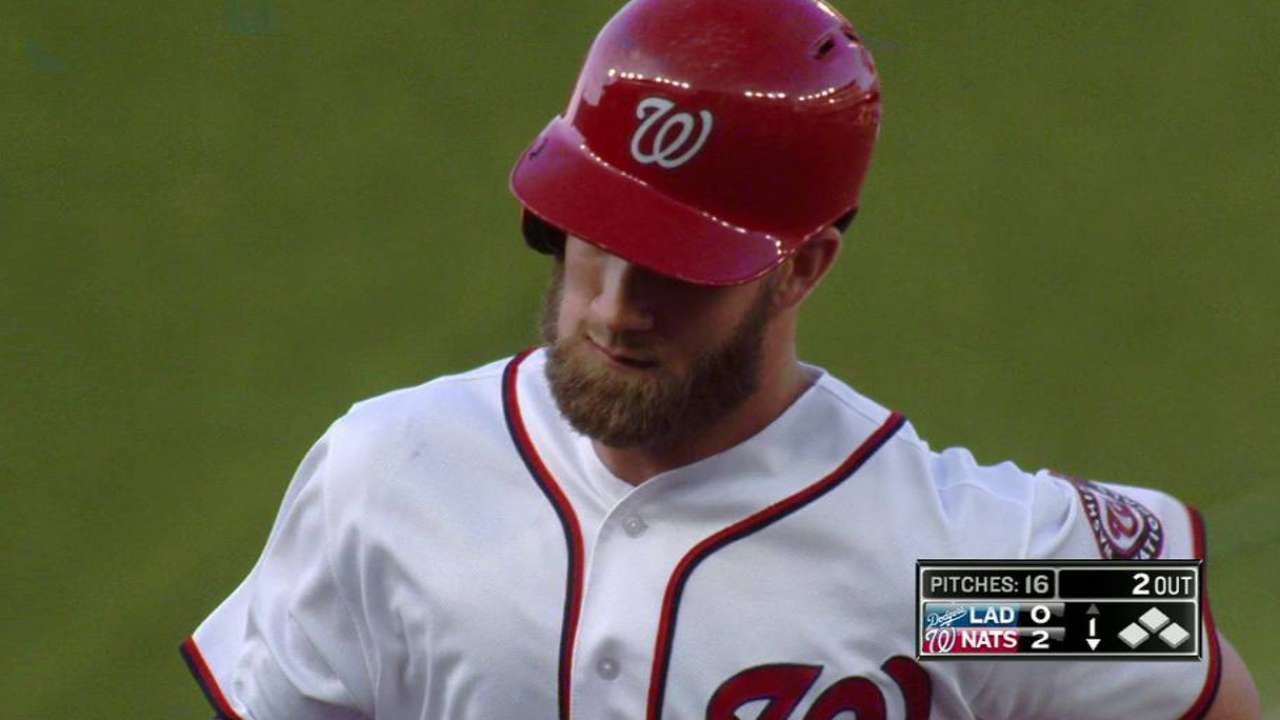 WASHINGTON -- Bryce Harper launched one of the longest home runs ever hit to right field at Nationals Park in the first inning of Wednesday's 8-1 victory over the Dodgers when he deposited a 3-1 fastball from right-hander Bud Norris into the third deck.
The homer, Harper's 20th of the season, traveled an estimated 451 feet, for his longest of the season and his second longest of the Statcast™ era. The ball left his bat at 112.7 mph, the second-hardest-hit ball he has put into play this season. It also gave the Nationals a two-run lead.
"Just trying to impress the scouts," Harper joked after the game.
Harper has now hit at least 20 homers in four of his five seasons in the Majors, becoming the 12th player in MLB history to record four 20-plus-homer seasons before his 24th birthday, according to Baseball-Reference.com.
Harper's homer landed in Section 236, his third to land in the third deck, according to the club. The big fly left his teammates in awe, including second baseman Trea Turner, who said, "I've never seen a ball land up there. I haven't been here much, but some other guys were pretty impressed as well, so I think that says a lot."
But Harper recalled something his former Nationals manager, Matt Williams, said to him last season: "It's not how far, it's how many."
"Once it's over the fence, I could care less how far," he added. "Whatever. If I can just keep getting pitches to hit and put some good swings on it, I'll be right where I need to be."
Harper had started a bit slowly coming out of the All-Star break, going 2-for-17 with two walks in four games, and he almost got Wednesday night off because of it. But manager Dusty Baker decided against it after speaking with Harper and reminded him to slow his feet, another piece of advice Harper remembered hearing last season.
"Slow feet and quick hands. Try to stay within yourself," he said. "Dusty came up to me and said it to me today. Matt had those little things he'd say to me last year, and it really clicked for me. So for him being able to come up to me tonight and tell me that, it clicked a little bit."
Jamal Collier covers the Nationals for MLB.com. Follow him on Twitter at @jamalcollier. This story was not subject to the approval of Major League Baseball or its clubs.