'Calm' could be key to building Rox's momentum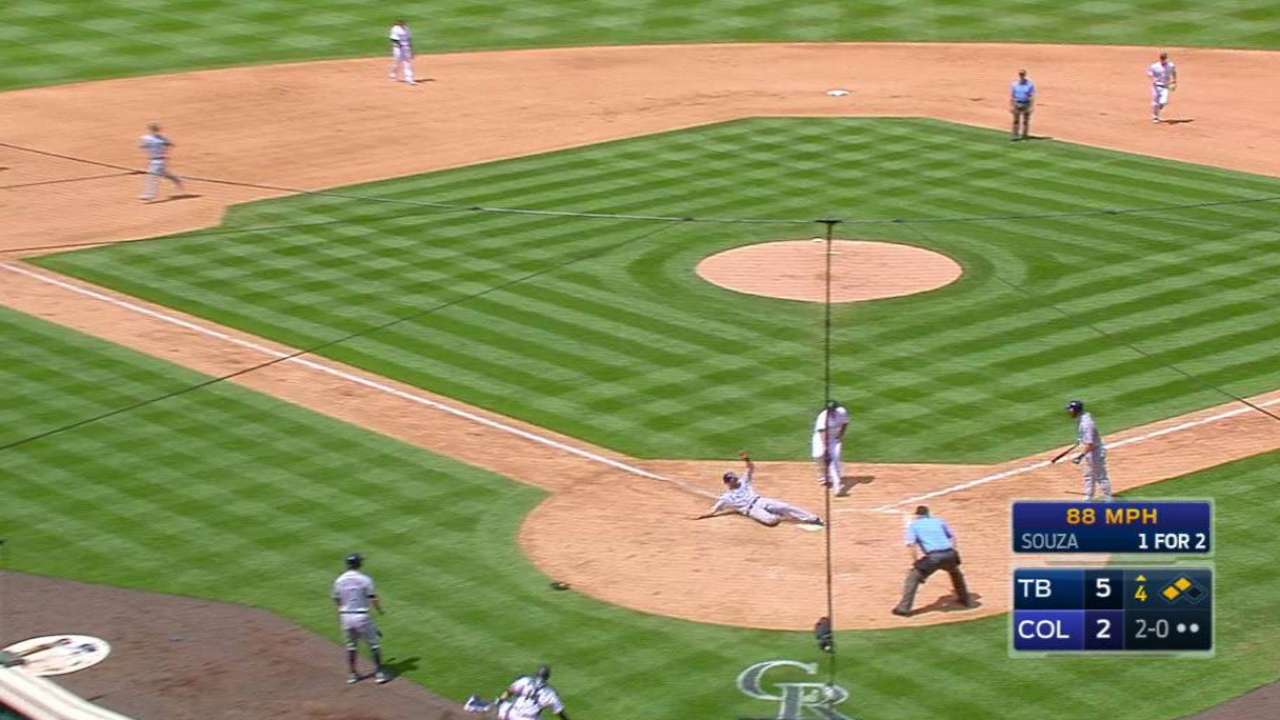 DENVER -- With no one to blame for underachieving at Coors Field, seemingly each Rockies player is shouldering the responsibility. And, as right fielder Carlos Gonzalez noted after Wednesday afternoon's 11-3 loss to the Rays, that isn't working.
"Pitchers have rough outings, but we're not doing the job offensively," Gonzalez said. "We get no pitches, so we chase bad pitches. We try to be creative, and that makes things worse. We have to calm down."
A call for calm might be appropriate, but it's hard to hear. Rockies general manager Jeff Bridich said at the All-Star break that he thought the Rockies could make a run to possibly have dreams of a playoff berth, rather than face the resignation of being a seller at the Aug. 1 non-waiver Trade Deadline. But Wednesday underscored another poor series against a team the Rockies simply must beat, especially at home.
A team whose history is dominance at home is just 21-24, flirting with a second straight losing home record. The Rockies actually have more road wins, 22. They dropped two of three to the Rays -- whose two triumphs over the Rockies give them five in their last 30 games -- and gave up 21 runs and struck out 27 times in losing the last two contests.
"We're always frustrated when we lose a series, especially at home," Rockies manager Walt Weiss said. "But we'll focus on what's ahead of us.
Earlier, the Rockies dropped three of four to the National League Central's last-place Reds, and they haven't done well hosting the Padres (2-4). They also dropped two of four against the Phillies, who are fourth in the NL East. On Friday, the Rockies begin a four-game set with the Braves, who are last in the East.
"I don't focus too much on that," Weiss said. "We need to win a series."
Wednesday was not the way to do it.
Lefty starter Jorge De La Rosa, who had a 2.68 ERA over his previous six starts, gave up 11 hits -- seven with two outs -- and nine runs (seven earned) in four innings. The Rockies were fanned 11 times in six innings against Rays starter Chris Archer.
Over the last two games, neither pitching nor hitting showed. Often during the first half, one or the other was missing -- just enough to lose.
"We haven't been consistent," second baseman DJ LeMahieu said. "We have a game like we did the first game of the series [a 7-4 victory Monday], an all-around great game, then came out the last two games of the series and didn't play very well."
Tyler Chatwood (three innings, seven runs) and De La Rosa turned in poor starts the last two games. But Nolan Arenado went 2-for-10 in the series and Gonzalez, 1-for-4 Wednesday, didn't have his best at-bats.
"Sometimes we get anxious -- I get anxious," Gonzalez said. "I want to do great things. Like today, we were down by a lot of runs. We had runners on first and second with two outs, so I thought if I get a big hit, I give my team a chance. That didn't happen. [He struck out with a 9-2 deficit in the fifth.]
"Just made things worse."
Thomas Harding has covered the Rockies since 2000, and for MLB.com since 2002. Follow him on Twitter @harding_at_mlb, listen to podcasts and like his Facebook page. This story was not subject to the approval of Major League Baseball or its clubs.