Heyward hits 99 mph in perfect throw to plate
Baez also makes sparkling play as Cubs show off defense in win over Mets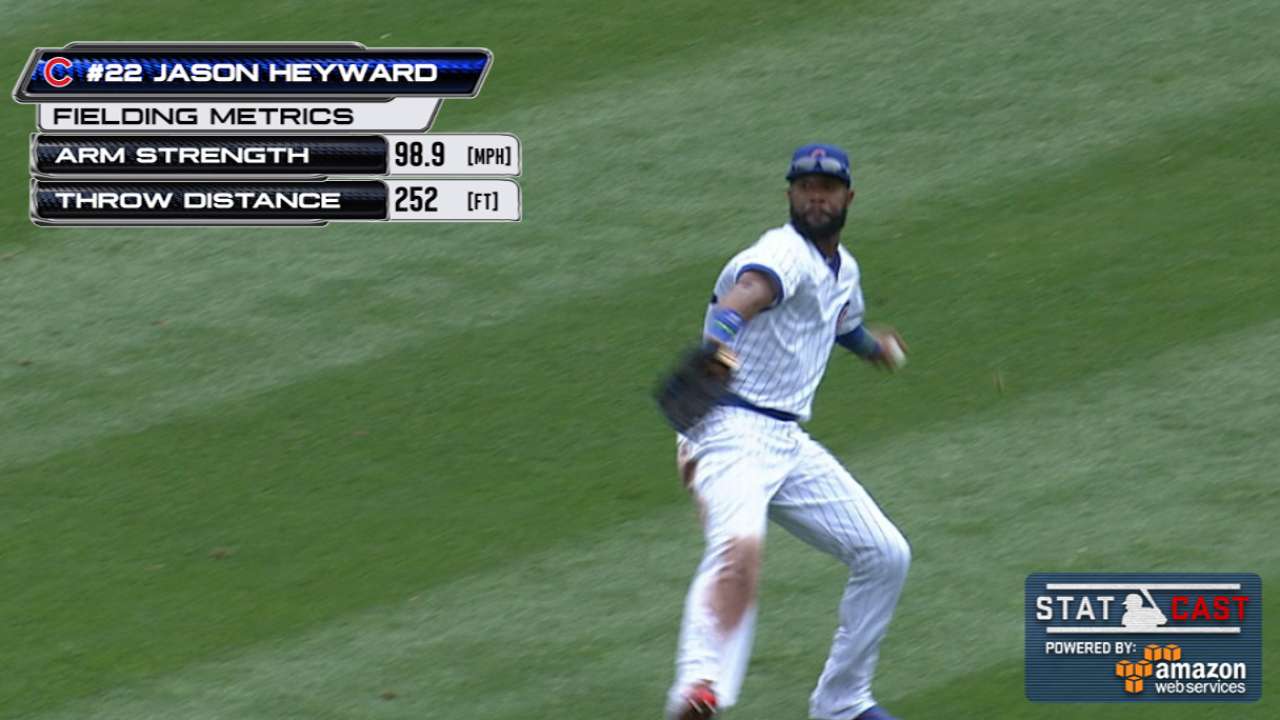 "First and second with Johnson up, he hit it hard to center," Hendricks said. "I knew J-Hey was out there, so I thought we had a chance, especially with Loney running. He came up gunning, and I was behind the plate and it was right on line. That's what he does. He's one of the best in the game at it. He's one of the best outfielders in the game defensively. That was a bullet."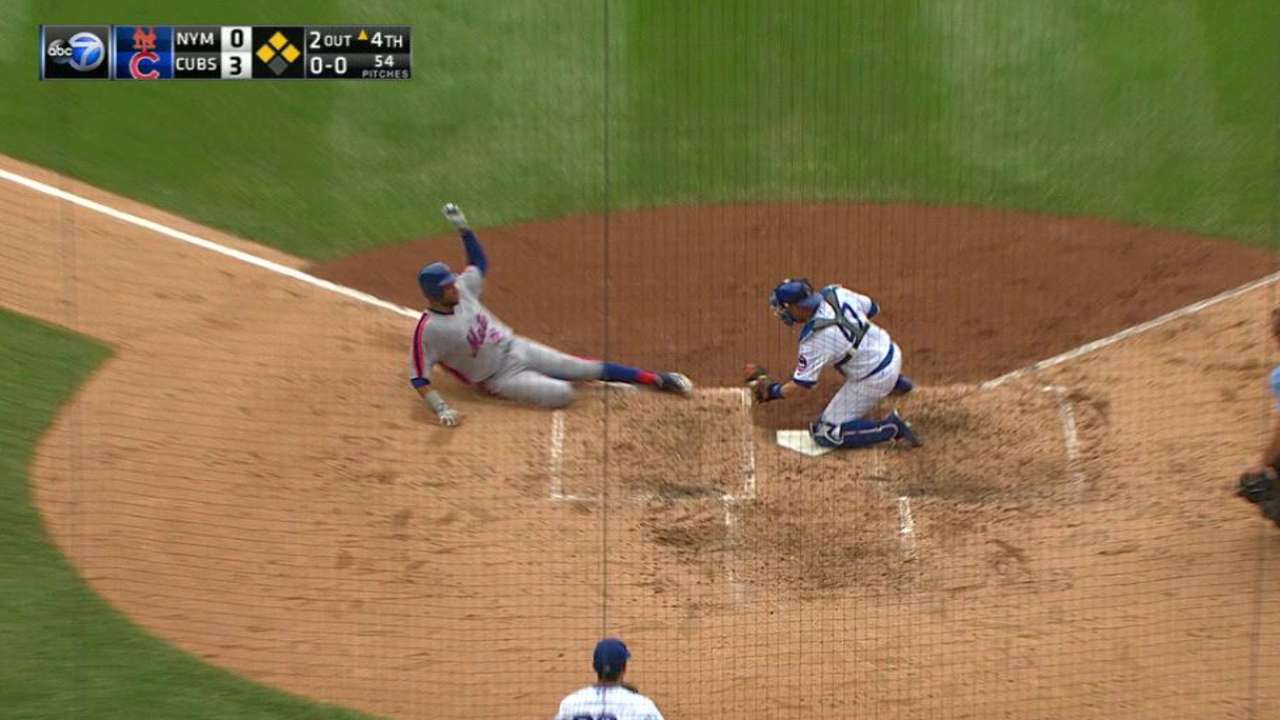 Cubs manager Joe Maddon watched the play unfold from the dugout and saw how Montero reacted.
"That's a great play by Miggy on the tag -- that's a tweener hop, a bad hop, and he got himself in position and made the play," Maddon said.
Said Montero: "It was a tough play. I think I got lucky that ball went into my glove, because it was a short hop and it definitely was a tough play. Those type of plays, you normally want to stay down on it, but I got lucky. It was a great throw. It was a good throw because I caught it. That ball went right into my glove."
This was Heyward's 17th start in center field. He's been filling in for Dexter Fowler, who is on the disabled list but expected back this weekend.
Heyward's throw was clocked at 98.9 mph, which is the fastest throw he's had registered in the Statcast™ era (2015-16). His previous strongest throw on an outfield assist came on June 7, 2015, when he threw a 98.5-mph strike to nab Andre Ethier at home plate.
Baez, who was playing second base, chased down Juan Lagares' popup in foul territory for the first out in the seventh inning. Baez ran a long way and into the rolled-up tarp along the first-base side, and somehow grabbed the ball.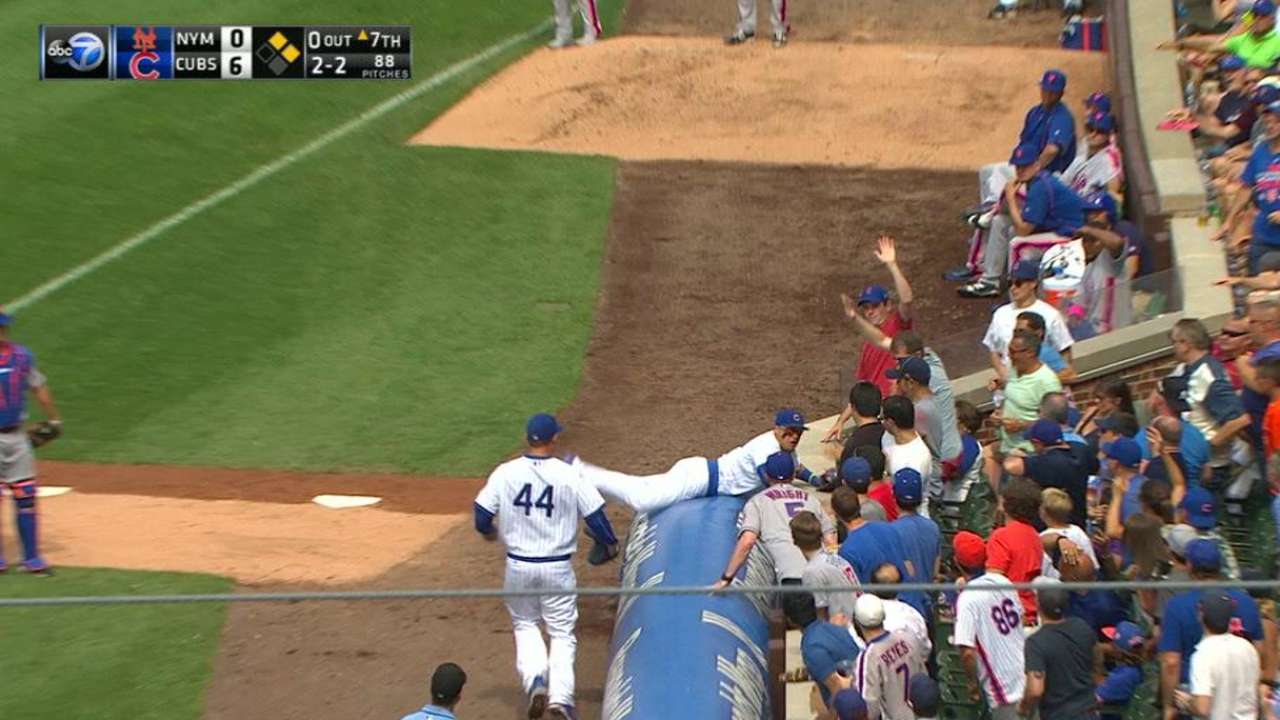 "How about the catch that Javy made?" Maddon said. "[First baseman Anthony Rizzo] kind of misread that somehow, and all of a sudden you see a blur going toward the stands. That's a spectacular play. The ball's coming off the stands, it's moving, it's not just a popup."
Rizzo has jumped on the tarp at least twice to make catches.
"That was a great play," Rizzo said. "It's a good thing [Baez] didn't collapse and go forward, because his head was going right into the brick wall and the wall would've won."
Carrie Muskat has covered the Cubs since 1987, and for MLB.com since 2001. She writes a blog, Muskat Ramblings. You can follow her on Twitter @CarrieMuskat and listen to her podcast. This story was not subject to the approval of Major League Baseball or its clubs.