'Pen trio flourishing since Rodney trade
Hand, Buchter, Maurer nearly spotless after closer dealt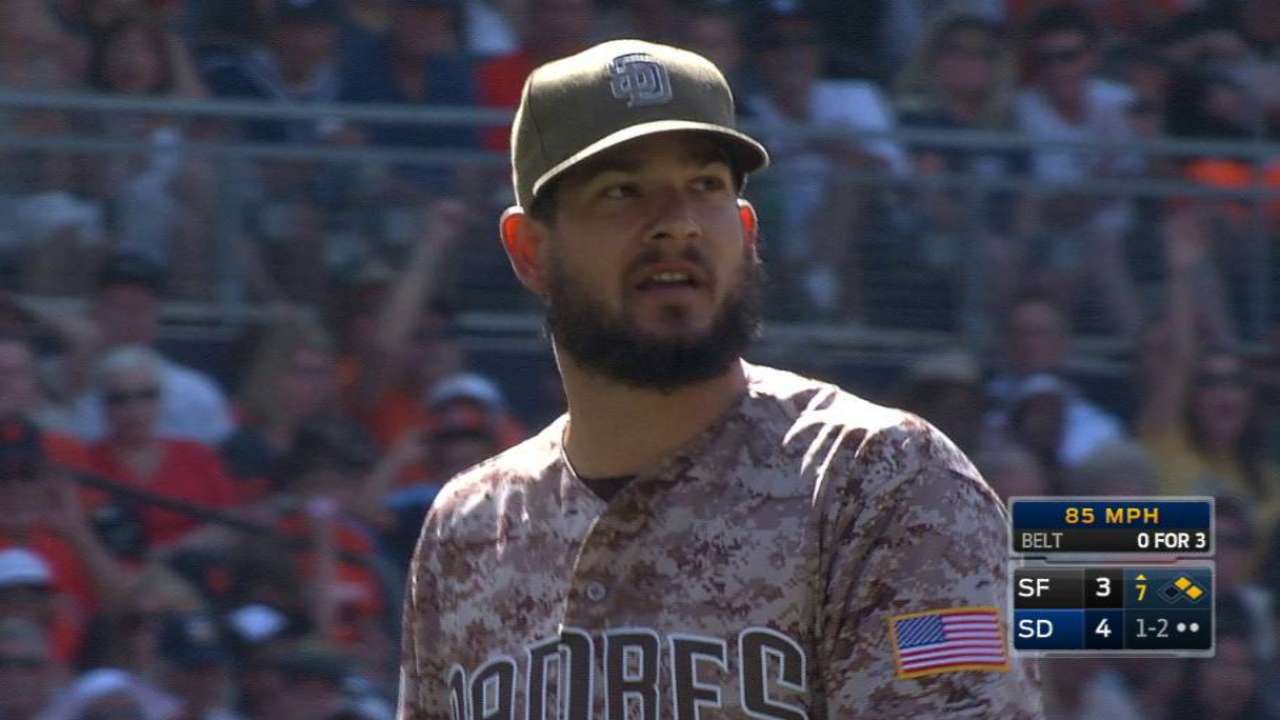 ST. LOUIS -- Fernando Rodney's imaginary arrows are no longer flying in San Diego, but the back end of the Padres' bullpen has been strong as ever, nonetheless.
In Rodney's absence, Brad Hand, Ryan Buchter and Brandon Maurer have assumed the seventh, eighth and ninth-inning roles, respectively. And entering play Wednesday, they had allowed just one run in 21 1/3 combined innings since the trade.
"They've done a great job," said Padres skipper Andy Green. "I don't think you can ask any more of them with what's changed over the year. With Fernando Rodney leaving, all of those guys have kind of evolved into their respective roles."
Of course, Buchter has merely continued his dominance, and his role as the club's primary setup man didn't change when Rodney left. Maurer's promotion to the closer job has coincided with an uptick in his slider velocity -- and his better results have stemmed from that.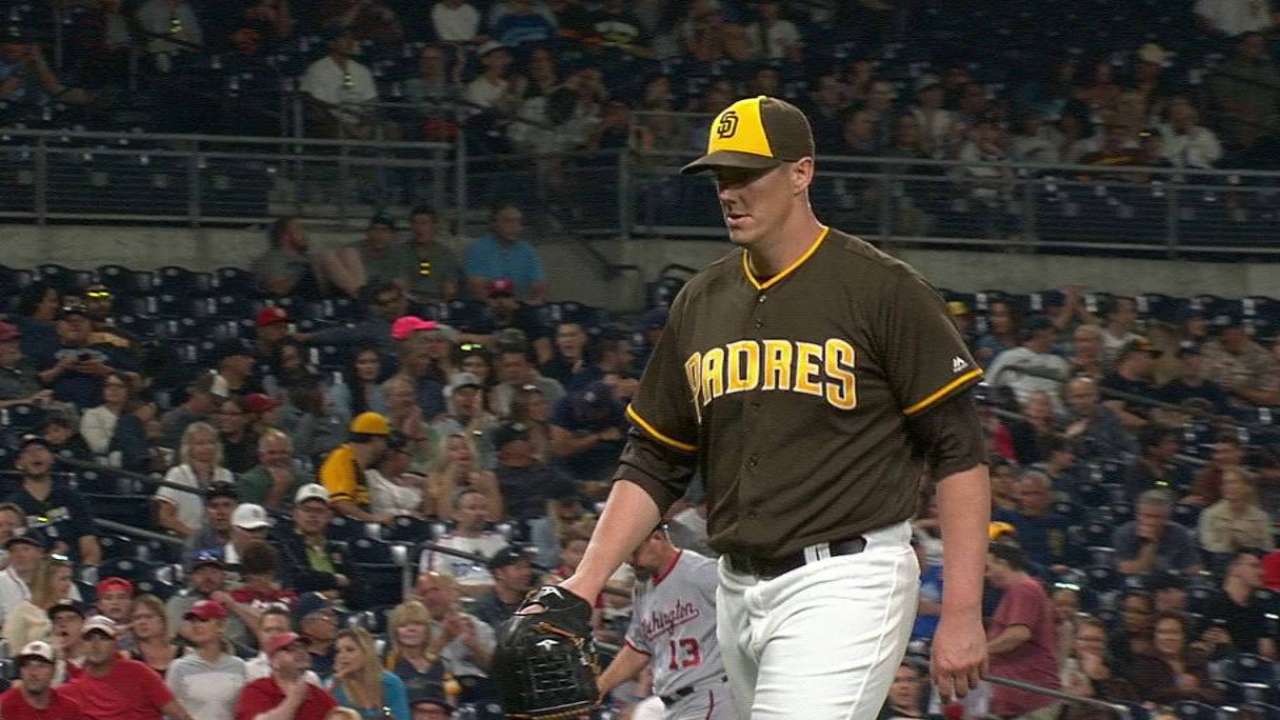 Then there's Hand, who has thrived this year after being claimed off waivers from Miami during the season's first week. He thinks his 2.94 ERA is largely a product of his role.
"Ever since I got here, I've gotten the opportunity to pitch," Hand said. "In Miami, I'd pitch every 10 days sometimes. I was the long guy there. I'm just getting that chance where you're in there a lot more and can work on stuff. It's just consistency from pitching more. I've always been a guy that likes to throw a lot."
It was Padres manager Andy Green who gave Hand that chance.
"It's all about opportunity," Green said. "He was starting over there and in a swing role -- not pitching one-inning stints. Next thing you know, he gets the opportunity to pitch one-inning stints, and ... he's been as good as you could hope for."
The Padres' bullpen has been much maligned this year -- and at times that's been for good reason. Their 4.51 relief ERA entering Wednesday's doubleheader ranked 25th in the Majors.
But bullpen stats can't be looked at in a vacuum. Few relief corps have been stretched as thin as the Padres' group, which is fourth in innings pitched. That's largely the product of a banged up starting staff, which rarely works deep into games.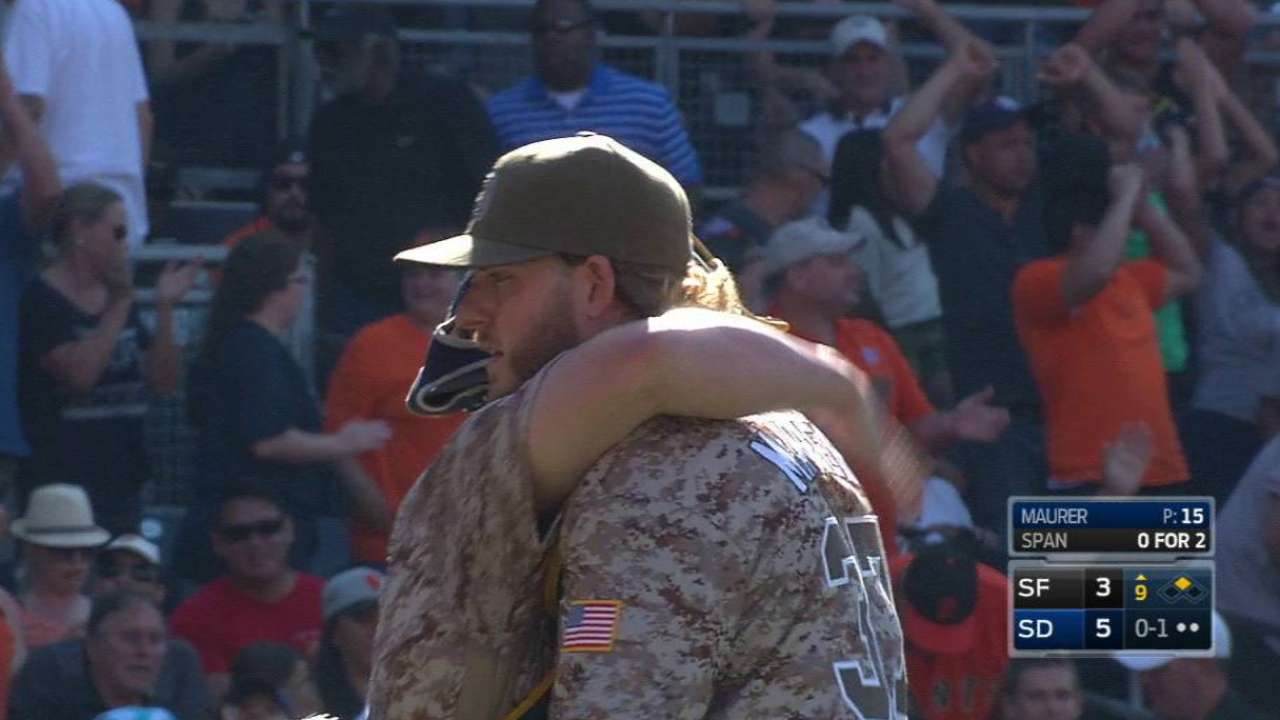 The Padres' 'pen has actually been solid when it's needed to be, with a 3.38 ERA in late-and-close situations, which is 13th in the Majors. Essentially, they've struggled most when it's mattered least.
During the Padres' weekend sweep of San Francisco, Hand, Maurer and Buchter pitched high-leverage situations in all three games. The trio allowed just four singles and a walk over 8 2/3 combined frames.
"Everybody's been picking up the slack," Hand said of the bullpen's mentality since Rodney's departure. "He was phenomenal here, and a real good guy. Sad to see him go, but then it's next guy in line."
AJ Cassavell covers the Padres for MLB.com. Follow him on Twitter @ajcassavell. This story was not subject to the approval of Major League Baseball or its clubs.