Snell delivering on his promise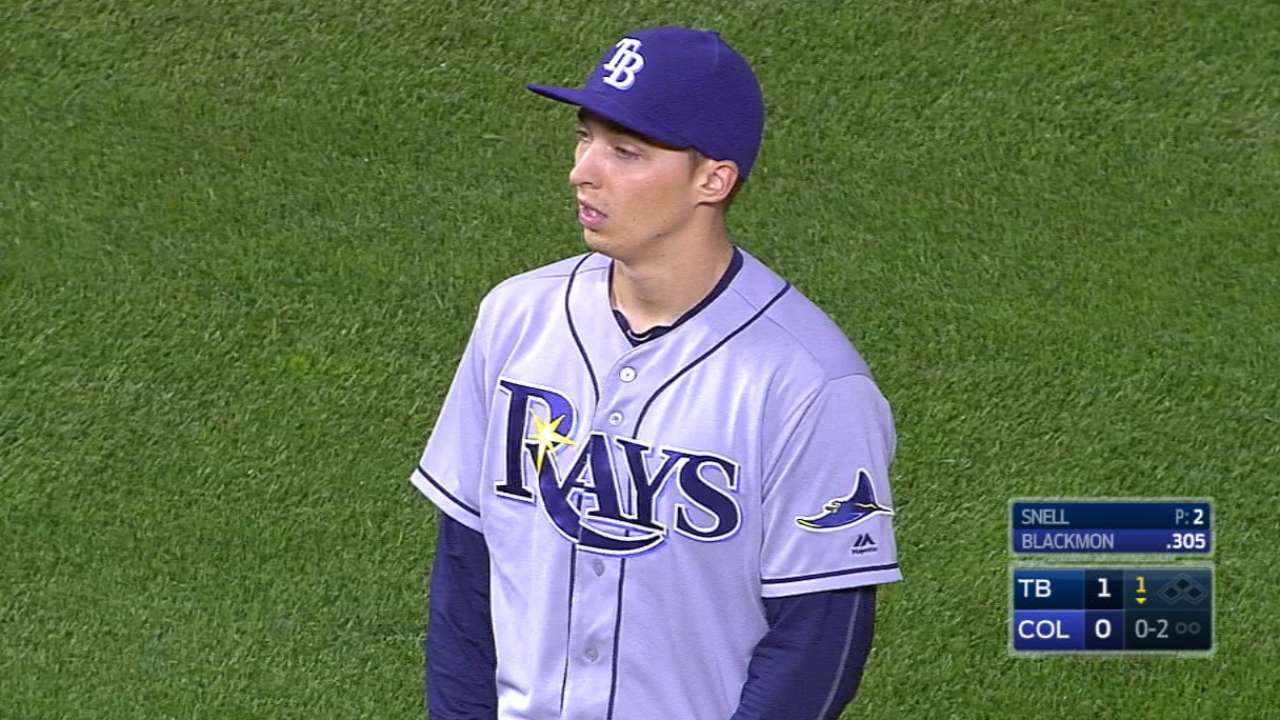 DENVER -- Left-hander Blake Snell continued to validate his preseason hype as the Rays' top-ranked prospect after leading Tampa Bay to a 10-1 rout of the Rockies on Tuesday at Coors Field.
A two-hour rain delay prior to the first pitch didn't faze Snell, as he turned in six scoreless innings, giving up just one hit and striking out a career-best nine. Seven full starts into his big league career after supplanting Matt Andriese in the rotation, Snell lowered his ERA to 3.11 and helped the Rays get a much-needed win -- just their fifth in their last 30 games.
"We've been extremely positive with everything that Blake has done since he's been here. This justifies it, this type of outing," manager Kevin Cash said. "It's probably a little unfair for anybody to expect a ton out of a guy that's making his debut in his first five or six starts, so I thought he's done a tremendous job of holding his own, competing, giving us chances to win. Today he kind of put it together where we saw the elite pitcher that we've heard about for quite some time."
Snell set a game plan with Cash and catcher Luke Maile on tailoring his repertoire, with an emphasis on off-speed pitches. But an added wrinkle was straying from his curveball, a pitch batters were just 1-for-18 against. He said the altitude robbed the trademark snap from the pitch.
"I felt like I was getting good spin on it, but it wasn't as nasty as it usually is, to where I told myself that the changeup and slider are better bets for this game," Snell said. "Especially this team. They're aggressive."
Snell twice struck out Nolan Arenado -- a back-to-back All-Star and a National League MVP candidate -- both times on his slider, a pitch that was touted on his scouting report but one Cash said he strayed from in his early starts. And Snell still found a spot to work in the curve, at Maile's beckoning, fanning DJ LeMahieu looking on a 1-2 count for the first out of the fourth.
"His secondary stuff, I thought, was really good tonight," said third baseman Evan Longoria, who went 2-for-5 with a 462-foot homer. "He threw some really good changeups in some power counts to their bats. He threw some really good ones to Arenado. And the breaking ball was good, too. When he's going good like he was tonight, he has three above-average pitches. It was fun to watch."
Rays starters have struggled mightily this season -- Matt Moore, Jake Odorizzi and Chris Archer have also been linked to trade rumors -- which has made Snell's rapid ascent particularly promising.
"I don't feel like there's too much hype," said Snell, who will start on Sunday in Oakland. "I don't really listen to it anyway to where it could bother me. I know what I need to do, and I know what I need to do to be the best that I can be, so that's all that I really focus on."
Daniel Kramer is a reporter for MLB.com based in Denver. Follow him on Twitter at @DKramer_. This story was not subject to the approval of Major League Baseball or its clubs.